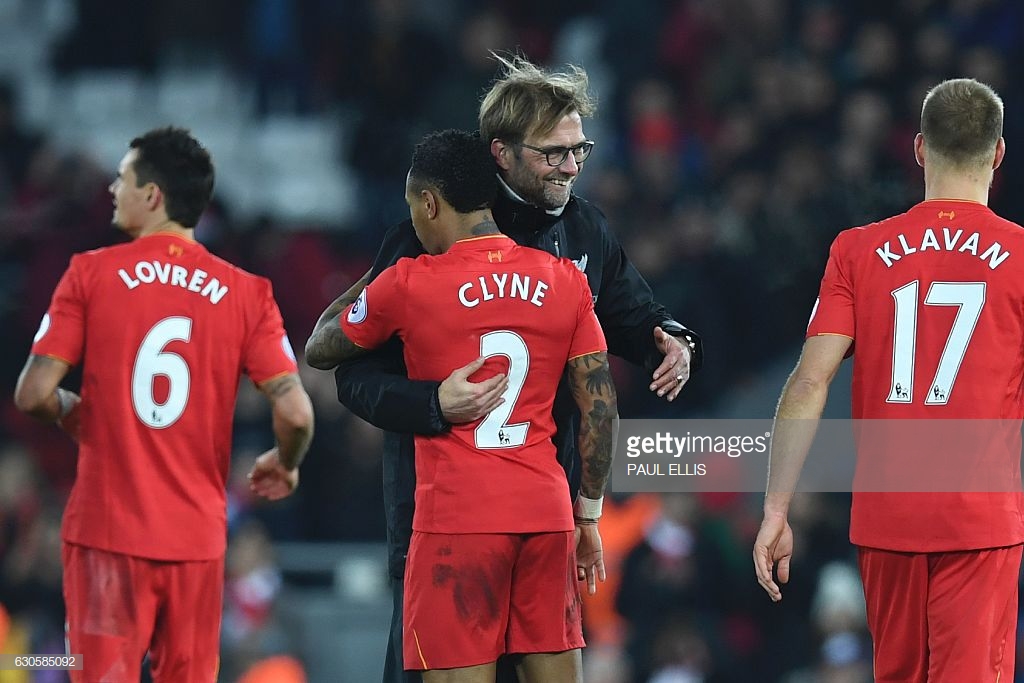 Nathaniel Clyne's return will help ensure Liverpool have a 'comfortable situation' at right-back once he is ready for match action Jürgen Klopp believes.
But the 26-year-old appears to be steadily nearing a long-awaited comeback given he was also added to the Reds Champions League squad. He had minor surgery to correct the issue after suffering a setback in November and was scheduled for a February return.
The England international has yet to feature for the Reds this season having been absent with an unspecified back problem which he sustained during pre-season, having played 45 minutes of a friendly with Tranmere Rovers in July.
After missing the entirety of the 2017-18 season to date with a back issue, the defender resumed full training at Melwood at the start of the week.
Despite his time on the sidelines, Clyne remains the club's most reliable defensive full-back - although his attacking contributions came into question last term.
Clyne 'needs time' but is looking good
The Reds also welcomed Joe Gomez back from injury as a second-half substitute against FC Porto on Wednesday night, meaning along with Trent Alexander-Arnold, Klopp will soon have three players to choose from in the position.
Speaking about Clyne's performance during the first session of the Marbella training camp, the boss told Liverpoolfc.com: "Clyney obviously missed football! He loves it! It was a long time; it's crazy how long it was and nobody could have imagined that, but it's good [to have him back].
"All three can't play, unfortunately! With the full-backs, it's always a little bit [difficult] and also who can play in another position as well. It's quite specialist – so you either play or you're not really involved. Clyney needs a little bit of time, that's true, but [he looks] very good."
Alexander-Arnold has stepped into the role on numerous occasions and performed reasonably well, drawing many plaudits.
On the youngster, Klopp added: "Trent did what he did and it's the first time he's started three games in a row – I don't think he thought he could do that. At Southampton, I thought maybe he was a little bit on the edge, but we had no other opportunity [to change] so we had to do it again [at Porto] and he did fantastically.
"It's always like this, you need to be challenged and then you can see it and say, 'I'm ready for that'. It was good to see."
The German boss continued by speaking about Gomez, who has also filled in for the injured Clyne. He said: "Joe is a very important player for us and good that he is back.
"You can see Clyney is just a really good football player and when he's fully fit, we will have a comfortable situation in that position", Klopp continued.
Liverpool are currently away on a four-day training camp in Portugal and will return to action against West Ham United in the Premier League on February 24th.