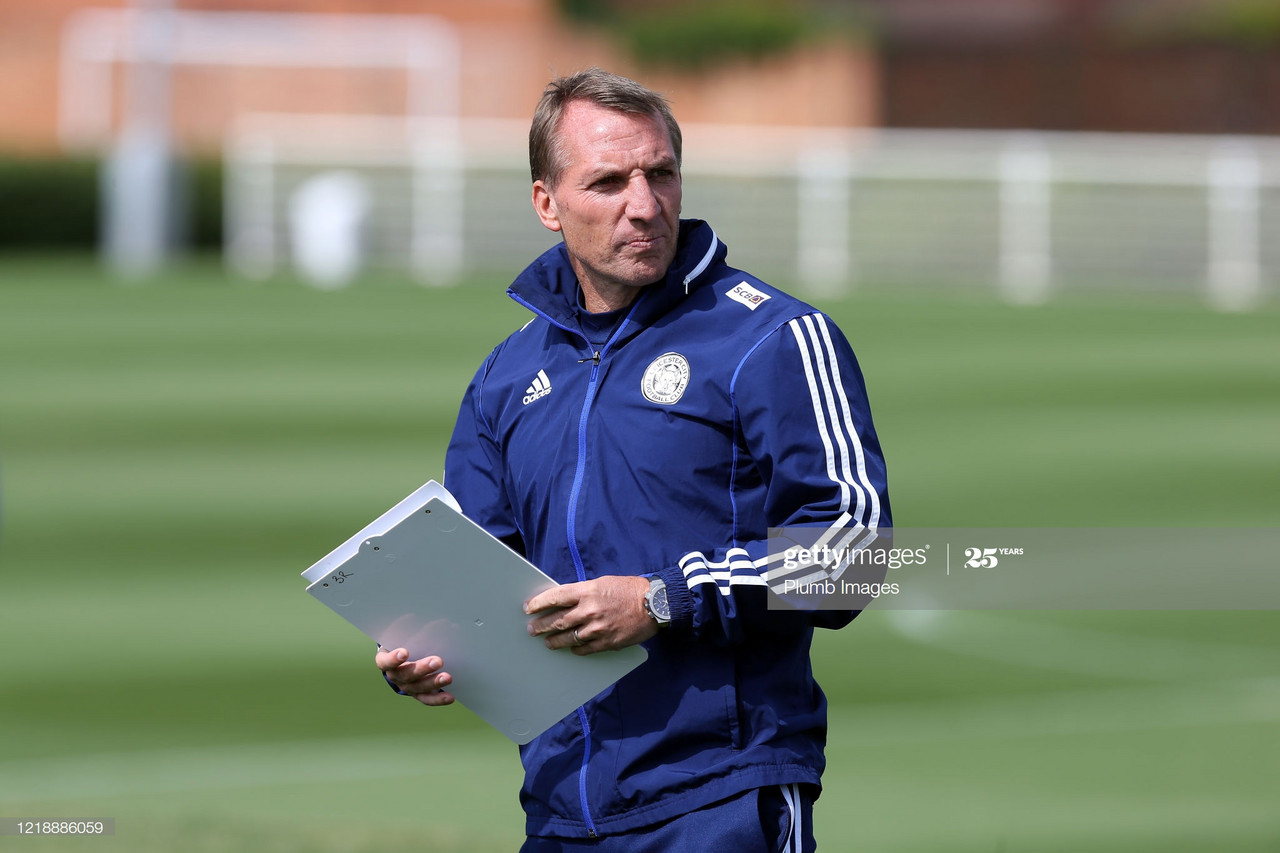 Leicester City manager Brendan Rodgers has said he is trying to keep preparations for Saturday's Premier League trip to Watford as routine as possible, whilst also ensuring his players remain as safe as they can.
The Foxes return to domestic action for the first time in three months following the suspension of the league due to the Coronavirus pandemic, and will face Nigel Pearson's side in front of an empty stadium at Vicarage Road as they look to tighten their grip on a UEFA Champions League spot.
'You can't afford to be too slow'
Despite the changes enforced to keep the players safe, the Leicester boss stressed that clubs have been working hard behind the scenes and that he wants his squad to prepare as normally as they possibly can.
He said: "There's been a lot of work done by the clubs to make sure the players are as safe as can be. The players will travel down by coach and the hotel has been ratified.
"We need to make sure our preparation isn't compromised. We want to keep as close to normal as possible."
The Northern Irishman also believes that whilst the usual high-tempo football may not be there straight away, his team cannot afford to have a sluggish start.
Rodgers said: "It will be a tough game, and that's what we're preparing for.I don't think any team will be at their top level in their first game, purely because of fitness and the length of time we've had to prepare.
"We may not be at our best. But as long as we give our best. You can't afford to be too slow. But it's the same for everyone."
'He's shown he's a fantastic goalscorer'
Whilst Leicester look to return to action with a win, it could be another milestone fixture for both the club and league's top scorer Jamie Vardy this weekend.
Vardy is in line to make his 300th appearance for Leicester on Saturday and could join the Premier League 100 club should he find the back of the net
Having not made a Premier League appearance until the age of 27, the achievement would be another impressive feat to Vardy's ever-growing collection, and one that Rodgers believes he will achieve.
"I think his story is phenomenal" said Rodgers.
"He stopped playing non-league and into professional football at 25. His first game at the top level was at 27. It's remarkable. It shows you his spirit and drive. He's shown he's a fantastic goalscorer. When he reaches 100 goals, his ambition will be to go beyond that. He will get to 100 before the end of this season.
"He's very selfless, he works for the team and his ability gets him goals. He'll be around for a few more years yet, that's for sure."
'There's a high regard for him here'
Saturday's fixture will also mark the first meeting against Watford manager Nigel Pearson for the first time since his departure from the King Power Stadium in 2015.
Pearson and his assistant Craig Shakespeare are well thought of by the Foxes faithful for their work in two separate spells at the club which included winning both the Coca-Cola League One and the SkyBet Championship title respectively, whilst also guiding the Foxes to Premier League safety in the club's first top-flight campaign for a decade.
Long-term stalwarts such as Kasper Schmeichel, Wes Morgan and the previously mentioned Vardy were all around during Pearson's reigns in the East Midlands and the current Leicester boss praised the 56-year-old for his efforts in the past, as well as his current efforts at his new club.
He said: "There's lots of respect here for Nigel, and he did a very good job over two periods. There's a high regard for him here.
"He's done an outstanding job [at Watford]. Nigel [Pearson] has gone there and given them confidence. He has gone in there and galvanised them, organised them and given them an opportunity [to stay up]."