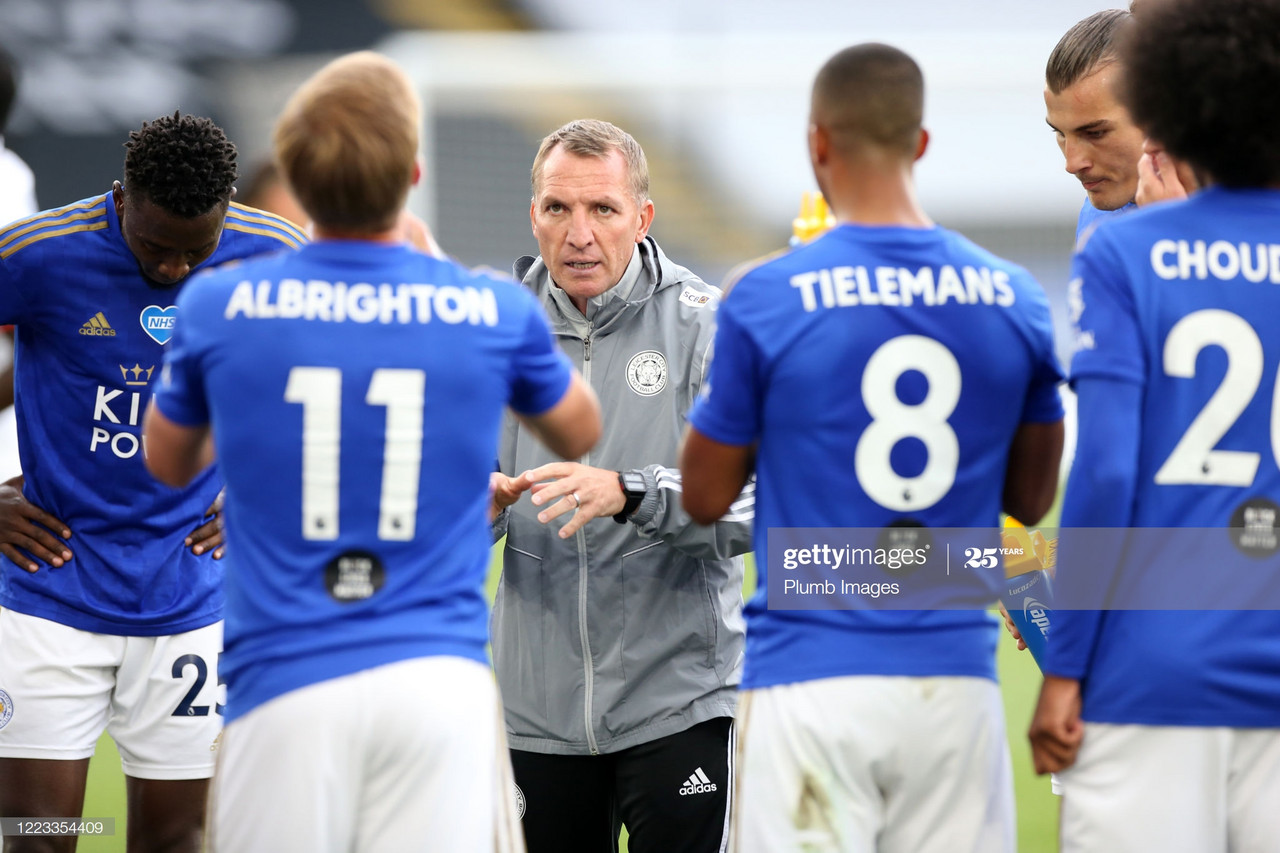 Brendan Rodgers has insisted that Leicester City's season is not fizzling out despite being knocked out of the FA Cup after a narrow 1-0 loss to Chelsea at the King Power Stadium.
After failing to take advantage of their flurry of first half chances, the Foxes let Chelsea into the game, and substitute Ross Barkley scored the only goal to put his side through to the semi-final at Wembley.
Leicester now only have a place in next season's Champions League to play for. With seven games to go, the Foxes need to maintain their place in the top four, but after a winless return to Premier League football so far, it is looking as if it may become a challenge.
'The boys gave everything'
Speaking after the game to LCFC TV, Foxes boss Brendan Rodgers, revealed that despite the result, the team's performance will provide some confidence heading into the rest of the season. He said: "We're frustrated with the result, of course. I think we played very, very well. The boys gave everything in the game.
"We played at the tempo we wanted, we pressed how we wanted to, but we just got punished for switching off, defensively, for a moment. We didn't take our chances, but the performance will give us big confidence.
"This performance now will certainly help with that going into the final league games."
'We're disappointed'
Demarai Gray, who was brought off the bench to replace Barnes with 15 minutes to go, spoke to LCFC TV and explained the players' thoughts after a missed opportunity. He said: "I think, of course, we're disappointed, especially after the first half. We were on top.
"So, as you can see in these games, if you don't punish a team when you have opportunities, a team like Chelsea will come and punish you. Unfortunately, that's what happened."
'We should be proud of ourselves'
Despite the disappointment, Gray maintained a positive outlook and looked ahead to the remainder of the Premier League season. He stated: "We should be proud of ourselves. We've given the cup runs a good go this season. Hopefully, next season, we can push on more.
"We're in a great position in the Premier League. It's important we just maintain it, stay focused, and try and stay up there and get higher if we can."