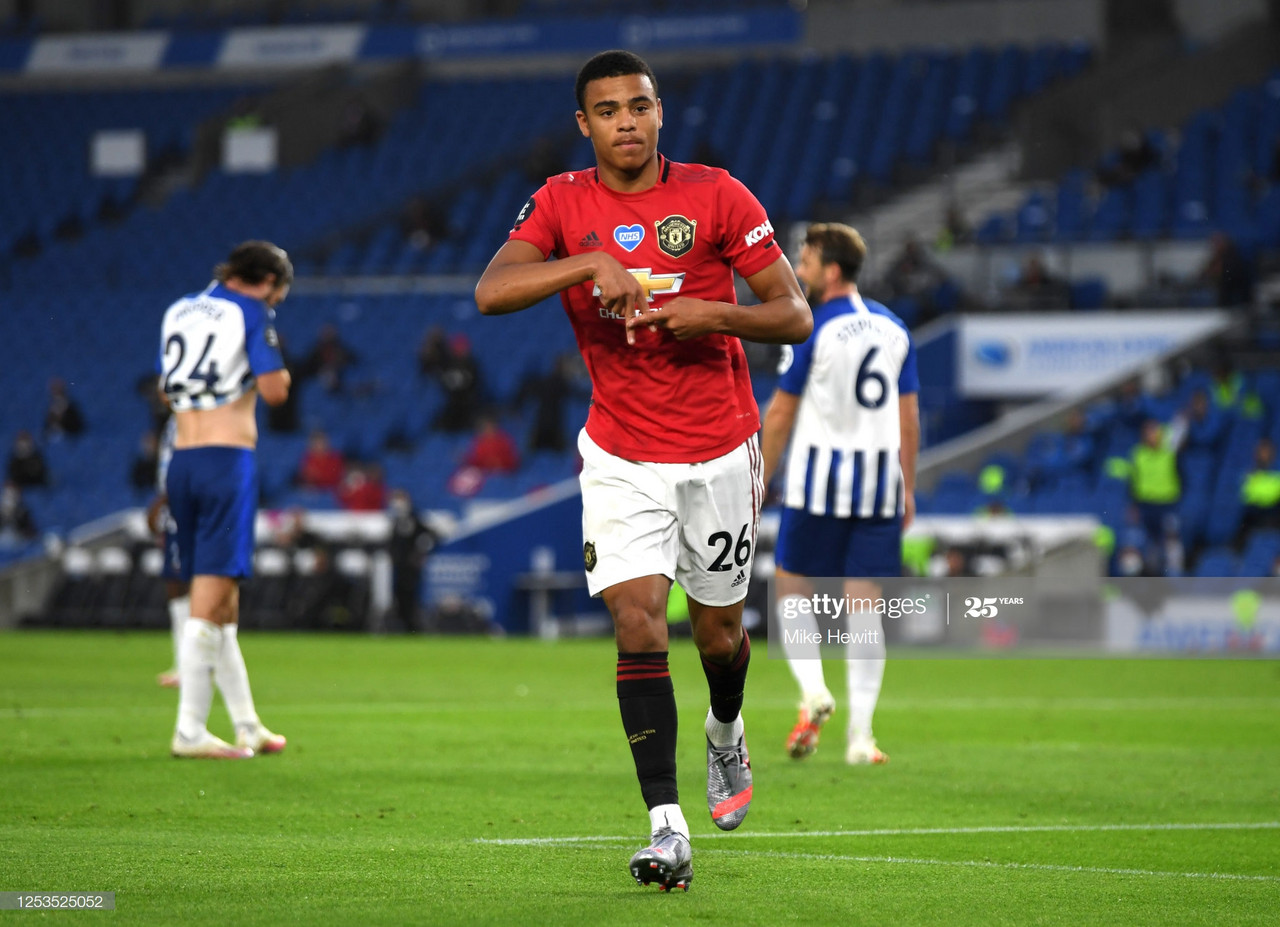 It was a performance that Manchester United's players will wish could have been witnessed by their supporters. It was sharp and stylish, and very comfortable.
Bruno Fernandes scored another two goals. No player has contributed to more goals since the restart. The second of his Tuesday night double was one of United's best of the era, a scintillating counter-attack with perfect pace and precision.
Brighton were meek in the first half but threatened in the second without finding a goal. United remained dominant and thus secured their first win at Brighton since 1982. They also moved within two points of fourth-placed Chelsea and leapfrogged Wolves into fifth.
Story of the game
With no changes to the starting line-up from their last Premier League game, the story was very much the same for Manchester United. An early goal and an almost unsettlingly comfortable first half.
Although three of the team had played the full 120 minutes against Norwich at the weekend in the Cup, United looked very sharp. Their passes fizzed into each other's feet as they tried to bypass a 10-man Brighton defence who had little intention of attacking in the early stages.
Fernandes hit the post after a smart lay-off from Pogba. Then Mason Greenwood put United in front. Four stepovers, one quick touch and in an instant, a dragged finish moved through a pair of legs and past Matt Ryan.
It was typical of Greenwood, who has been scoring that type of goal at every level for the last decade. Two-footed strikers really are worth double. Greenwood is 18 and inexperienced but cannot be defended against. He has always been destined for success and as he scored his 13th goal of the season, and a very good one, it was no kind of surprise. He's just an excellent talent.
"Mason's got that knack of looking so comfortable in front of goal. He's a huge talent. We've known that for a long time and it's a question now for him of that next challenge, and keep striving for more all the time which I'm sure he will." Michael Carrick
Greenwood's six goals in the Premier League is the most by a player aged 18 or under in one season since Wayne Rooney hit nine in 2004.
Soon after his goal, a Fernandes free-kick went over the bar and a looping Maguire header wide of the left post.
Then it was two thanks to an enormous deflection on a Fernandes strike. Ryan was out-foxed by the deflection and Solskjaer's team, as against Sheffield United last week, were in cruise control. They saw out the first half with a level of competence rarely seen by the Reds. Brighton had been meek.
The arrival of Maupay and Trossard at half-time, and perhaps more pertinently a change in approach from Graham Potter, showed another side to Brighton. They threatened intermittently.
But as they attacked, space opened up. And United took advantage with a superb display of clinical counter-attacking football.
Maguire headed out from his box, Matic chested it down and span as the ball bounced before striking it sweetly through the air and into the path of a sprinting Mason Greenwood. The move was so precise and so fast that Brighton really didn't have a chance. Greenwood paused, saw the back post run of Bruno Fernandes and clipped a well-weighted cross which Fernandes finished cooly on the volley. It was world-class.
Blistering pace from Manchester United on the counter-attack! 🔥

Bruno Fernandes finishes off a wonderful move! 💥

📺 Watch on Sky Sports PL
📱 Follow #BHAMUN here: https://t.co/yN2PHcPhp2
📲 Download the @SkySports app! pic.twitter.com/GuZ0VvnUvi

— Sky Sports Premier League (@SkySportsPL) June 30, 2020
Manchester United have now won at every Premier League ground they've played at. The Amex Stadium was the final one to add to the list.
Trossard offered a serious threat for Brighton who continued to push despite the game having been wrapped up. De Gea fumed at his defence as Trossard came close twice. Connolly, meanwhile, spun and struck beautifully but De Gea was equal to it.
The game began to die when Bruno Fernandes and Paul Pogba, who was equally as good as the Portuguese, were taken off. Solskjaer was able to give his main stars some much-needed rest. They play Bournemouth on Sunday.
Takeaways from the match
Faultless United midfield
Fernandes was excellent but so too were Nemanja Matic and Paul Pogba. The latter is excelling in a deep role. With Fernandes offering plenty in attack, Pogba is allowed to simplify his game and is obviously enjoying his football. Matic, meanwhile, isn't always noticeable but has done everything right since the restart.
Greenwood is the real deal
It was known already, but with another goal Mason Greenwood showed his talent again. The surprising thing is not that he scores or adds so much to United's team, but that he is only 18. Greenwood was second-choice to Dan James against Tottenham Hotspur but has made the right-wing position his already.
More to follow...