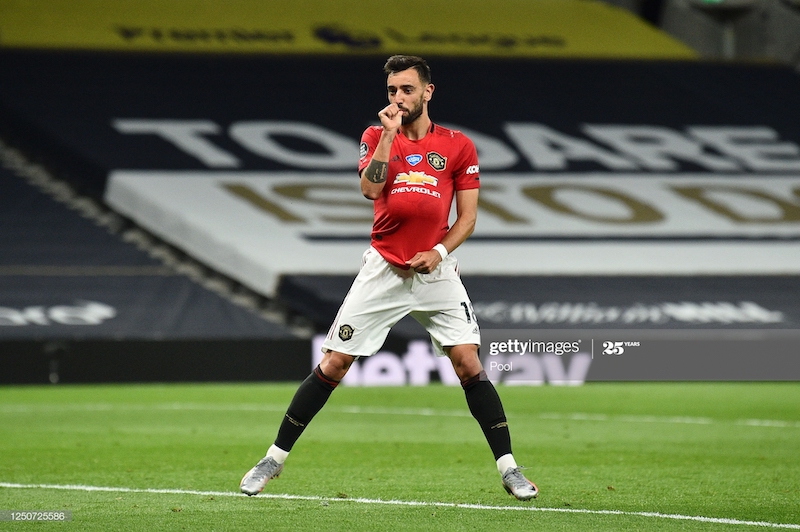 The silent training-like thud of the ball was not reflected in the late intensity of Manchester United's away draw at Tottenham Hotspur.
Steven Bergwijn had opened the scoring for Spurs, a side boosted after the enforced break by the return of Harry Kane and Heung-Min Son among others.
Sustained pressure from United, thankful to welcome back Marcus Rashford and Paul Pogba, got them back into the game. Pogba danced in front of Eric Dier, drew the foul from him and Bruno Fernandes converted the second-half penalty.
A draw does little for either side, both chasing the Champions League spots. Spurs remain four points behind United who are fifth and still two points off of Chelsea, the fourth-placed team with a game in hand.
Story of the game
Though clearly fatigued by the end of a soaking 90 minutes, the players of Spurs and United both came out hard. United did the better, first forcing Ben Davies to nervously head behind his own goal as a floating cross from Rashford made its way towards Dan James.
They pressed with some energy but created less than they should have. Still, Rashford's first time effort with his weaker foot was impressively stopped by Lloris. It could have easily been the opener. The French goalkeeper was also forced into action by Fred and Fernandes.
But the newly-introduced drinks break, brought in to help with the players' hydration, really helped to change the game. Spurs came out of the pause with the balance of the game reset.
When Lloris' long clearance was headed forward by Shaw, the United left-back stepped forward with his main thoughts on the attack. But instead, the ball headed towards United's goal, Shaw left space behind and Bergwijn took matters into his hands, charging past a flat-footed Harry Maguire and striking powerfully towards De Gea who crumpled behind the force of it when he should have parried it over.
Spurs' lead was, no doubt, against the run of play. Roy Keane furiously berated Shaw, Maguire and De Gea for their 'inexcusable' errors which would have had him 'swinging punches' at half-time. Dean Henderson is eagerly awaiting to replace De Gea.
"I would be swinging punches at half-time. De Gea? Maguire? I wouldn't let them on the bus after the match. Get a taxi home. I am disgusted with it." - Roy Keane at half-time on Sky Sports
United were too easy to open up, even if they seemed to hold most of the possession. Son was left unmarked at the back post and pulled a good save from De Gea to keep United in the game.
No changes at half-time for United but Bruno Fernandes' quality ensured the game fell into no kind of a lull. The Portuguese midfielder slipped on a wet surface but recovered, Cruyff turned and struck well from 30 yards. Though it swerved, Lloris got his body behind it.
Five minutes later, he struck again, this time a first-time drive that swept across the tips of the grass and then left of the post.
Solskjaer brought Pogba on, alongside Mason Greenwood. When Pogba last played on Boxing Day 2019, COVID-19 was an utterly unknown entity.
And yet his influence was almost immediate. He is, though too inconsistent in the past, so brilliant. Pogba is the ideal footballer; good to watch, skilful, technically superb, tall, quick and strong.
Moments after arriving onto the pitch, he poked a pass into Bruno Fernandes who turned with his first touch and fizzed it towards Martial. With just a momentary delay, Martial allowed Spurs to recover and his effort was blocked.
Lloris saved superbly from his countryman soon after as Martial pulled the trigger with his left foot after good work from Luke Shaw on the left-wing. Once again, the drinks momentum affected the building momentum of United. Matic and Ighalo came on to try and pump the energy levels up once again.
Pogba was the gamechanger, though. Drifting out to the right flank, he toyed with Dier, flicking his leg back and forth, letting the ball sit still and rest, and reeling Dier in. It was a dance. And as Pogba moved past Dier, the latter trod on his partner's toes, took him down and gave away the penalty. Bruno Fernandes converted. He's the first United player to score a competitive goal in the month of June since John Connelly against Ferencváros in 1965.
Pogba was good. Especially considering he hadn't played for six months, although in fairness no one on the pitch had been in action for three of those. He span a Hollywood-pass across to Rashford on the half-volley, but Sanchez recovered for Spurs.
The final minutes were intense, impressively considering the circumstances. It was, however, clear that the players who had started the game were beginning to tire.
Greenwood, a substitute, came the closest, fizzing an effort to the left of Lloris after a stepover or three. His was the final chance, though, and a draw was just about right.
Takeaways from the game
More to follow...
Stand-out players
More to follow...