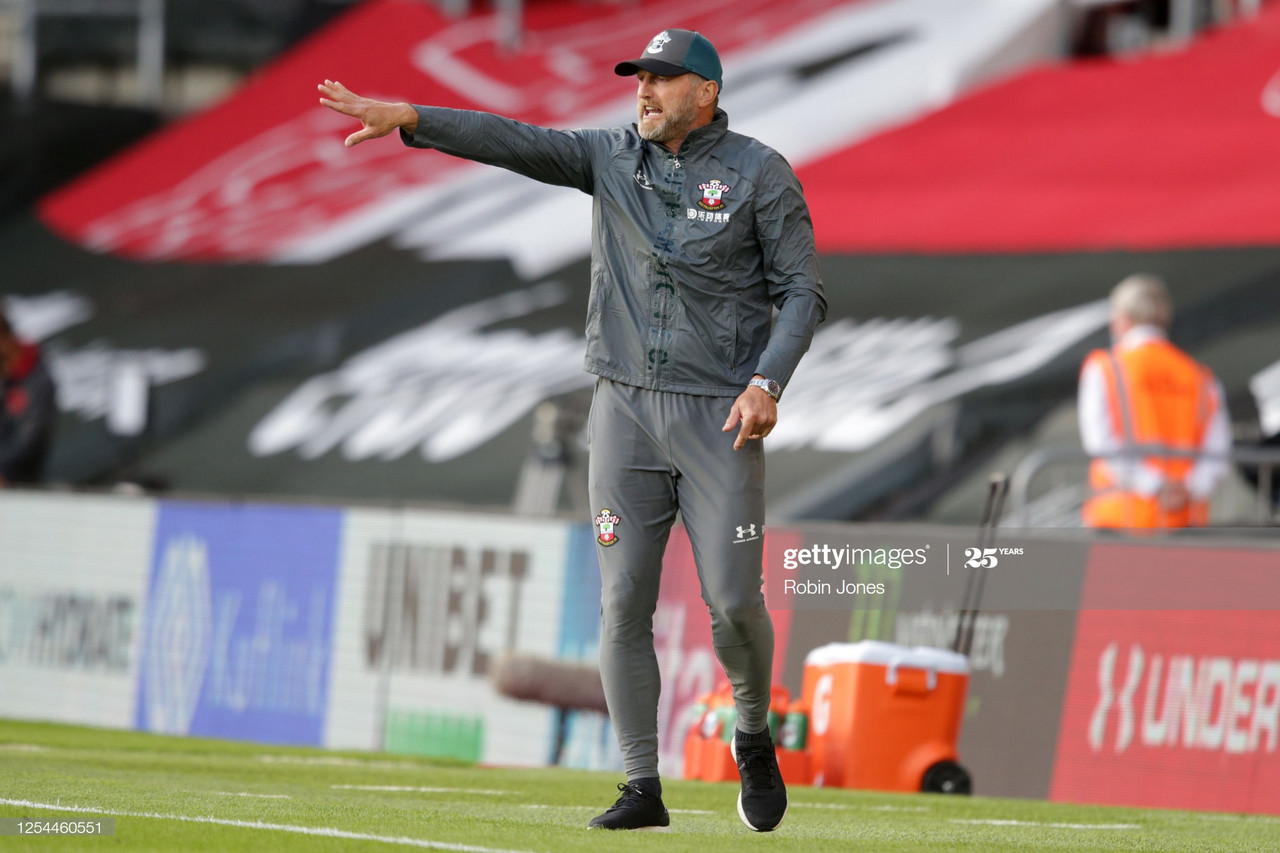 Southampton boss Ralph Hasenhüttl heaped praise on his side and said his team produced a "grown up" performance as they drew 1-1 with Everton at Goodison Park.
The Saints were on the ascendancy from the start and created chances freely during a dominant first 45 minutes. Danny Ings hit the crossbar prior to opening the scoring and James Ward-Prowse also missed a penalty after he was fouled by André Gomes.
Richarlison equalised against the run of play before half-time, while a tactical switch from Carlo Ancelotti saw the chances dry up for the Saints in the final half-hour.
Saints left frustrated after dominating first-half
Southampton remain one point behind Everton after the draw. The Saints are now unbeaten in their last three league games and have only lost one of their five games since the restart.
Speaking in his post-match press conference, Saints boss Hasenhüttl admitted that he was frustrated not to be leading at half-time, but labelled the display as a "very good away game".
Hasenhüttl said: "Definitely frustration because I think we played quite a good game, but this is football and in the last game we gave away a lot of chances away to Man City and they scored nil and they (Everton) had two chances and one time they scored.
"The whole performance was absolutely grown up. It was definitely, in every part of our game, a very good away game from our side.
"We were dominant. We were calm in possession. Sometimes, in the second-half when they changed the shape, we had 10 or 15 minutes when we were struggling a little bit, but we immediately found the right answers for these questions.
"It's a pity that we didn't win this game because the chances, especially in the first-half, were much bigger for us. We had the penalty, we hit the crossbar from the corner from (James Ward-Prowse), who was a bit unlucky today.
"In the end, we take this point. We haven't had so many draws this season, so it feels a little bit strange."
I've never seen an Everton squad struggling so much in a half at home
Southampton quickly asserted themselves on the front foot at Goodison Park and could've quite easily been out of sight with the amount of chances they created.
After losing to Tottenham Hotspur on Monday evening, the Blues were second best in the first-half and Hasenhüttl admitted that he's "never seen" an Everton squad struggle so much in a single half at home.
"We had massive chances," he said. "We played fantastic. It was a very committed performance in the first-half. We forced them into long balls, we won every second, we played good in the red zone, we had some fantastic deep runs with good entering in the box.
"I've never seen an Everton squad struggling so much in a half here at home because it is not so easy to win here or to play good here.
"We found the right way to play against them and then it was even more frustrating if you concede such an equaliser before half-time, but this is football and the Premier League shows immediately every mistake that you make."
Richarlison goes "quick" to the ground, says Saints boss
There was a moment in the second-half, where Jan Bednarek brought down Richarlison on the edge of the Southampton box. Referee Lee Mason awarded a foul and a yellow card and VAR agreed that it wasn't an obvious goalscoring opportunity.
However, Hasenhüttl believes his player didn't commit a foul, but claimed that Richarlison goes to the ground too easily.
"For me it wasn't a foul because he plays, very clear, the ball," he said. "I can't understand why this is a foul and we know Richarlison, when you touch him, he goes quick down on the ground and we have to handle this.
"We did it quite well in this game. We didn't give them a lot of chances and I am very happy with the whole squad, especially with the centre backs."
Southampton have a real chance to carry on their recent form and stake a claim for a top-half finish. Hasenhüttl said the transformation of his team this season has been "incredible".
The Southampton manager added: "We definitely played like a relegation team for a long time and the development we made during the season, especially after the lockdown, is amazing for me. It gives us a lot of self-confidence for the future."