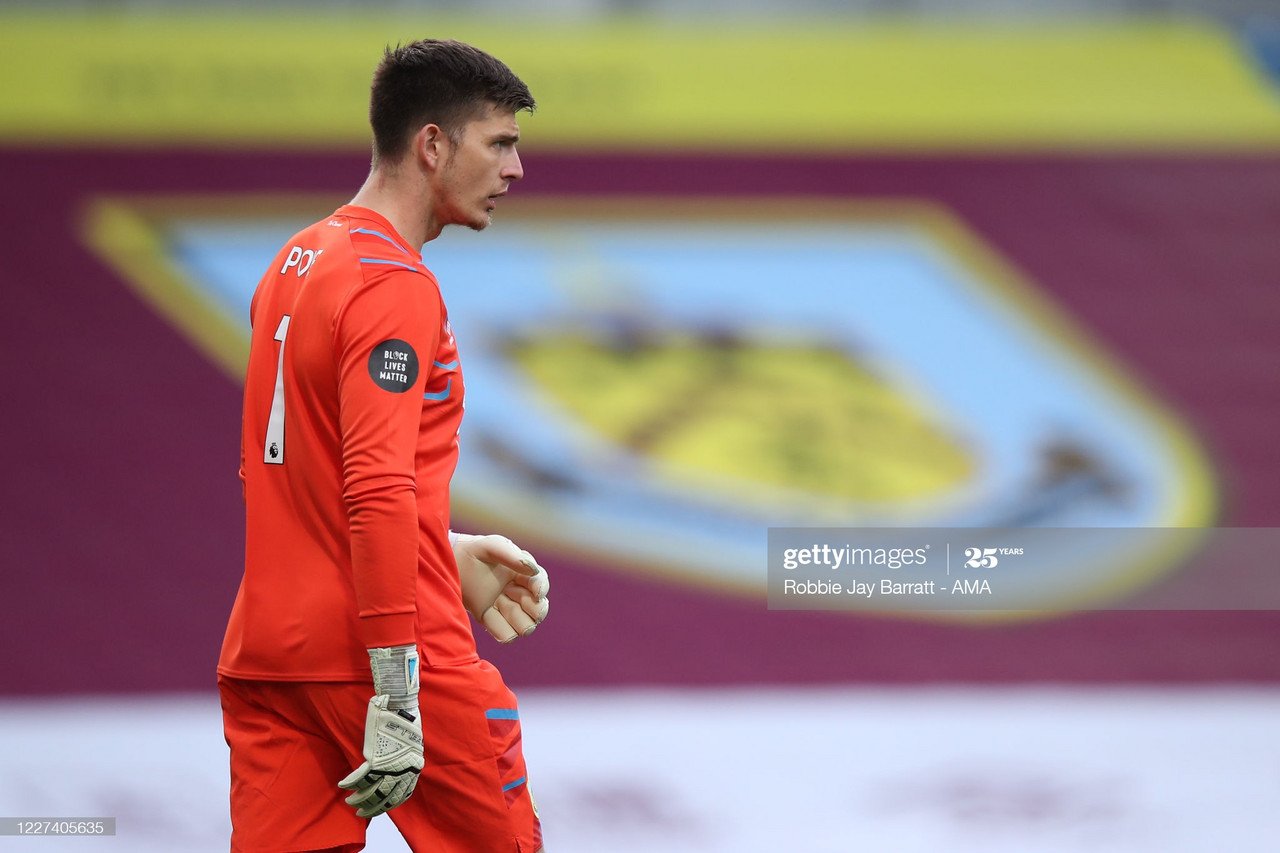 Burnley are renowned by the media and pundits alike for being solid, resolute, stable. Part of this is due to the terrific defensive partnership between Ben Mee and James Tarkowski, which is flanked by defensively sound full-backs. However, the biggest reason they concede so few goals is the man between the sticks, Nick Pope.
The Golden Glove contender has improved rapidly since taking the number-one shirt from Tom Heaton in 2019 and it looks like he is only getting better with age. The now 28-year-old has stamped his mark as the clubs first choice with 15 clean sheets in the Premier League. This impressive form has also put him in leading contention for the England number-one jersey.
Pope's Career
To understand the magnitude of this achievement, Pope's career before this season needs to be highlighted. Although he has had a decent professional career to date, no one would have tipped him to be in the running for the Golden Glove this year.
Pope was a product of the Ipswich Town academy and signed for Bury Town in 2011. However, after making no appearances for the club he signed for Charlton Athletic, his stint here didn't got to plan with eight loan spells to six different clubs, including non-league sides Harrow Borough, Welling United and Aldershot Town.
Pope made only 35 appearances for Charlton before Burnley snapped him up in 2016, he has gone on to make 81 appearances in all competitions, keeping 32 clean sheets for the Clarets.
Impact on Burnley
When Heaton left Burnley for Aston Villa, many Claret's fans were worried, Pope at the time didn't look like a number-one and Joe Hart's career had been on a downwards spiral. However, Sean Dyche saw something in Pope many others didn't, and with the help of goalkeeping coach Billy Mercer, Dyche has turned Pope into one of the best keepers in the league.
Heaton, who is widely considered as one of Burnley's best ever keepers, made 22 appearances in all competitions in the 2018/19 season, keeping only four clean sheets. In that same season Hart made 24 appearances in all competitions, keeping six clean sheets. The two together managed just eight clean sheets in the league as Burnley finished 15th. Compare that to this season and the club sit six places higher in ninth, with one game left Pope has kept 15 league clean sheets, that's seven higher than Heaton and Hart combined.
The Competition
The Clarets have one game left away at Brighton and Hove Albion, and even if Pope keeps a clean sheet he will have to rely on the other contenders conceding too if he wants to win it outright.
Those contenders are Ederson Moraes (14), Dean Henderson (13), Alisson Becker (13) and Kasper Schmeichel (13). Unlike Pope and Burnley, the four challengers and their respective clubs all have two league games left. If Pope concedes to Brighton then any of the four can win the award. However, if Pope manages to keep a clean sheet against Brighton he will move on to 16, meaning Ederson is the only one who can catch him.
Ederson and Manchester City's last two games are against Watford and Norwich City, who are hardly threats to Pep Guardiola's side. This means the most likely scenario is Pope and Ederson end tied after both keeping 16 clean sheets this season. If this does happen, the two winners share the award. However, Pope will want to win the league outright to prove just how good a keeper he has been this season.