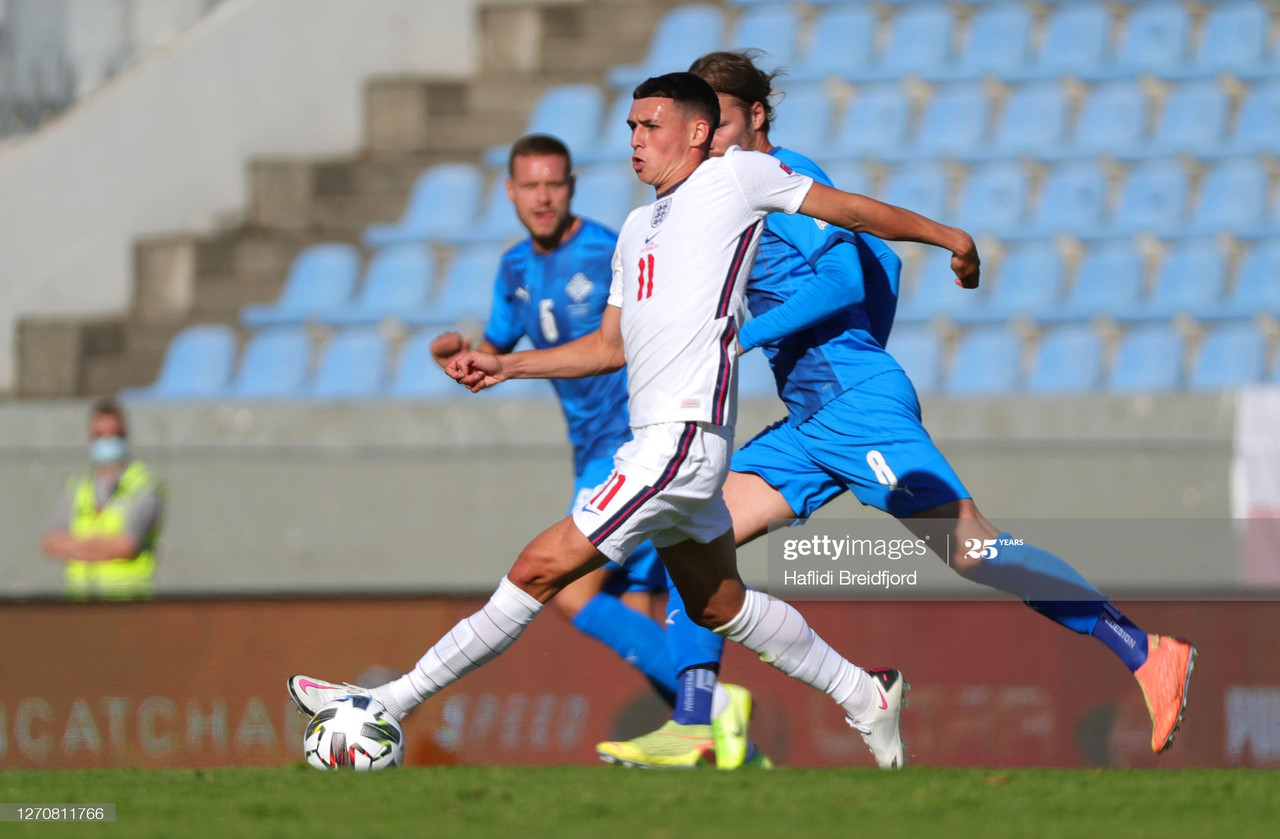 Sent home from international duty by Gareth Southgate, Manchester City's Phil Foden has casted a shadow over his England career with only a solo senior cap under his belt.
Breaching UEFA Covid-19 protocols and regulations, Foden compromised the safety of all England players, coaches and members of staff. Along with fellow teammate, Manchester United forward Mason Greenwood, Foden met with two Icelandic locals on Sunday evening after England's 1-0 Nations League victory over Iceland the night before.
Now back in the UK and unavailable to compete in tonight's Nations League clash with Denmark in Copenhagen, what will the consequences of the 20-year-olds actions be in the long run?
Foden's England Future
Several newspapers in the aftermath of the scandal have reported that the City star could face a four-game international ban following the incident on the weekend.
With the Football Association launching an investigation into what happened in Reykjavík, Iceland's police force have already confirmed that Foden has been fined £1,360 for the rule breach.
Forgiveness, however, seems to be deeply embedded into English footballing routes. Foden is not the first young player and certainly will not be the last to make a mistake when representing his country.
Only ten months ago, City forward Raheem Sterling was axed from Southgate's squad following a clash with teammate Joe Gomez. On Saturday evening, Sterling scored the Three Lions winning goal.
It was also just over a year ago that Everton and England goalkeeper Jordan Pickford landed himself deep in trouble following an altercation with a night club bouncer. On the weekend he kept a clean-sheet against Iceland.
The list of English international wrong doings can continue almost indefinitely. In most cases, the guilty party is forgiven by club and often country too.
Only two months ago was England defender Eric Dier suspended for four Premier League games. The Tottenham Hotspur centre-back played against Iceland three days ago and will likely feature alongside the likes of Kieran Trippier and Gomez for England this evening.
City Statement
Foden is fortunate that he has apparent strong relationships with both City boss Pep Guardiola and former England U21 mentor, now senior coach Southgate. The England youngster is perhaps not so fortunate with timings.
Every professional footballing outfit in the world, will now want to make abundantly clear that they are taking the coronavirus seriously. Bearing this in mind, City's sharp statement suggests that the club could take further internal action – a ban or fine a probable punishment.
The club commented on the incident stating:
"Manchester City FC are aware of the story which has emerged from the England national team camp in relation to the behaviour of Phil Foden.
"We have also seen the comments from England manager Gareth Southgate.
"It is clear that Phil's actions were totally inappropriate.
"His behaviour not only directly contravenes strict guidelines related to Covid-19, but also falls well below the standard expected of a Manchester City player and England international.
"The Club supports the FA regarding this incident, and officials from the Club are now in touch in relation to Phil's enforced early return to the UK.
"We have no further comment to make on this matter."
Southgate's Statement
The nation fell in love with Southgate when the former England international led his country to the 2018 World Cup Semi-Final as manager. Known for his warm nature, grounded and traditional beliefs, it appears that Southgate's more sympathetic statement favours Foden fans.
Southgate commented on the incident and stated in an England press conference:
"I'm very conscious that these two boys are going to walk into something that's going to be very intense and very difficult for them or their age to deal with.
"So, whether people like it or not, I've got to try and support them through that, and I've got to try and not add to how difficult their situation is going to be."
The FA described the players' breach of the Covid‑19 rules as "unacceptable" and betraying a "serious lack of judgment."
Foden's Apology
Whilst Foden is by no means off the hook, Southgate's statement sounded as promising as it could in such circumstances.
City's response may have appeared sterner, but supporters of the club's academy graduate will hope that his apology signifies water under the bridge from all involved.
Foden apologised on social media:
"Following the story which has emerged regarding my actions in Iceland, I want to make a full apology. I apologise to Gareth Southgate, to my England teammates, to the staff, supporters, and also to my club and my family.
"When I was called up by Gareth for these games, my first reaction was that of immense pride. To pull on that shirt for the senior team in my England debut was an incredible privilege.
"I am a young player with a lot to learn, but I am aware of the huge responsibility I have in representing Manchester City and England at this level. On this occasion I made a poor decision and my behaviour didn't meet the standards expected of me.
"I breached COVID-19 protocols put in place to protect myself and my England colleagues. As a consequence I will now miss the opportunity to travel to Denmark with the squad, and that hurts.
"I will learn a valuable lesson from this error in judgement and I wish Gareth and the team good luck this week."
Only time will tell what awaits Foden as football returns for the 2020/21 campaign.