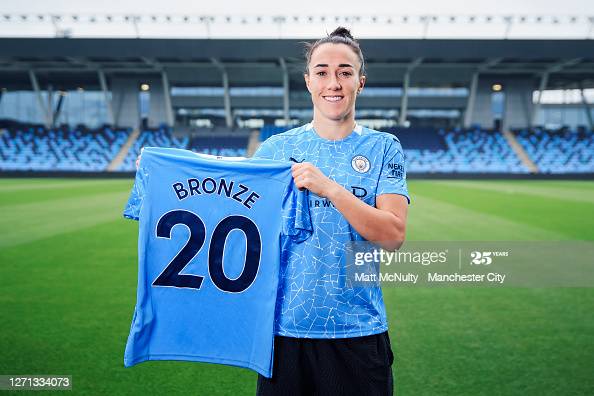 Lucy Bronze won nine trophies during her three years with Olympique Lyonnais, but she's returned to the FA WSL for a bigger challenge with Manchester City. They have won every domestic trophy available and are just missing one trophy in their cabinet, the Champions League.
"I think, early on in the year I'd already thought about coming home and if I was coming back to England it was only ever going to be City so I didn't really entertain any other conversations," said Bronze
"The only other place I would have went was obviously just to stay at Lyon, so it was kind of just between the two.​​​​​
"I could have stayed at Lyon and had the same goals every single year but I think the people that know me know I like to challenge myself, I like to give myself different challenges, different goals, and that is probably the biggest reason for me coming back."
The right-back won every trophy available in England during her time with Manchester City between 2014-2017, as well as reaching the Champions League semi-final in 2017 just to be knocked out by Lyon.
A year later in 2018 City fell short in the semifinal to Lyon yet again, and for the past two seasons they have not gotten past Atletico Madrid in the Round of 32 and 16.
"At club level I have had that individual success in terms of winning the Champions League as an individual in a team abroad but I want to bring that success back to England, back to City."
"I want to get the club to the final of the Champions League, I want to win more silverware. So I want to push the team on, push the young kids on and just improve the team in general."
"City is a team used to winning silverware anyway but I want the team to win more silverware, be more consistent, get back to winning the league, push to make Champions League final and just take the team to the next level."
Manchester City now have two former Lyon players, with Alex Greenwood, with enough knowledge to help their new side to European success against the seven times Champions League champions.
"It's more exciting for me than probably anyone [to have the ability to knock Lyon off their perch] because I know, if it was Lyon, I know the team inside out.
"I know what it takes to be at the top what the players do every single day, how they play, how they think. So it's exciting for me to kind of have all of that information and be able to bring those experiences back and try and change things at Manchester City and push them on."
Every player who comes from playing in Lyon develop a winning mentality. They get used to winning every trophy they compete for, and even when playing bad football their mentality pushes to find a way to win no matter what, but they don't gain that from strict trainings and discipline.
"The French culture in general's just really laid back, which probably surprises people considering how much Lyon's won, but I think it's just they know when to switch it on and when to relax and when to go.
"I think in England in general - it's not just at City - in England in general, it's an English kind of thing: 100 per cent, full on all the time, which can be just as draining as anything.
"I definitely want to just bring that kind of balance - when you go, you go, and when you relax, you take a breather and just enjoy what you're doing."
Most important lesson in France
Playing with Lyon lets you play with individual world class talents like Ada Hegerberg and Eugenie Le Sommer, but the Lyon footballing experience is more than just playing with skilled and top goal scoring players.
"The thing I've learn the most pretty much within my first six months there was the best players or the best player in the world isn't the player that looks the best, it's the player that makes everyone else around them look the best.
"I think that was something I really took away from my first year and when I started playing with Camille Abily and [Dzsenifer] Marozsan especially – two of the most talented players I've ever played with and they just made everything look so easy, but it made everybody else look so easy the way they complimented other players."
"I've always had in my head that the best players just do the best things but really watching that team play and compliment each other to get the best out of each other.
"I was kind of blown away because everyone says that Lyon is a team of just individual greatness but it was definitely something I was surprised at, it was a big lesson for me."
Though she's gone up against the best players in training every day in France, she'll now match up against the likes of Pernille Harder, Vivianne Miedema, Christen Press, Tobin Heath and Valerie Gauvin every Sunday.
"There's a number of them [new signings in the league] I think - each week, I'm going to be rubbing my hands together excited at these different match-ups I get to try myself against."
"Obviously with Tobin [Heath] and Christen Press at United now, which is going to be a rival game anyway. To match up with one of them - that'd be cool, but there's so many good players now.
"Pernille Harder, someone I played against in the Champions League final as well, someone I enjoyed playing against. My favourite games I was playing against the best players, so it's kind of great now that there's so many attacking players within the league that I get to match up against.
"Something that I had in training every day at Lyon was playing against the best wingers, and now I'm going to have it in pretty much every game playing up against these top wingers, top attackers, top strikers.
"There's a list of them: Vivianne Miedema I know is probably not directly up against me, but I've probably not played that much against her, so it will be nice to play up and close against her, especially more recently now when she's had such a good season last year."