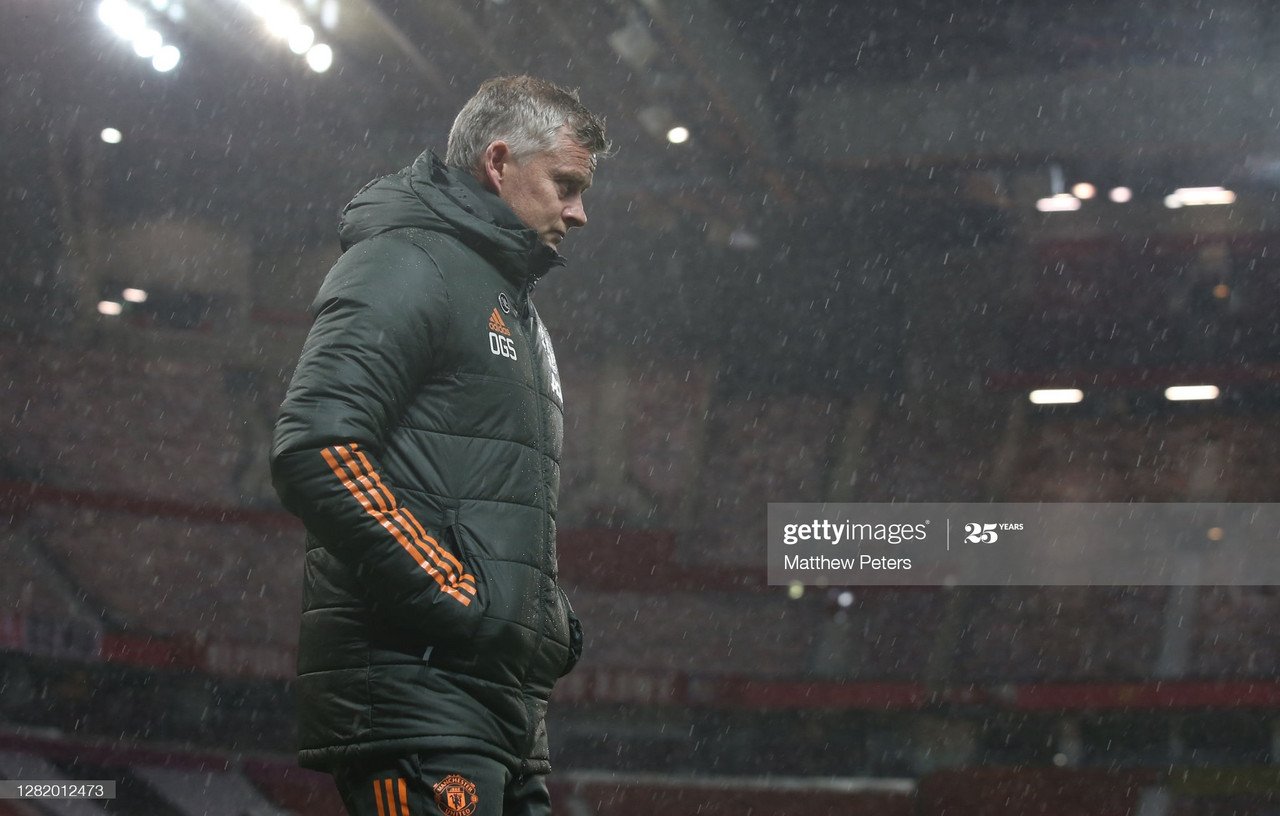 Ole Gunnar Solskjaer was pleased with his side's "good defensive performance" against Chelsea in a goalless draw that brought an end to successive home losses. The unrelenting rain was not conducive to a high-quality match but the Manchester United manager was happy with the clean sheet having conceded six against Tottenham in their last home match.
There were few chances in a game that took an age to reach anything close to a simmer and never boiled. Still, Solskjaer believed his team were "in control" for large parts of the encounter with Marcus Rashford having the clearest chance of the game when forcing Edouard Mendy into a diving save in second half stoppage-time.
On United's overall performance
Solskjaer felt that the two teams' exertions in midweek in the Champions League had an effect on the game with neither side particularly committing to search for the three points and more concerned with not losing.
"I think [it was] two teams that played in Europe this week and that showed a bit," he said. "In the second half we pushed on and if the Stratford End is full we might get some help and get the ball over the line.
"I think we pegged them back, created half-decent opportunities - a great block from Thiago Silva and a great save from the keeper. He made a couple of fantastic saves, so all in all, it was a good defensive performance and we created enough big chances, or at least the two biggest, that could have given us the win."
On the positives to take
On the back of a 2-1 away win against Paris Saint-Germain in the week, this was not a dreadful result for United, but they are still yet to win at home this season after three attempts. Solskjaer, however, believed that his team can take positives from their latest showing.
"You have a clean sheet, you have some pressure, you've stopped the home run of defeats. You want to win it, of course you want to win a game of football at home, but I think it's a solid performance when you think of the week we've had. We've had a very big week with two wins and a draw."
On Cavani's impact
On 58 minutes, when the game was crying out for a goalscorer, Solskjaer sent on Edinson Cavani for his United debut. The striker almost scored with his first touch when he flicked on a corner at the near post.
"A nice little run towards the near post and a nice little flick," his manager said. "He almost had another one when Thiago Silva had a great block - that would have been great for him.
"As I said, if we'd have had a full stadium, we could have created more pressure and more urgency because that was lacking. You're here watching the game and it's a different spot, and with the fans here they help you. We miss them, it's the same for all teams. I can't wait to get them back."
On Maguire's 'challenge' on Azpilicueta
Harry Maguire was fortunate to get away with putting Cesar Azpilicueta into a headlock as he defended a Chelsea free-kick inside his own area and Solskjaer, to an extent agreed, that his captain was lucky.
"Well you always take a chance if you do [put your hands on someone in the area]. The lad just pinned him and Harry maybe should not have his arms around him. Just have your arms [down straight] and head the ball."
On van de Beek's absence
Despite the lack of chances being created, Solskjaer opted to leave summer signing Danny van de Beek on the bench. "Don't worry about that," Solskjaer said. "He'll get his games. It's easy to say who should be playing and more difficult to say who should not.
"It's going to be relentless. The players are tired, they play loads of internationals, come back and play every three days again and after PSG last time, we had a big dip. This time around we've started with a good performance. Maybe we should have had three points but we didn't, we got a point and it's something to build on."