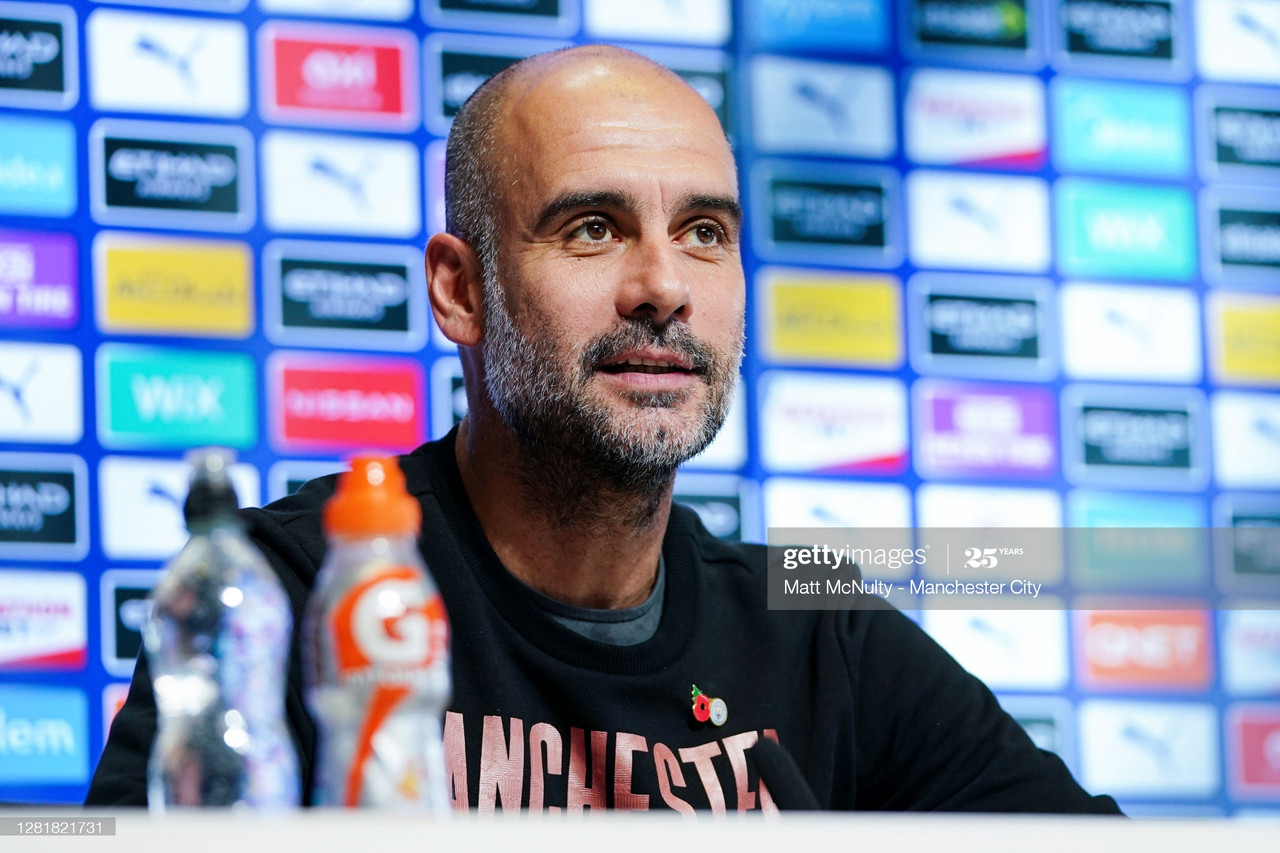 Manchester City manager Pep Guardiola has confirmed that star striker Sergio Agüero remains unavailable for Sunday's tie against reigning Premier League champions Liverpool at the Etihad Stadium.
The City forward will miss out for a fourth game since picking up a hamstring strain against West Ham United last month. Guardiola has seen his team score just nine goals in the opening six games of the 2020/21 top-flight campaign.
The last time Manchester City met with Liverpool; Guardiola's side triumphed with a classy 4-0 home victory. A potential six-pointer, City could close the gap on Jürgen Klopp's Reds who currently sit five points ahead in the table.
Guardiola's injury update
Prior to City's 3-0 win over Olympiacos in Group C of the Champions League this week, Guardiola explained that Agüero's condition was improving.
Joining however, team captain Fernandinho and defender Benjamin Mendy on the side-lines, the City boss has now ruled the Argentine out for Sunday.
"No, he's not ready. Not yet," Guardiola said.
Whilst having acknowledged the importance of beating Liverpool, Guardiola is adamant that at this stage of the season, one cannot bill the tie as a title decider.
Using a topical reference to events occurring across the Pond, the City gaffer explained anything can happen in football.
"It is an important game, but like presidential elections in the USA, all the votes must be counted," he said.
"It is just the seventh game and there are a lot of points to play for.
"We know we have to do a good performance to beat them, we won and lost in the past. We are going to do our best to beat them."
The toughest game in world football
Guardiola confirmed to journalists in his pre-Liverpool press conference, that the rivalry is the toughest game in world football.
Manchester City have however, won their last three home league games against Klopp's side by an aggregate score of 11-1.
Guardiola's eight defeats to Klopp is his worst record against any other manager.
"It is always nice to play against the strongest teams possible," Guardiola said.
"Last year they were stronger. They have been an exceptional team for a long time, with an exceptional manager. It is nice to face them to improve our level.
"When you play against teams like Liverpool, you always have moments where you have to suffer. We know it. We have to do it.
"We'll try to use it to our strengths as much as possible. We know each other quite well. We have played each other many times.
"There will be up and down moments. We need to take our chances and be clinical."
Manchester City and Liverpool have both dominated the Premier League over the last three years.
Collecting a staggering total of 297 points between them, City boss Guardiola, predicts that this season's winner will amass far fewer points than in recent times.
"It doesn't look like a team will make a lot of points, but you never know," Guardiola said.
"Liverpool are the biggest favourite, but I think with what happened with the pandemic, the situation is a bit different."
City midfielder Phil Foden has been recalled to Gareth Southgate's England squad following his breach of coronavirus guidelines in Iceland last month.
The 20-year-old is among the Three Lions for November's matches against the Republic of Ireland, Belgium and Iceland.
Held in high esteem by Guardiola, the Catalan highlighted Foden's overall professionalism.
"It happened a long time ago. Since then he has always been brilliant," Guardiola said.
"His behaviour is exceptional. He is improving because he is a young lad. He was always calm and was good."