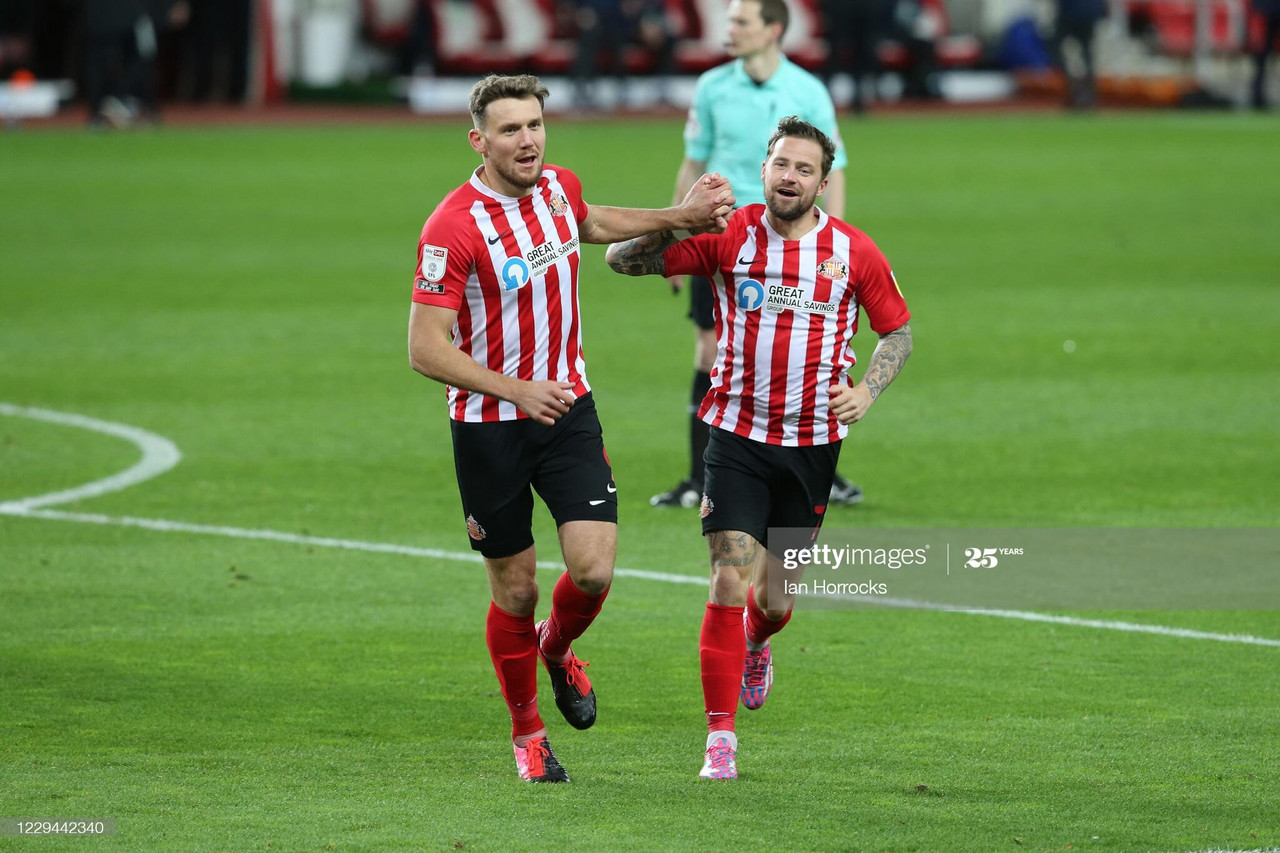 Sunderland lie in sixth position in League One after ten games of the 2020/21 season. They have secured 21 points and have a game in hand on their rivals.
Seemingly, Phil Parkinson's side are in a strong position near the quarter mark. But some are beginning to question this Sunderland side's promotion credentials after performances against Portsmouth, Rochdale and Ipswich.
Fans are desperate to see their side out of the third tier of English football as quickly as possible, therefore it is understandable that tensions heat up after disappointing results.
However, early data sets indicate that Sunderland are performing to a high standard this season. If they maintain their current performance level, Phil Parkinson's men will give themselves every chance of promotion.
Casual League One followers don't need to see any data sets to know Sunderland's defence is very strong. The three-at-the-back system Parkinson deploys makes it very difficult for teams to break them down.
Sunderland have the best defensive record in League One, conceding just seven goals. They went five games without conceding at the start of the season and have kept seven clean sheets in total.
The data reinforces what the eye test outlines - Sunderland are a very strong defensive unit. According to Footystats, the Black Cats' expected goals against (xGA) is just 0.69 per 90 minutes.
What this means is that, based on the quality of chances that Sunderland concede in a game, the opponents would be expected to score 0.7 goals. Extrapolated over a whole season, this would give Sunderland an xGA of 31.74. If Sunderland managed to sustain that level of xGA, they would definitely be in a promotion conversation.
Ben Mayhew from Experimental 3-6-1 creates alternative tables each week based on xG data. From his dataset, Sunderland's xGA from the opening ten is 8.8, the strongest in the league.
Phil Parkinson has a reputation for making clubs defensively strong and his time at Sunderland has been no different. The solidity of Bailey Wright, alongside Jordan Willis and Tom Flanagan has provided the side with plenty of security. It is a strong foundation to build from, giving the team confidence that just one goal will be enough to win in most cases.
A major bugbear of Sunderland fans recently is that the team doesn't score often enough. Charlie Wyke has four goals to his name but, after him, Lynden Gooch and Grant Leadbitter have just two each.
Parkinson is also criticised for not being attack-minded enough, despite his defensive achievements. However, Sunderland do create plenty of goalscoring opportunities; the finishing is just below par.
Danny Graham's performance away at Charlton immediately springs to mind. In the first half, he had three or four big chances that he squandered after his teammates carved open the defence.
The data also reflects this notion. Sunderland have scored 14 goals in their opening ten. This is around the league average and way off the likes of Peterborough and Portsmouth, who have scored 21 and 19 respectively.
What helps the Wearsiders case though is their xG. Based on the quality of chances created, Sunderland have an xG of 1.7 p90, or 17.7 across the season. This is the second-best xG in the league, better than the leaders Peterborough. Only Portsmouth have a better xG.
Currently, they are underperforming on this metric, indicating that their finishing has been poor.
However, with Wyke hitting some good form, the team's fortunes may soon change. Chris Maguire, Gooch and Aiden O'Brien all have the ability to score regularly at this level too, giving Sunderland a massive chance of scoring the goals needed to go up.
Can Sunderland be promoted?
Of course, the finishing is a big worry. If the strikers cannot regularly find the back of the net then xG data is irrelevant and ultimately, the team will struggle.
But considering the tough set of fixtures that Sunderland have had, they are in a very good position. They have played all of the top three sides and four of the top seven, losing just once.
Some performances have been worrying indeed, for example, the Rochdale game. The players were poor throughout and the home side were comfortable. But, on average, Sunderland have been at a very good standard so far.
From a final statistical standpoint, Experimental 3-6-1 has curated a League One alternative table. It is based on xG data for all clubs and fixtures and can be useful in looking into teams' fortunes.
In this alternative table, Sunderland are second, behind Portsmouth. Peterborough lie in third, with Lincoln, Plymouth and Hull making up the top six.
This suggests if Parkinson's side continue on their current trajectory, they are on track to be promoted automatically.
Of course, xG is not a perfect science and clubs can massively under or over-perform on the metrics that it gives. However, it does give a clear picture into performance levels across the season, regardless of results.
The numbers indicate that Sunderland are the best defensive side and second-best attacking side. Usually, that leads to promotion.
Three-quarters of the season is yet to be played and things can change drastically in a short space of time, but Sunderland are doing very well. Phil Parkinson may not be everyone's cup of tea, but he is on track to lead the club out of League One at the third time of asking.