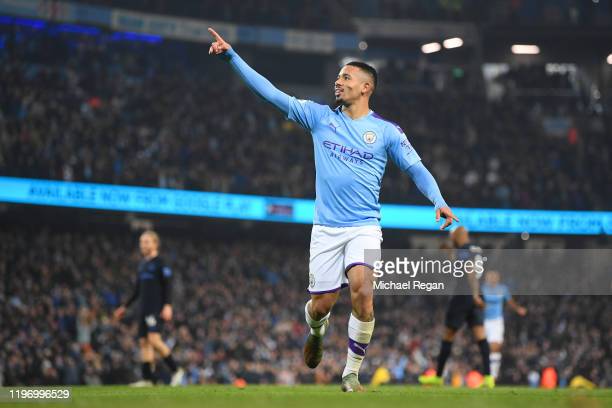 It's been nothing but success and trophies for the young Brazilian since joining from Brazilian outfit Palmeiras in the January of 2017.

With two Premier League titles and an FA cup amongst his Manchester City CV medals, so far it's hard to be unhappy with the situation he's found himself in since his move to England but for Jesus game time is something that has lacked recently.
With only one Premier league start in the last month Pep has chosen to start games in some instances without a traditional number 9 leading the line.
With the formation of the blues being a flurry of positional alteration throughout the game it makes little to no difference who starts furthest forward, when so many players are on target for Pep's side in their current form, but there's been quite a draught for Jesus with only two goals to his name this season from 10 appearances in the top flight, eight of which he started.
Jesus has made a name for himself in his previous four seasons with the club for being a real impact sub and having a serious eye for goal. With 43 Premier League goals and 18 assists to his name at just 23 he has a bright future ahead of him but that tally won't increase without consistent game time.
With Jesus hitting double figures in two of his last four seasons, two goals by the end of January in the Premier League and only five in all competitions is not good enough by his standards.
The small problem of starlet Raheem Sterling, who after tonight's incredible victory over West Bromwich Albion has 9 goals in all competitions lies between the striker and a starting spot in Pep's XI.
Despite Sterling not being an out and out number 9 he has still been the leading frontman in recent weeks for Manchester City. With the lack of availability of Sergio Aguero, there has never been a more important time for Jesus to step up, but simply, he hasn't.
Seeing someone who isn't an out and out striker starting in a position that some would claim is unnatural to them can not do the Brazilian confidence any good either.
That coupled with the fact Sterling has almost double the amount of goals Gabriel Jesus has totted up this season does not help the strikers cause.
With Gabriel Jesus having age on his side it's more about how he reacts and what he can do to put himself back in the starting XI.
With one of the world's best in Sergio Aguero being a figure he can learn off now, is the time he can really prove his worth in a side that is motoring to yet another Premier League title.
With another appearance off the bench tonight in the 5-0 thrashing of West Brom he went without a goal once again.
If it's consistent starts Jesus is looking for more of an impact is needed when coming off the bench and any chances he manages to grab himself in other competitions.
Only time will tell.