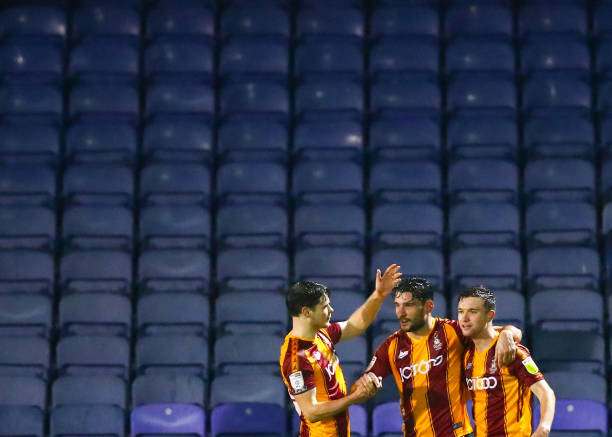 The Bantams seemed destined to be in a relegation battle after only winning three of their opening 16 league games; however, since Mark Trueman and Conor Sellars took interim charge in mid-December, things have started to look up in a big way.
Trueman and Sellars' unbeaten run began with a hard-fought 1-1 draw against Crawley Town with the Bantams then going on to gain three consecutive victories against the likes of Cambridge United (1-0), Grimsby Town (2-1), and Tranmere Rovers (1-0).
The West Yorkshire side then played out two consecutive goalless draws before they returned to winning ways in their most recent outing with a 3-1 triumph against bottom club Southend United.
Keeping the momentum going
Even though the Bantams are currently seven games unbeaten, everyone at the club will know they still have a long way to go if they are to make their season a successful one.
Bradford are facing a congested fixture list in the next four weeks when they are set to play on eight games in what could prove to be a massive period in their season.
If Trueman and Sellars' men are able to take plenty of points from this run of games then it will certainly be time for the Bantams' fans to get excited about potentially being promoted to League One.
Lee Novak returning from injury
Perhaps the only negative thing to happen at Bradford recently was losing top scorer Lee Novak for four to six weeks due to a knee injury he suffered in a training session.
The 32-year-old forward has scored six goals in 12 League Two appearances so far this season and the Bantams will certainly be hoping he hits the ground running once he returns.
If Novak does get back amongst the goals and remains injury-free once he returns then there is no reason why Bradford cannot be in with a reasonable shout of promotion.
A strong January transfer window
Many of the Bantams' supporters were expecting to see deals completed during the winter transfer window and they have not been disappointed.
So far, Bradford have completed the permanent signings of left-back Matty Flouds, goalkeeper Will Huffer, centre-back Niall Canavan, and centre-forward Danny Rowe. Loan deals have also been completed for two more centre-forwards in Andy Cook and Middlesbrough U23 Rumarn Burrell.
If the winter arrivals are able to immediately settle in at the Utilita Energy Stadium then this could also lead to a late promotion push from the Bantams.