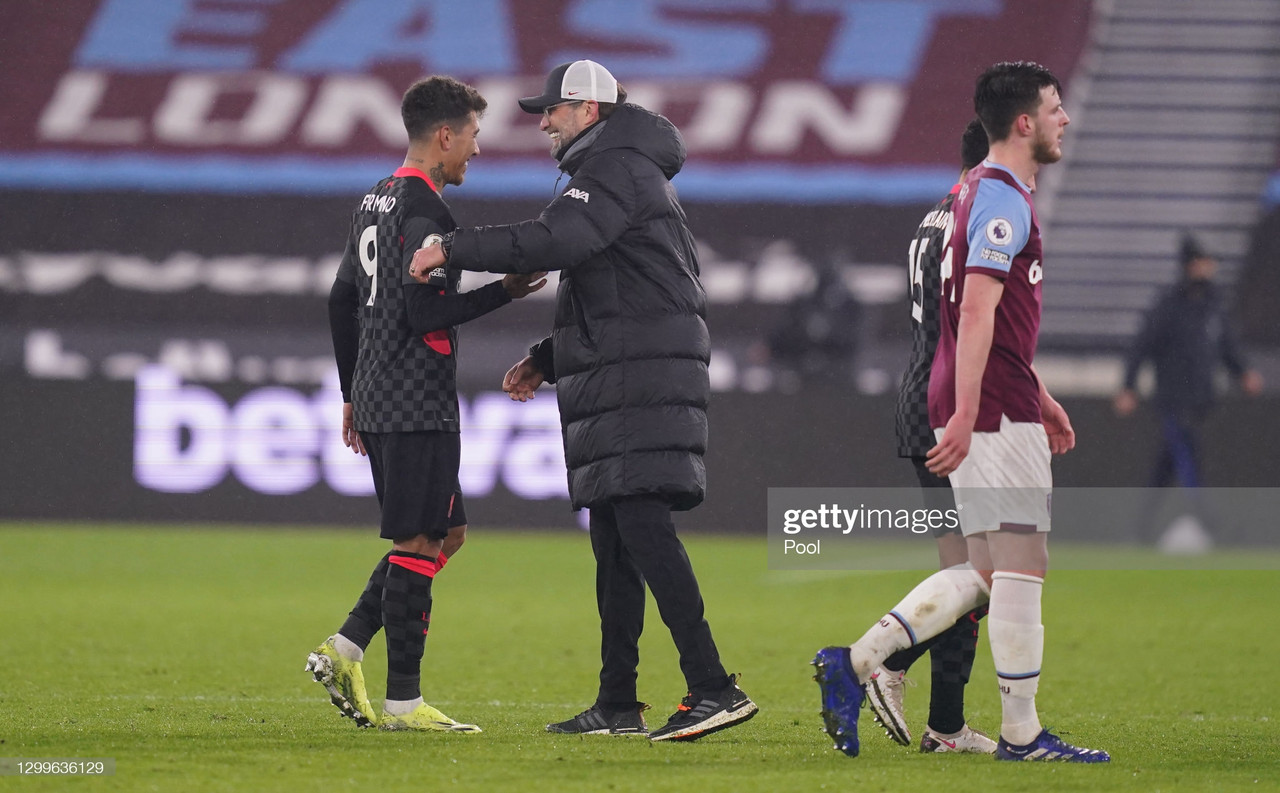 Liverpool continued to revive their season and reignite their title challenge to retain the Premier League trophy with a 3-1 win against West Ham.
Two sublime goals from Mohamed Salah and a rare away goal from Georginio Wijnaldum secured all three points for the Reds. West Ham added a late consolation goal from a corner when Craig Dawson tapped in from close range.
The pick of the bunch for Liverpool's goals came from Salah's second. A West Ham corner quickly turned into a counter-attack when Andrew Robertson headed clear to Trent Alexander-Arnold. The right-back switched a cross-field ball to Xherdan Shaqiri who first time looped a cross over to Salah. A spectacular first-time touch on his right followed by a calm left-footed finished doubled the visitors lead.
This result sees Jurgen Klopp's men move up to third in the table, one point off second-place Manchester United and four points off Manchester City in first, who they play next Sunday.
After the match, Liverpool's manager spoke on his team's performance, the latest update on the defence and a man of the match performance from Salah.
A five star performance
Speaking to Sky Sports after the game Klopp expressed his satisfaction. He said: "[It was a] professional and controlled game. First half we created something but it was not enough, maybe we weren't patient enough.
"[There were] little adjustments at half time, the defensive positioning was slightly different and it paid off we scored wonderful goals all 3 were unbelievable and I'm really happy."
He later spoke to LFCTV on what the problem was in the first half. "We chose a formation we've never played before with Sharqiri in the centre and Origi on the wing. The problem was that the 3 midfielders, who played an outstanding game, were too often in a similar spot. We needed a slightly different formation and we wanted to bring Origi into the centre and it worked out really well. The goals we scored were just incredible."
Mo's man of the match performance
Having scored two goals and caused all sorts of problems for the West Ham defence, Salah was named Man of the Match. The winger moves up to 20 goals in all competitions for the fourth consecutive season. The last player to achieve this feat was Ian Rush back in the 1986/87 season.
After the match Klopp had nothing but praise for the Egyptian. He said: "He will never stop having a massive desire for scoring goals he's a world class player there's no doubt about that.
"He scored a goal against Tottenham and it didn't count but it was a brilliant goal. That was a good sign for him, that a couple of things are clicking again and tonight he played a super game. The first goal was a super smart goal from my angle Fabianski couldn't see the ball because the box was full and he chipped it into the corner. Super smart goal. And the second goal, what a counter attack. Two passes until Mo got the ball and the last pass was spectacular from Shaqiri. [Salah's] First touch was outstanding, world class and a nice finish so a top game and top goals."
Salah is the top goal scorer in the Premier League this season with 15 goals, three ahead of joint second-placed Harry Kane and Son Heung-Min who both have 12 goals.
The defensive dilemma
Following Thursday's match against Tottenham Hotspur, Joel Matip was not included in the squad which faced West Ham. The 29-year-old centre back was taken off at half time with an injuryry, something that has been a recurring factor in the player's career.
During the presser Klopp touched on his situation: "We don't have the final diagnosis with Joel. Specialists must have a look until we know what exactly [is the problem]."
With this injury in mind, it has been apparent Liverpool will need to bring in a centre back before the transfer window closes midnight on Monday. One name looking more and more likely to join the Reds is Preston North End defender Ben Davies. When asked about him Klopp had very little to say stating: "We don't say anything so nothing to say about [him] until something is done, if something will be done."