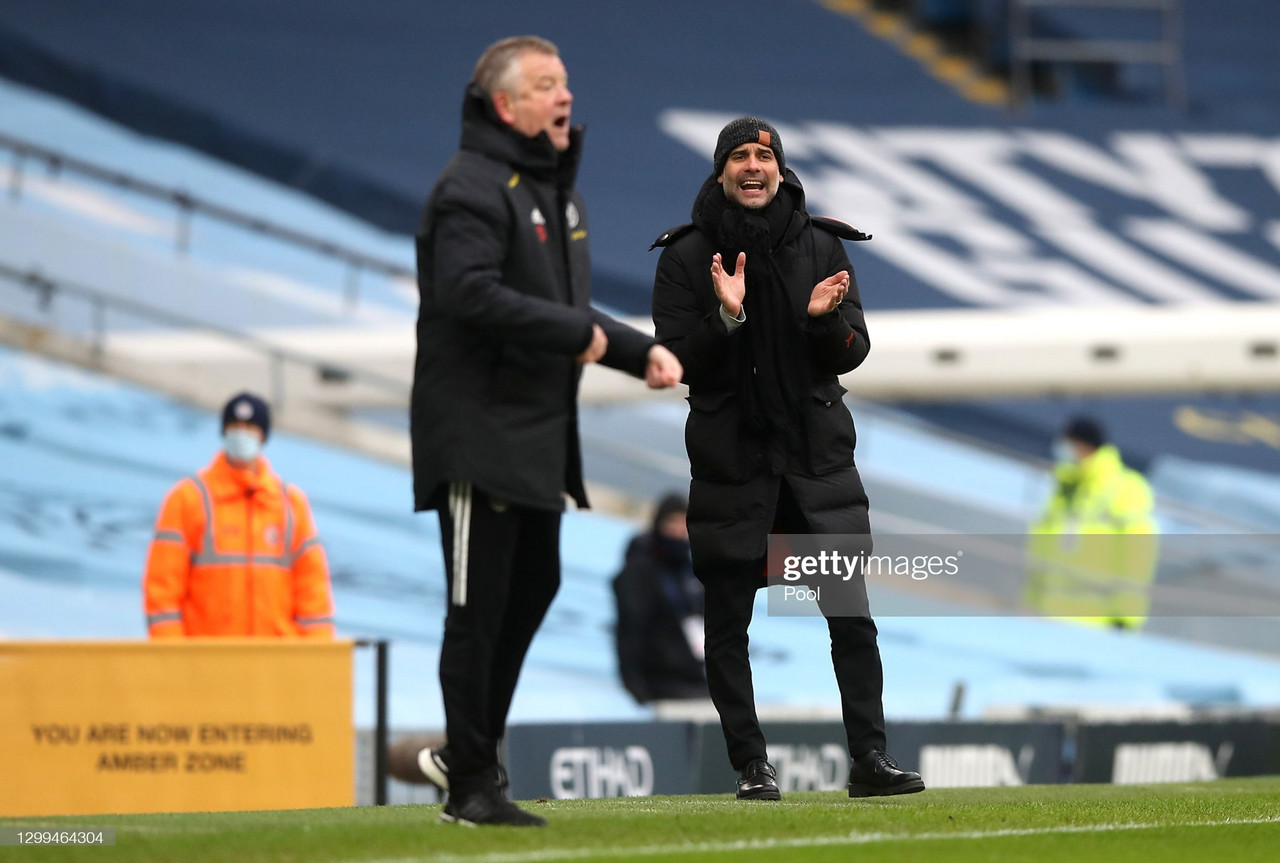 Manchester City moved three points clear of Manchester United at the top of the Premier League table as they beat Sheffield United 1-0 at the Etihad on Saturday afternoon.
Breaking yet another record, City won their ninth game in January - the most victories ever recorded by a team in the top four tiers of English football in a single month.
A 12th straight win also signified Pep Guardiola's 500th career victory as a manager. A first-half Gabriel Jesus goal had the Spaniard in high spirits as he addressed the media after the game.
On his assessment of the game
"I woke up, I went out of my building and saw the wind and freezing conditions and I said straight away this will be one of the toughest games we play this season," Guardiola revealed.
"Sheffield United are right now at the bottom and that's when you realise the Premier League is the toughest in the world.
"The physicality and what they do, they've had bad moments, but their organisation is outstanding. We played really well. We didn't create much but we concede few.
"We were on the right foot on the pitch and we behaved perfectly. I am very grateful to my players for the victory."
On City's 12-game winning run
"We don't have one player who tries to win for himself. Our top scorers are not in first ten or 12 in the league, so we have to do it as a team," Guardiola asserted.
"That's how we will maintain it. The players understand it - some struggled a little bit to understand - but they all understand it. We knew how difficult today would be.
"In winter, it's the toughest moment in England, and with COVID it's a weird life for everyone.
"Here in January, we won every game so that shows the personality of these players. How we react is what I am concerned about now.
"We are closer to dropping points. When you are on this kind of a run you are closer. We will drop points soon.
"In these circumstances, our consistency has been amazing and it's how you overcome the situation when you do drop points.
"An incredible and huge victory today. It's amazing that after 12 wins in all competitions, the players run and fight like animals."
On reaching 500 career wins as a manager
"I will fight to make 100 more! It's a lot of wins. We've won a lot all together in this time and I am very pleased," Guardiola exclaimed.
On Gabriel Jesus and Ferran Torres
"Everyone has to be ready to score goals. Gabriel [Jesus] and Ferran [Torres] are so humble. They are always thinking about the team and I am so grateful for them," Guardiola explained.