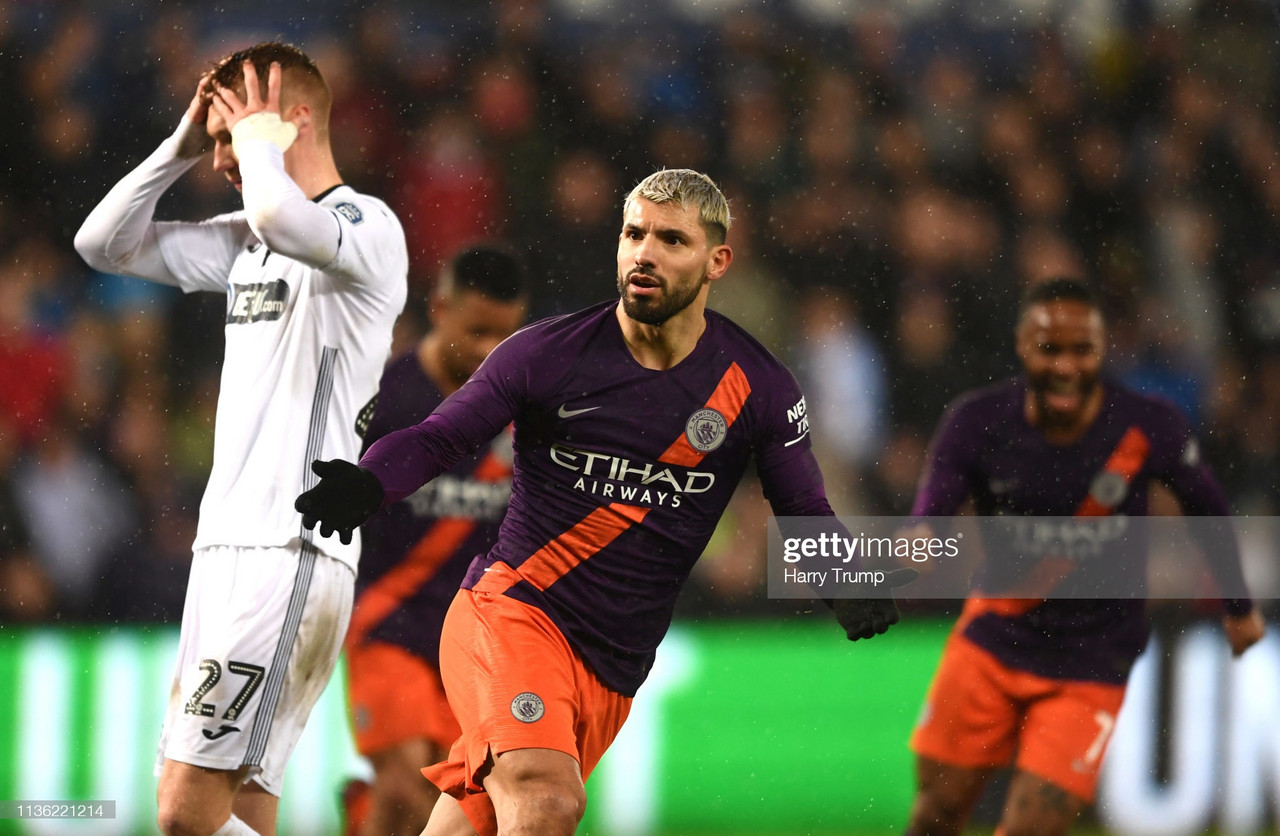 On a twenty-one-game unbeaten run, Manchester City will hope that their winning form continues as they face Swansea City in the Fifth Round of the FA Cup on Wednesday night.
Travelling to Wales off the back of beating Liverpool 4-1 in the Premier League, Pep Guardiola's team are high flying, despite on-going injury problems.
City will be without star striker Sergio Aguero as Steve Cooper's side welcome the six-time FA Cup holders to the Liberty Stadium.
With key players still missing from his squad, Guardiola briefed the press on who will be fit to play in South Wales.
Aguero has missed City's previous nine games through Covid-19 related problems.
Guardiola however, revealed that the club's all-time record scorer was able to take some part in Monday's training session.
"He trained with the group for 10 - 15 minutes and later he did some part alone. Day by day he is feeling better," the boss said.
"We will travel with the team of fit players. We need some players from second team, it will happen."
The Swans are sat third in the Championship standings and look in good shape to challenge their 2019 FA Cup Quarter-Final opponents on home turf.
The last time the two teams met, City progressed to the FA Cup Semi-Final as they fought back from 2-0 down to seal a dramatic 3-2 success. An 86th minute Aguero winner knocked Graham Potter's side out of the competition.
Guardiola reflected on last time out and highlighted the calibre of managers who have taken charge in Wales.
"Swansea have a tradition of good managers," the Spaniard said.
"Michael Laudrup, Roberto Martinez, Mr Potter…
"It was a difficult game [in 2019] and I don't expect a different game to when we suffered there two seasons ago.
"I know Swansea are consistent, score goals and don't concede chances. They are solid in their formation, physically strong and have the quality to play upfront and in the middle.
"It will be an incredibly difficult test. We have to do a good performance. We suffered against Cheltenham and I don't expect a different game tomorrow."
Success without a recognised striker
Whilst City's Premier League rivals have struggled to cope without their key forwards this season, City have not only adapted without Aguero, but have thrived.
Scoring 15 goals in their last five games, Guardiola explained the change in play.
"We play with centre forward's in many games," he said.
"When we don't play with typical centre forwards, people can move a bit more.
"We saw in the game against Liverpool that four or five players were inside the box.
"Every game is different. We are looking forward. Even Gabriel Jesus is dropping and improving in his position."
Abuse to players and referees
Following unacceptable abuse to players and referee Mike Dean over the past week, Guardiola shared his views on the worrying situation that continues to dampen the beautiful game.
"They have to be careful about the messages," he said.
"It is difficult to control social media. What happened in South America when one football player killed himself and we say it is a pity, but maybe we forget what the people said to this guy - maybe about he was not a good player, or the colour of his skin, or something about his family or his kids or his personal life.
"People today who are in public life, are sometimes accused for many things. For example, what happened to Bernardo Silva here when he was called a racist, when he is one of the most gentle, kind and nicest people I ever met.
"We have to be careful, but the people who judge other ones have to because maybe the people who suffer are not strong enough [for it].
"A referee can make a mistake, but it is incredible how people can accuse that or accuse players who make a mistake of racism.
"All the guys, all the referees, all the players, all the managers want to do a good job. They don't want to make a mistake or miss a chance or a penalty. It's part of the job.
"Always it is about winning, winning, winning. Why don't we start saying it is good to play, it is a game, have fun.
"Everybody is involved, we cannot judge the guys who accuse someone when everyone is involved."