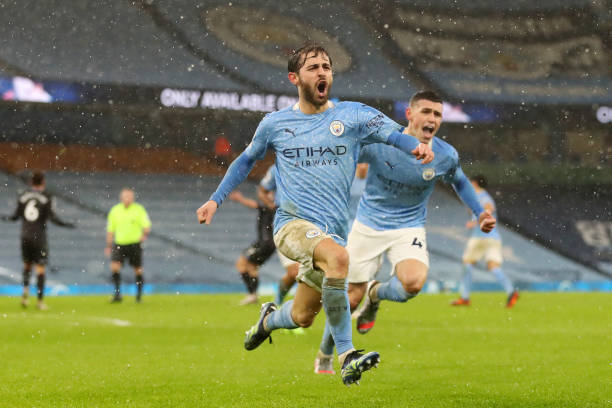 Story of the match
Both sides had plenty of chances to take the three points from Wednesday night's match at the Etihad, but it was Bernardo Silva who took the game by the scruff of the neck on the 80-minute mark with a stunning finish into the bottom corner.
Up until that point, it was Manchester City's most open game of the Premier League season so far. That did not stop after the opening goal, however, as Aston Villa pushed for an equaliser.
This left gaps in the closing stages and allowed İlkay Gündoğan to slot home a late penalty after a handball from Matty Cash blocked a header across goal from Gabriel Jesus.
It could have been a very different story, if not for the heroics of Ruben Dias at the opposite end of the pitch as his intervention stopped an almost-certain goal for Villa.
No De Bruyne? No problem.
There will be concerns over Kevin De Bruyne being substituted on the hour mark. However, what the last half an hour did was prove City are still able to push for a win without the Belgian genius pulling the strings in midfield.
Jack Grealish once again displayed a De Bruyne-esque performance for Villa but it was Bernardo that stepped up to the plate this time to get a foothold in the end-to-end game at the Etihad.
De Bruyne going off will definitely be a worry for Citizens and will be hoping that the change was tactical, rather than an injury to the world-class midfielder.
Disruption to the City midfield
Although City had their usual dominance in possession against The Villains, their play seemed to be disrupted too much for Pep Guardiola's liking.
One Villa player that seemed to make the difference was ex-City defensive midfielder Douglas Luiz, who City sold to Villa in 2019 for £15million. However, it has been reported by the Daily Star that Luiz has a £25million buy-back clause in his contract if City wanted to bring the Brazilian back to Manchester.
Despite being a sad thought for many City fans, Fernandinho is closing in on his time at the Etihad, and bringing Luiz back to the club would be a brilliant back-up option to Rodri in midfield, and keep the Spaniard fighting for his starting position.
City score a penalty!
With first-choice penalty taker, De Bruyne, and Raheem Sterling both substituted, penalty duty dropped to the in-form German, Gündoğan.
City missed five out of a total of 11 penalties given to them in the Premier League 2019/20 season, and that has continued into this season with a worse conversion percentage so far this season - only improved by Gündoğan's on Wednesday night.
Citizens around the globe will have been peeking through their fingers, watching on as Gündoğan stepped up to the penalty spot. He was able to smash it down the middle, however, to secure the win for the men in blue.
Foden brilliance
Phil Foden is close to a landmark 100 senior career appearances, currently sat at 98 after yet another bright display from the born-and-bred City man. The 20-year-old has been given his chance to show the world what he can do by Guardiola, and he has snapped up the chance to do so.
Wednesday's game was his 14th appearance, and ninth win, of the season, and was a key player in boosting City to the top of the table since October 2019 (if only for a few hours, with Manchester United taking back top spot with a win at Craven Cottage).
VAR controversy
Video Assistant Referee, or VAR, has stolen the headlines again with the sending off of Dean Smith, Aston Villa manager, gaining awareness for an offside possibility during City's opening goal.
Rodri seemed to be coming back from an offside position when he stole the ball off Tyrone Mings, who was then able to feed the ball to eventual goalscorer, Bernardo.
Smith was clearly not happy on the touchline and displayed his anger towards Jonathon Moss, who had no other option to give a red card to the manager.
The decision was a tricky one to deal with at the time and will be continued to be discussed. It stood, however, and led to another City win, taking them top of the Premier League table with a game in hand.