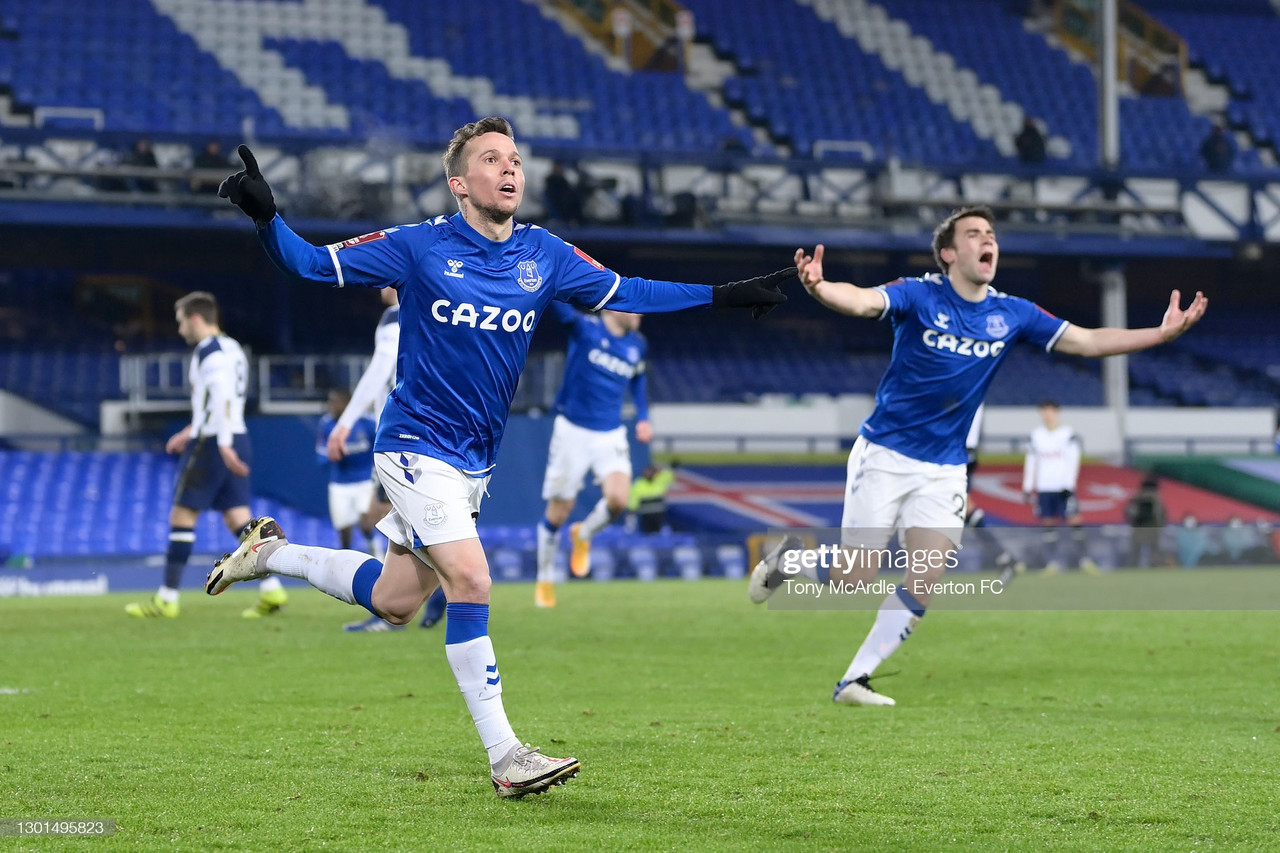 Everton knocked Tottenham Hotspur out of The Emirates Fa Cup in the fifth round, following a nine-goal-thriller in which the Merseyside club needed extra-time to claim victory.
The tie was just as exciting as the scoreline suggests, with both teams taking leads and being pegged back in a historic FA Cup thriller.
Spurs took an early lead in the first-half, with Davinson Sanchez scoring inside the opening five minute, they remained on the front-foot looking for a second.
In a period of the first-half, which was completely against the run of play, Everton scored three goals within seven minutes.
Goals from Dominic Calvert-Lewin, Richarlison and Gylfi Sigurdsson saw Tottenham capitulate in similar fashion to the 3-3 draw against West Ham United earlier in the season.
The game continued to create drama with more goals in the second-half leading to extra time, Bernard grabbed the winner to send the toffees through to the quarter-final.
Jose Mourinho has been under huge pressure due to his pragmatic, defensive style of play that has seen fail to see out victories in multiple games this season.
He has used a number of different parings at centre-back, opting for the partnership of Toby Alderweireld and Sanchez last night.
Conceding five goals is almost unheard of in Mourinho's world, he decided to be brave and set his team up to play on the front foot.
It appeared to be the right move, but the defensive frailties in his squad were made bare in the seven minute period of the first-half as they conceded three.
Although he scored a brace, Sanchez has been out of favour in the Premier League and didn't put in a performance to show he was deserving of an opportunity.
Seemingly, Mourinho's approach was to ultimately avoid a performance such as this one, it serves as a reminder to his critics that perhaps the 'boring' style of play is imposed more through necessity than choice.
Kane edges closer to Greaves record
Harry Kane came off the bench to score a late equaliser and force the tie into extra time, it was his 209th goal for Tottenham.
He is now the side's second top scorer, only 57 goals behind all-time record holder, and club legend, Jimmy Greaves.
Greaves reached this total after recording 379 appearances, while Kane is currently on 318.
Had it not been for the strikers injury record across previous seasons, he may have been considerably closer to it and in much sooner time.
Everton finishing clinical
Everton scoring five isn't something that occurs often, especially not against opposition as strong as Spurs.
Front-man Calvert-Lewin went off injured due to a hamstring injury, which will be a concern for Carlo Ancelotti as he has been in and amongst the goals this season.
Off the back of conceding two in quick concession, it may have looked as if Spurs would have the firepower to claim a victory.
Both Richarlison and Bernard rose to the occasion, their finishes were almost identical, shooting across Hugo Lloris with lots of power.
Their pinpoint accuracy was crucial, they also disrupted the Spurs defence, finding space in the channels and getting in behind.
With the performance of Sigurdsson also impressing, Ancelotti can be sure in the fact that he has enough players to create a working solution to Calvert-Lewin's forecasted absence.