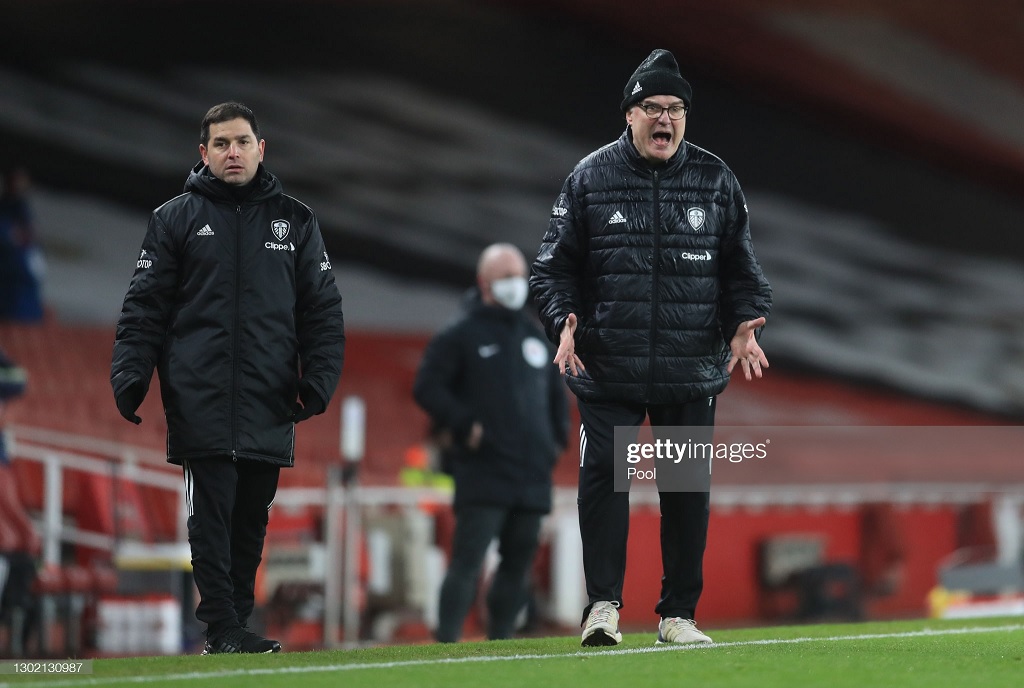 Leeds United's horrific run in London continued on Sunday as they lost 4-2 to Arsenal at the Emirates Stadium.
Leeds who haven't won in the capital since December 2017, drop to 11th in the Premier League table.
How do you explain the performance in each half?
A hat-trick from Pierre-Emerick Aubameyang and one from Hector Bellerin saw the Whites go 4-0 down before goals from Pascal Struijk and Helder Costa halved the deficit. However, it wasn't enough for Marcelo Bielsa's side.
After the game, Bielsa spoke to the media and explained the performance from the club in each half.
"In the first half we didn't manage to break the circulation Arsenal from their half to our half.
"When we were building up from the back we didn't manage to take the ball from our half into their half cleanly. There was no surprise for either of the two managers." he said.
"They knew how we were going to press and they resolved this. We knew how they would press us but we didn't manage to resolve this. In the second half, the opposite happened.
"I have to mention that [Mateusz] Klich played whilst not being at 100 per cent. It was an act of generosity from his part. It was another difficulty we had to endure throughout the first half. I value a lot that he sacrificed himself to be able to start this game." he added.
The return of Klich and Phillips
Bielsa spoke about Kalvin Phillips' role without him in the side and also the situations of the injuries to both him and Klich.
"I think Pascal played a good game today. Shackleton's first half as a full-back was secure as a full-back. Ayling as a centre-back globally made good responses.
"Of course all teams have absences and not being able to count on Phillips is a disadvantage but I don't think it was this that unbalanced the game," he explained.
"Phillips' return is subject to his evolution from his injury, and Klich had a slight problem in his hip."
Young Leeds United defender Niall Huggins made his debut for the Whites at the Emirates on Sunday afternoon and Bielsa spoke about his performance and what he brings to the side.
"The absences of Kalvin, Koch, Llorente, Poveda, Moreno, we are prepared to resolve them," he admitted.
"I insist that Pascal, Ayling and Shackleton resolved well with these absences. It's very difficult and unfair on a young player like Niall to come into the game in these circumstances where we're losing 4-0 and to participate in trying to get us back into the game.
"[He] had a balanced game, he didn't shine, but did not do anything bad either."
Struijk in midfield the right option?
Whites boss Marcelo Bielsa opted to play Pascal Struijk at defensive midfield during the clash with Arsenal rather than Klich or Stuart Dallas. Meaning, right-back Luke Ayling moved into centre back to partner Liam Cooper with Jamie Shackleton coming into the side at right-back.
After the game Bielsa explained his reasoning for the decision.
"For me one of the most difficult things to neutralise from the opponents was how their two defensive midfielder play," he confirmed.
"You watch closely in the first half, one of the biggest things for us was that we didn't manage to control Xhaka and Ceballos. In front of them Odegaard played, who is an offensive player." he revealed.
"If Klich or Dallas had played against Odegaard before the game, neither Dallas nor Klich are defensive midfielders and Pascal can play in this position. In our team the defensive midfielder is the third defender. In our team, the two centre-backs and the defensive midfielder are the ones that defend the most." he said
"If I had interpreted that Klich or Dallas was our third most defensive player I think we would have had even more problems than we did. I think the biggest issue that we had was that we were not able to neutralise the circulation between the two centre-backs and the two centre-mids in the first half.
We evaluated the first half but the second half was the same but in reverse."