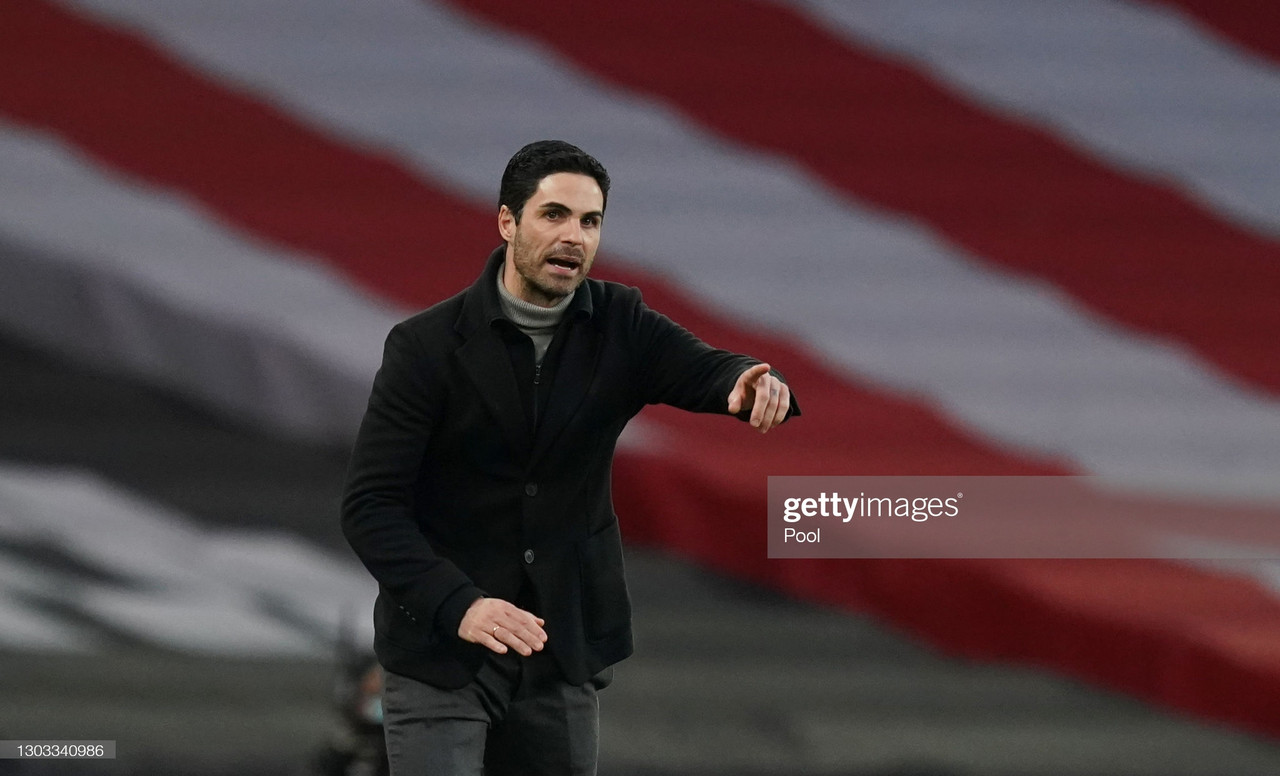 The student could not outsmart his former master as Mikel Arteta's Arsenal failed to capitalise on Pep Guardiola's Manchester City's missed chances and an early Raheem Sterling header proved the difference between the two sides.
The squad had been heavily rotated in preparation for the crucial Europa League faceoff with S.L Benfica on Thursday, marking the return of Kieran Tierney and Pablo Mari into the starting eleven.
Mikel Arteta spoke to the media after the defeat:
On whether we did enough to get back into the game:
"To start the game the way we did, giving them the goal and the way that we did it, you have to be exceptional the rest of the game and you have to nail it in every single department and we didn't do it.
"We had really good moments and we had moments where we really matched them up and and we made it tough for them."
After falling behind extremely early on, it was always going to be a difficult task for the hosts.
It seemed the final pass was lacking, with Bukayo Saka looking creative but unable to accomplish any real output.
Tierney was progressive on the left-side, but he too could not break down a strong City defence.
On whether he was worried that it could be a long afternoon after the early goal:
"That was my worry because with the formation and the players that were used today, there is nothing worse than going behind so early because it puts the game exactly where they want it, with time on the ball, creating overloads with the false nine anywhere that they want on the pitch and we could become impatient and frustrated."
City's early goal was not a surprise to many, with Kevin De Bruyne scoring within similar fashion in this fixture last year.
The way Arsenal setup meant that the Manchester side would have much more possession and control of the game, the early goal played into their hands too.
Manchester City were able to control the game with many players dropping into the 'false nine' position, this created space for others to run into.
On whether winning the Europa League is more important than ever before for us:
"It's really important, but obviously every defeat now in the league puts us in a much more difficult position.
"We have to take it game by game and we need a run of games. I think we have a big run of performances, but we've lost three games now in different ways and it's not what we want obviously."
The Europa League seems to be most likely chance that Arsenal will have of obtaining European football for next season.
After a draw in Rome against Benfica, The Gunners travel to Greece for their home tie.
There are many top teams still left in the competition, including three other English sides; Manchester United, Tottenham Hotspur and Leicester City. If Arsenal are to progress through the competition, they would have a serious chance of returning to Champions League football.