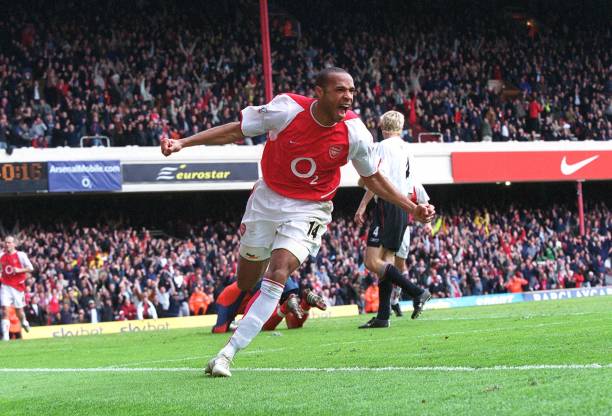 On this day in 2012, Thierry Henry scored his final goal for Arsenal which was as a last-minute winner against Sunderland. The Frenchman is the club's record goalscorer as he bagged 228 goals in 377 games for the Gunners.
To mark this occasion, here are three of Henry's best goals for the club.
When Arsene Wenger's side travelled to Madrid in 2006, no English side had ever beaten Real Madrid at the Bernabeu. Henry topped off a brilliant team display with a solo goal to win the game 1-0.
He dribbled past four players during his run including a 19-year-old Sergio Ramos, before placing the ball past the keeper on his weaker left foot.
Henry still holds the record for most Champions League goals for Arsenal with 35 of 42 European goals coming in the competition.
In the week prior to the game against Liverpool, Arsenal were knocked out of the FA Cup and Champions League by Manchester United and Chelsea respectively.
Morale was very low around Highbury and it seemed like the team's invincible record in the league was coming to an end, especially when Liverpool took the lead twice in the game.
Henry answered all the questions surrounding the team by scoring a hat-trick with the second of the three goals being a great solo effort (again). He eased past Dietmar Hamann before causing Jamie Carragher to collide into Sami Hyypia and finishing the move with finesse.
The striker described this as his 'greatest ever game' in an interview with Sky Sports as the Gunners went invincible in the league that season.
When you dream of scoring the perfect goal, nine times out of ten it will be a volley against your biggest rivals. Henry did just this during the 2000/01 season as he scored one the greatest Premier League goals of all-time against title rivals, Manchester United.
Completely out of the blue, Henry flicked the ball up on the edge of the box, with his back to goal, and then sweetly hit the ball on the volley and looped it over Fabian Barthez.
The importance of the goal added to the technical difficulty of the effort as it was the only goal in a 1-0 win over the Red Devils.
An honourable mention must go to his goal against Tottenham in which he took the ball from his own half and carried it all the way before slotting it past the keeper, leading to an iconic knee-slide celebration.