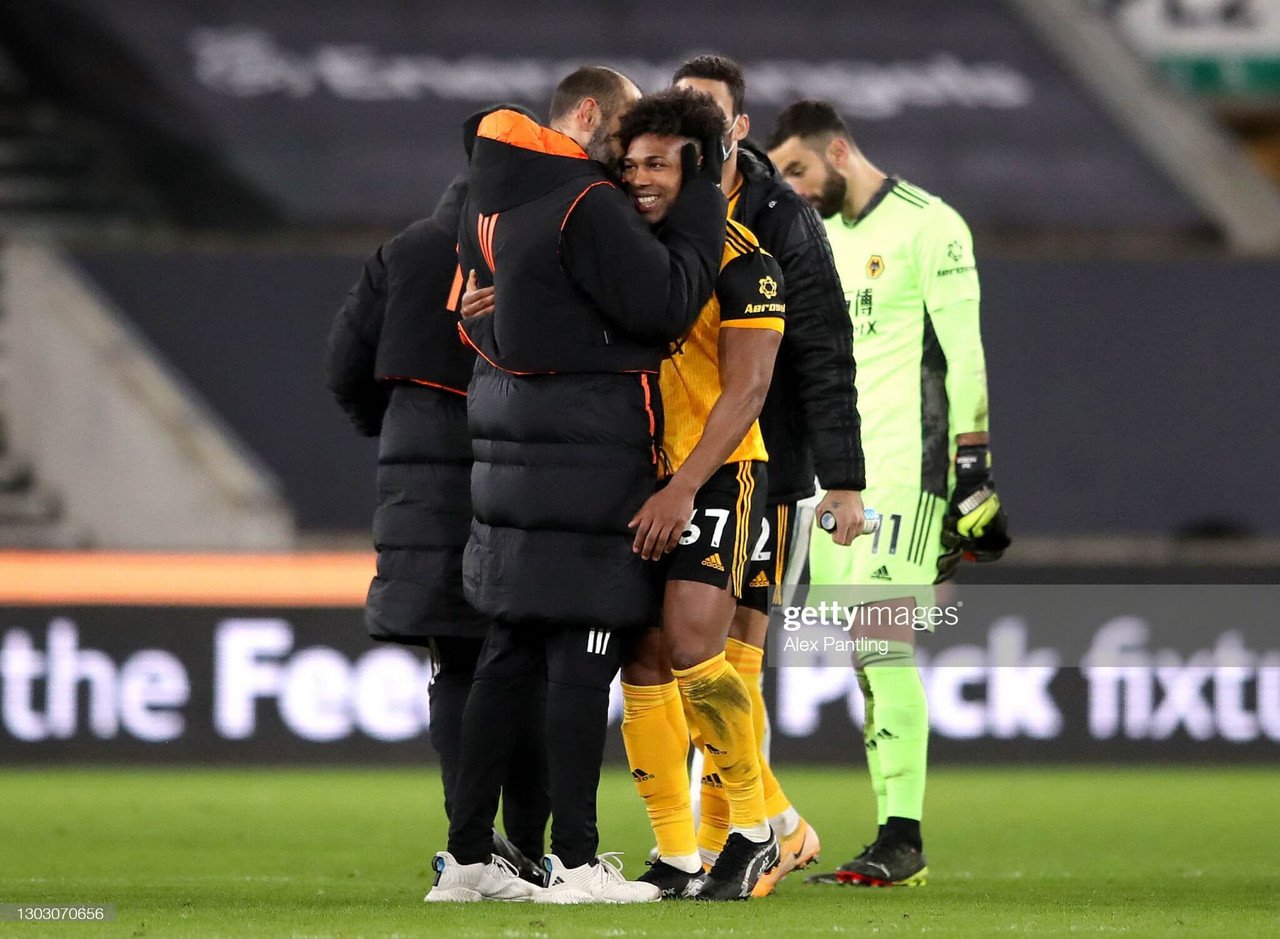 Wolverhampton Wanderers boss Nuno Espirito Santo believes his players are improving as individuals as the Wanderers went unbeaten in February.
Espirito Santo led his side to victories over Arsenal, Southampton and Leeds United, whilst also holding Leicester City and Newcastle United as Wolves moved away from a potential relegation fight.
Their opening game of March sees them travel to Manchester City, with Pep Guardiola's side enjoying a 20-game unbeaten run in all competitions.
Ahead of the game, the Wanderers manager praised his players for their individual performances, with them coinciding with the overall team improvement.
"All of the players are looking forward to competing tomorrow because we all realise we are going to compete against a very tough opponent and a very quality and talented squad. We are always challenging ourselves to improve, this is our main and only objective. Play, improve, play, improve, compete, improve, compete and improve. All the players are looking forward to tomorrow.
"I think individually the players are improving. As a team, themselves, improvement is easier and is better to reach the high standards and expectations of our talented players that we have, as long as the players have this base and foundations of being compact and the focus of the game."
Jonny and Willian Jose
Jonny Otto Castro played 90 minutes in Saturday's 1-1 draw with Newcastle United, the longest the left-back has played since his return from injuring his anterior cruciate ligament.
Speaking about the Spaniard's recovery, Nuno said: "The plan was clear, we tried to increase in a progressing way his time on the pitch, but against Newcastle he went all the game and always at a high intensity, so did amazing. He's doing good, but we still have to be aware that he's coming back and needs special attention in terms of recovering."
Another player who is facing a different circumstance from Jonny is Willian Jose. The striker, on loan from Real Sociedad, is yet to score for Wolves and struggled at St. James Park.
"There's a lot of things we have to try and improve. He's been linking up the game very well, but at the same time, when we go for a crossing situation, he needs to find himself in better positions inside the box and that comes with recognising the lines of the ball, who is crossing, if it's a winger who changes foot, outside or inside, and we are on that process.
"Instinct you cannot teach, it has to be there, and he has it, because he proved himself with all the goals he scored before. We just have to find it.
"We've been pleased. He joined us late, he started immediately inside of the team with a tight schedule, realising that the Premier League is very competitive, spaces are not the same. At the same time, the team started integrating him inside of the team and he recognised his teammates.
"It's a process that we're trying to speed up but takes some time. We are pleased with what he's been giving, hard work, talent, but we expect things to improve regarding spaces, finishing the actions and hopefully that will come."
Willian Jose joins the likes of Fabio Silva, Nelson Semedo and Vitinha to join the club in the midst of a pandemic, meaning the transition between life before the move and now provides an even more challenging task than it would before.
Speaking about the move to England, Espirito Santo said: "In the case of Willian, he came by himself, in a rush. His family is back in Spain. It's hard. I don't want to talk much, it's private, but it's very tough. All of us are with this doubt and uncertainly about when we are going to be able to reunite again with our families.
"We've been trying to deal with that also, but he has to be brave, put aside that, and his contribution for the team has been good, but we expect more.
"The squad is helping him here at Compton and when we go to the hotel. There's always the language barrier with some of his teammates, but the boys are trying like they always do. This group is amazing, so when anyone comes, they immediately make him feel like he's home, and that will help Willian inside the pitch also."
"He's starting to integrate into some parts of the training session."
With last week's news that Espirito Santo is 'totally confident' that Raul Jimenez will return by the end of the season, further questions were asked regarding the Mexican striker's recovery.
"Very positive. Thank God he's ok. He's starting to integrate into some parts of the training session, and we have him around.
"The key moment was the fantastic assistance that he had immediately when the incident happened. That was the key moment. That was avoid anything terrible from happening and they did really well.
"Seeing his progress, with always the awareness that he has to follow the protocols, with this moment he's avoiding any sort of contract situations, and hopefully soon he will integrate 100 per cent with the squad, then with the fitness and then back to the pitch where we want him."
With Jimenez's journey back to full fitness on the right track, Nuno confirmed his striker isn't allowed to head the ball. He said: "When the specialist says it's okay and we are clear. When he feels comfortable, it's just a matter of making the proper exams and the right authorisation to move forward with the plan."