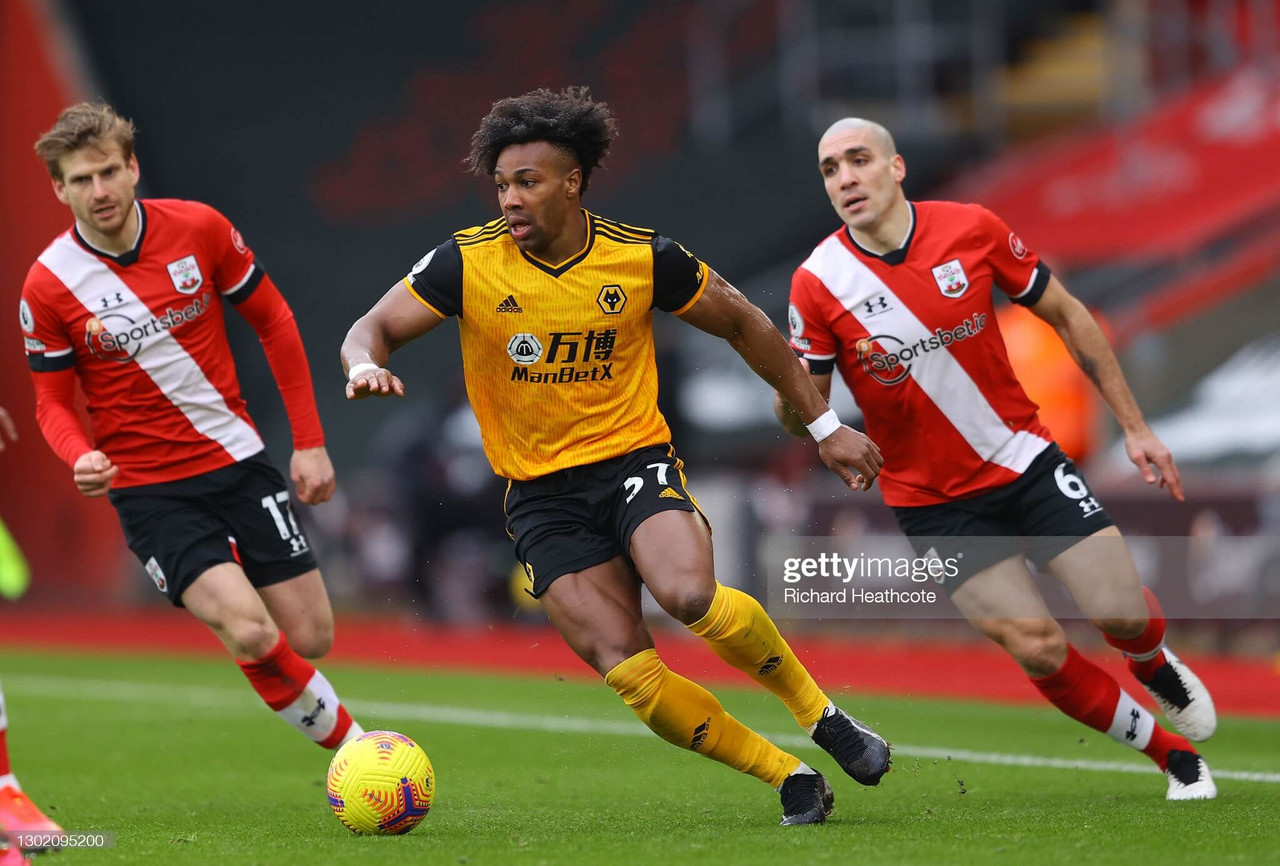 Wolverhampton Wanderers have had a goalscoring problem this season. After relying heavily on Raul Jimenez (13 of Wolves' 46 Premier League goals in 2018/19 and 17 of 49 in 2019/20) and Diogo Jota (9/46 and 7/49), Nuno Espirito Santo's side always looked like they might struggle without the duo.
While Jota's boots have been filled since his summer move to Liverpool thanks to the remarkable rise of Pedro Neto, Jimenez has been harder to replace since his injury away at Arsenal. Due to his absence and some other personnel changes, Wolves have often looked underwhelming in attack this season, and have often been carried by individual moments of brilliance, usually Neto's.
This article looks at two of the major problems that have faced Wolves when in possession, a solution which worked in their last two league outings, and both tactical and strategic adjustments which could prove to be long-term solutions.
Problem: lack of balance between wide and central attack
With the left-footed Neto playing on the left wing and the right-footed Adama Traore and Nelson Semedo playing at right wing and right wingback, Wolves' attack is suited to going forwards at high speed out wide before crossing into the centre.
However, Wolves have rarely had more than one or two players central to receive the deliveries from out wide, and too often Willian Jose and Fabio Silva have been isolated and outnumbered in the centre when crosses have been attempted. Despite many good deliveries, Wolves simply haven't had enough people available to take advantage of the opportunities.
At the same time, there is very little chemistry between Traore and Semedo on the right – both players instinctively look to stay wide in deeper regions, and as a result both tend to get in each other's way, blocking up the wing by drawing two or three defenders wide, and consequently losing the space that would be required for a wide attack to be successful.
Solution: inverted wingers
Nuno could tell that the regular strategy still wasn't working by half time away at Southampton on Sunday, with Wolves a goal down. With most of their attacks unthreatening and the midfield having to push high to support the forwards while in possession, Wolves were horribly exposed at the back, and were inviting the same kind of rapid attacks that they had so frequently dealt out since his 2017 arrival.
Neto and Traore switched sides at half time, enabling both players to cut inside onto their strong feet and take a shot if the opportunity presented itself.
Ralph Hasenhuttl would have briefed his left-sided defenders before the game on how to deal with Traore – by doubling up on him and shepherding him wide where he is less of a threat – and his right-sided defenders would have been told to deal with Neto by surrounding him and cutting off his final-third passing options.
With Traore's frightening acceleration deployed in the left channel and Neto's intelligent movement and skilful dribbling on the right, the Saints defenders looked spooked and started to sit much deeper, attacking less frequently as they prepared for a shot or rapid dribble from either of them.
Having all three forwards play with their strong foot towards the goal meant Wolves were essentially playing with three strikers - the long-range shooting ability of the two wingers makes this a frightening prospect for opposition defenders.
With the wingers playing narrow and tasked with shooting rather than crossing, crossing duties fell to Semedo and Jonny Castro Otto. The infield movements of the wingers dragged the Southampton fullbacks narrow, opening up acres of space out wide, and the two wingbacks thrived.
Semedo looked far more comfortable with clear overlapping routes ahead of him, and Jonny frequently reached the byline looking for a cutback. This added attacking threat forced the Southampton midfield deeper to protect their defence, cutting off counterattacking options for them.
This attacking shape was replicated in the 1-0 home victory over Leeds United on Friday - through a goalless first half Wolves kept creating chances, registering nine shots by half time, with even more attempts blocked.
Rather than look to play around the Leeds centre-backs and open up the space behind the defence, the Wolves forwards were quite happy to rely on the inexperience of goalkeeper Illan Meslier, repeatedly shooting from range and waiting for the inevitable mistake or lucky shot that would beat the young Frenchman.
Predictably, the goal came from Traore cutting in from the left - all the regular shots from distance were being comfortably stopped by Meslier, so Traore sacrificed a bit of accuracy for pure strength, firing a powerful right-footed shot against the crossbar from outside the box. There was nothing Meslier could do to prevent the goal once the shot had passed him - after coming back off the bar it rebounded off the top of his back and over the line.
None of Wolves' three centre-forwards are physically suited to playing off the shoulder of the last man and bursting into space, so when Wolves are without the imposing aerial presence of Jimenez, the attacking strategy should be based around exploiting the ability of Jose and Silva to contribute to the build-up as well as the goal threat of the wingers. Playing with the wingers as extra strikers and the wingbacks pushed high seems to be the best way to achieve this.
Problem: overwhelmed midfield
The 3-5-2 used from the introduction of Leander Dendoncker to the rise of Traore gave Wolves an almost complete defensive solidity. With three central midfielders and three central defenders, Wolves were incredibly difficult to break down through the middle, while wide attacks were easily stopped when the wingbacks dropped deep into a 5-3-2. Going forwards, a wingback and one or two of the centre-mids would back up Jimenez and Jota, leaving enough men back to prevent vulnerability to counterattacks and with enough going forward to launch rapid and unpredictable attacking movements.
When Traore became too dangerous to just be a super-sub and his raw ability justified a place in the starting line-up, Wolves reverted to the three-man attack that they had often utilised in the Championship, but rather than lose any of the strength of the back line, a midfielder was sacrificed.
Since then, Wolves have had a problem: with only two men in the middle of the park and greater numbers out wide, the centre-mids have either had to play high up the pitch to give numerical support to the centre-forward and in doing so expose the defence, or sit deep to protect the defence and leave the frontman isolated. In addition to this, three-man opposition midfields can easily overpower Wolves' pairing, as can highly physical opposition duos – West Ham United's Declan Rice and Tomas Soucek proved this in the 4-0 loss at the London Stadium in September.
Solution 1: play wingers narrow, and keep someone inverted in advanced regions when in possession
With the two wingers playing more centrally, the two central midfielders naturally have more passing options and Wolves can progress the ball through the middle instead of just relying on pace out wide.
When the ball is lost, the wingers can much more easily back up the centre-mids from a starting position near the box than they would be able to if they were having to track back from a long way out wide. As Traore showed at Selhurst Park when Crystal Palace countered quickly after a Wolves corner, his pace is a huge asset when defending against rapid attacks through the middle. Semedo can defend at speed wide on the right; with Traore as a safety net in the centre, Wolves will have more protection against rapid counterattacks, giving them more defensive confidence when sending lots of players high in sustained periods of possession.
On the left, the right-footed Jonny Castro Otto plays at wingback, usually behind the left-footed Neto. While Jonny is effective when attacking out wide and can deliver dangerous crosses from both feet, he should be encouraged to make underlapping runs when the wingers play on their strong sides.
Semedo played this role when all three specialist left wingbacks were injured, and often looked a threat when going forwards at Palace as it was rarely clear who had been assigned to mark him when he moved inside, and the momentary confusion gave him extra time to work with.
With a late run from the left half-space, Jonny can naturally be at a good shooting angle if the ball comes to the edge of the box, and he can give opposition defences more to think about when both him and Neto attack – guessing which of them will stay wide and which will attack the half-space should give right-backs plenty of headaches.
Another benefit of keeping the wingers narrow is that if they decide to play off the shoulder of the last man in a high defensive line, the centre-forward can afford to be a few yards deeper to look for the pass to set them going.
When opposition teams play a single holding midfielder, this will set up an appealing one-on-one duel between the holding midfielder and the centre-forward, freeing up the half-spaces for Wolves' two centre-mids.
This would force opposition attacking midfielders deeper to cover the defence, shutting down opportunities for quick central progression of the ball if Wolves lose the ball high up the pitch, giving the Wolves midfield an opportunity to reset before dealing with the next opposition attack.
Solution 2: play three CMs and two CBs
When Jimenez returns and Wolves have a major aerial threat in attack, it will not make sense to play the wingers inverted all the time – Neto and Traore are excellent crossers of the ball, and their crossing ability will be on show again after slipping under the radar in the Mexican's absence through most of this season. Also, the unpredictability that Nuno strives for will be greatly increased if the wingers can switch sides and switch attacking strategy at will.
However, when the wingers shift onto their strong sides, the problems previously faced by the midfield will likely reappear, with them having to choose between backing up the forwards and protecting the defence.
One simple adjustment to solve this problem would be to put faith in the 4-2-3-1 which was experimented with a few times in this campaign – by holding possession, dominating higher up the pitch and letting few attacks bypass the midfield, Wolves can make a third centre-back largely unnecessary. The 3-4-3 and counterattacking style should definitely be retained as a plan B, for matches against effective possession-oriented teams, but it should not be the first-choice shape.
In Neves and Moutinho Wolves have two excellent pivots; in Dendoncker and Owen Otasowie two strong physical presences and powerful runners, and in Daniel Podence, Vitinha (assuming he signs permanently at the end of the season) and Morgan Gibbs-White plenty of options for a creative central attacking midfielder to play behind the striker.
Wolves have the personnel to make this midfield setup work, though squad depth has proven a major issue this year. As a result, some squad investment would make sense over the summer, especially in an athletic centre-mid and in a natural specialist centre-back. A midfield three naturally needs more cover than has been available for the pairing over the last couple of seasons, and with first team centre-backs Willy Boly and Romain Saiss now in their thirties, injuries and cover in defence will start to become more of a concern.