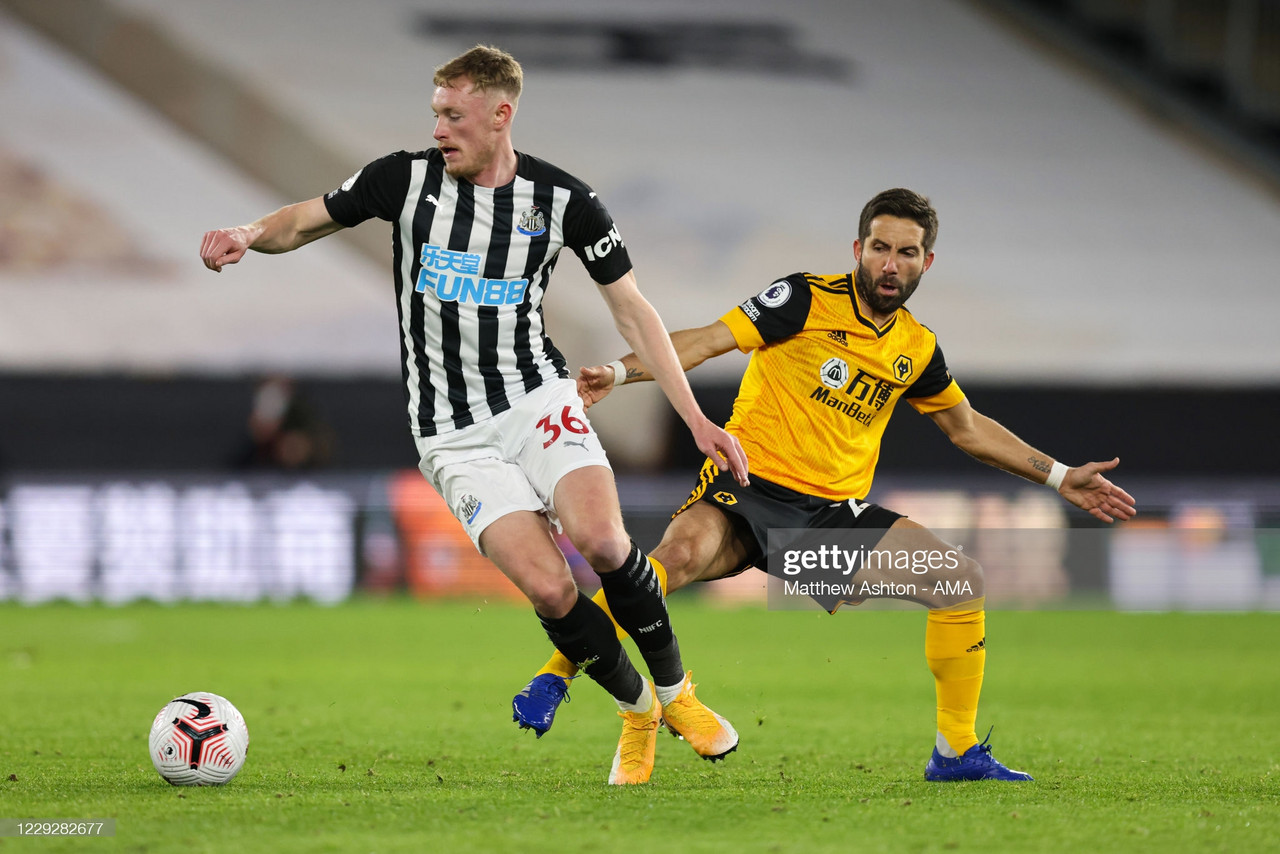 When Wolverhampton Wanderers were condemned to defeat away at Crystal Palace at the end of January, the omens did not bode well for a team lacking innovation and inspiration.
With the culmination of a bleak winter month, the stark similarities to the proceedings for Nuno Espirito Santo's men perfectly portrayed the pathetic fallacy of the concerning situation.
Forward three weeks – as the Wanderers prepare for a trip to Newcastle United - and the midlands club are beginning to display promising signs of rekindling the form that has captivated fans across the globe since boss Nuno Espirito Santo engineered the monumental return to the Premier League in 2018.
A narrow victory against Leeds United on a wuthering Friday night encapsulated the story of the increasing revival as Wolves bask in a four-game unbeaten run in the league; an impressive period consisting of three wins and a draw.
In contrast, the Magpies have lost more Premier League fixtures in 2021 than any other side, with injuries to key players such as Callum Wilson, Fabian Schar and Federico Fernandez potentially blighting their tenure in the top division as a period of uncertainty looms menacingly.
Will there be a rare winner?
Espirito Santo will be delighted with the recent upturn in form that had waned significantly since the harrowing head injury suffered by the talismanic Raul Jimenez in late November, and with the Mexican striker still side-lined the signs are promising for the remainder of the campaign.
But with four successive league draws against Newcastle, Wolves' Portuguese manager will know that victory will be paramount as the potential of a European finish begins to present itself.
Such an accomplishment remains a way off after a chiefly lacklustre season, but with only runaway leaders Manchester City boasting better league form over the past four fixtures, it is a prospect that has the potential to come into fruition for Wolves.
Newcastle will be wary, but optimistic, as they welcome Wolves and will take positives from the 3-1 defeat away to Manchester United last time out; despite being felled Bruce's side exhibited their attacking intent and started the game on the front foot.
The blistering pace and deceitful guile of Allan Saint-Maximim will provide a reasonable cause for optimism, with the winger excelling since arriving to the Premier League last summer.
Bruce can also reference the emphatic league double completed over Everton and resilient draws to Liverpool and Tottenham Hotspur as evidence that his side can indeed navigate their success through any opposition on their given day.
Moutinho: The midfield maestro
Joao Moutinho is a truly marvellous football player; an instrumental footballing component placed deep in the centre of some simply fantastic teams over the course of his distinguished career.
Moutinho now imminently awaits his 100th appearance for Wolves in the Premier League – becoming the fourth player to complete the feat for Wolves, emulating Conor Coady, Rui Patricio and Matt Jarvis – and his influence since arriving in the West Midlands cannot go amiss.
The Portuguese playmaker has surpassed expectations on multiple occasions throughout his career, helping his national team to their first major honour by winning the 2016 European Championship and sensationally winning the French Ligue One with AS Monaco merely one year later.
The 34-year-old has been a ubiquitous presence at his current club, aiding three successive hop-half finishes as well and a surging European journey that reached the last-eight during the 2019/20 season.
Against Newcastle, Moutinho will look to implement his composure and range of passing to dictate the action and secure another crucial victory for his side, and the formidable medial partnership established with his talented compatriot Ruben Neves will certainly be an element utilised if Wolves are to prevail on Saturday.
Newcastle have endured a gruelling campaign to date, and with key players out of action the arduous challenge to overcome the threat of relegation grows greater with every passing match week.
The hamstring injury to Wilson – ruling him out until April - is a devastating blow for Newcastle as a battle for survival beckons, with the other senior strikers at the squad managing a meagre tally of three league goals collectively since the season's inception.
Despite a season that has not yet seen a decline into the bottom-three, 18th placed Fulham have been quietly gaining momentum and have only tasted defeat once across their last seven league outings.
Such results in the top-flight now leave Newcastle three points from safety, and should results go against Bruce this weekend, an unwelcome return to the bottom-three might become a painstaking reality after the passing of this match week.
Newcastle will be frenetic in their attempts to escape unwanted territory, but with Espirito Santo slowly commandeering a potential return to the fabulous form that has served his side so well over the past few seasons, it will be an daunting challenge indeed.
Despite failing to win on the previous four occasions in the league, Wolves will be confident of capitalising on a side devoid of confidence, as well as suffering the loss of a number of key players.
Wolves will look to use their physicality newfound presence in offensive areas to subdue Newcastle and overwhelm their defensive-third.
A victory for Wolves is likely on the cards, and should occur if the side utilise their superior technical players and remain patient in their pursuit for victory.