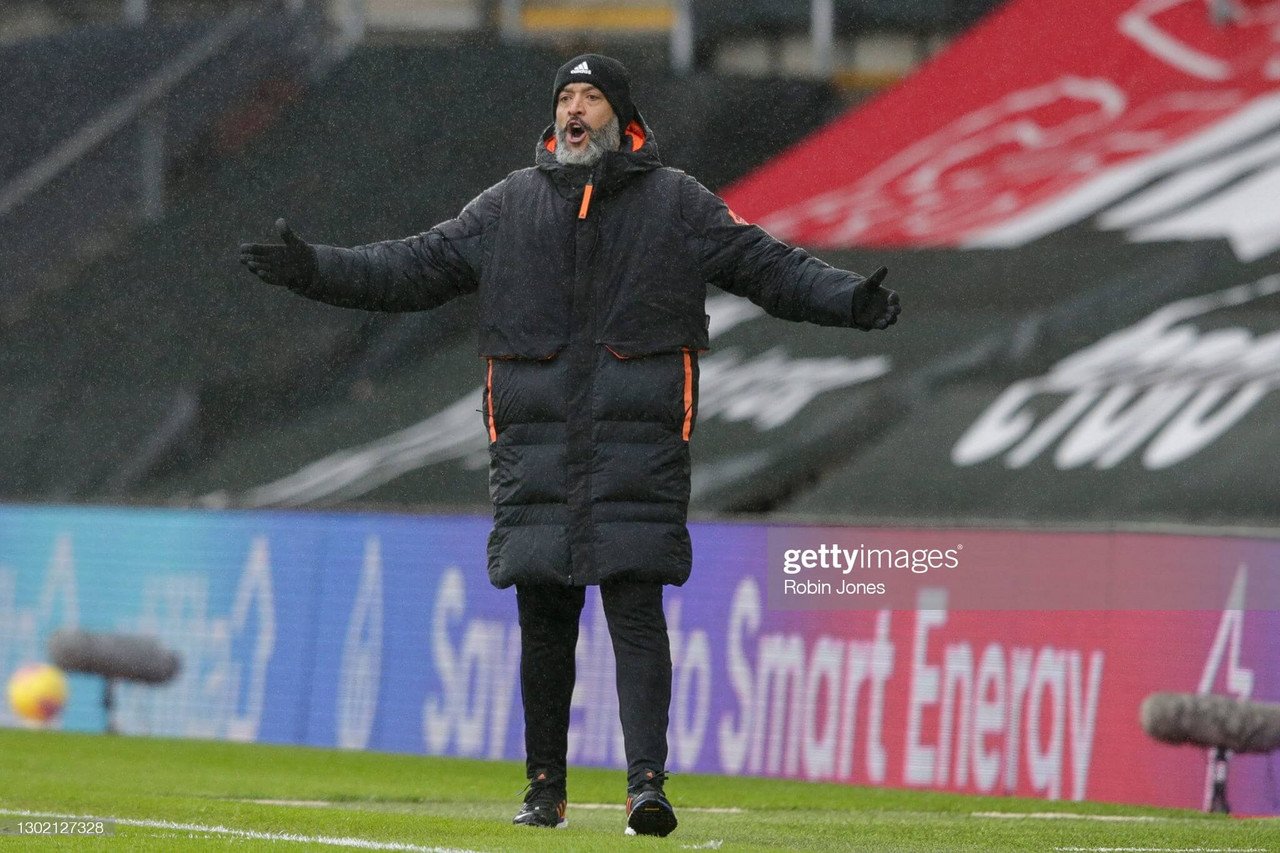 Nuno Espirito Santos was full of praise for Pedro Neto and Willian Jose ahead of Leeds United's visit to Molineux, but wants to see 'more of everything' from his Wolverhampton Wanderers side.
Wolves host Marcelo Bielsa's Leeds on Friday night, with an opportunity to build on a brilliant win against Southampton just under a week ago.
Nuno's men came from behind after Danny Ings put the home side ahead with a thunderous volley. Neto then netted the winner with a brilliant solo effort, shortly after a Ruben Neves penalty equalised the scoreline.
Just two points separate the sides, meaning Wolves have the chance to overtake their visitors, who sit one place above them in the Premier League table.
"I am optimistic regarding Willian"
Since arriving from Real Sociedad, the Brazilian is yet to score. However, his presence in attack has undoubtedly been helped Wolves going forward.
What he has to offer was particularly present in the victory over Arsenal, where he was heavily involved in the first goal.
His intelligent run through the heart of the Gunners' defence earned his side a penalty, and reduced the opposition to 10 men.
Nuno said: "The team is here to support him and to help him, because what he is doing for the team is very good - we need it."
Although on paper, no goal in five appearances doesn't look good, the whole team has struggled for goals long before the Willian Jose's arrival.
In their last five Premier League games, Wolves have failed to score in three of those.
Although Nuno is happy with his new signings performances so far, he still recognises that there is room for improvement.
The Wolves manager said: "He has to keep improving, keep committing himself to what he is doing and tomorrow he is going to play. He is going to face a tough opponent [Leeds United], very good defenders."
The Whites are struggling with injuries at the back which could potentially make Willian Jose's job easier. Diego Llorente and Robin Koch are out injured, alongside defensive-midfielder Kalvin Phillips who recently suffered a calf injury.
"The only way is to commit everybody so I am optimistic regarding Willian and his performance in the team," said Nuno.
"He [Pedro Neto] has a long way to go"
The Portuguese winger has been one of Wolves' best players this season.
The 20-year-old has registered five goals and four assists in 24 games this season, and is currently the Wanderers' top goal scorer.
At such a young age, Neto is establishing himself as one of the Premier League's brightest young talents.
His winner against Southampton was a thing of beauty. The winger opened his body up to pass into the box, however fooled everyone and breezed past Jannik Westergaard instead. Neto then found the side netting with a lovely curled finish from the tightest of angles.
His performances this has caused many Wolves fans to get excited, however Nuno still believes he has a long way to go.
"Pedro is giving good responses, but i truly believe that he still has a long way to go on improving. Some aspects a lot, some aspects of his own game," said Nuno.
Neto has already surpassed last season goal contributions, where he scored three goals and assisted three, in five more games.
Nuno said: "He is very young, very talented, there is a lot of things he can improve on. He knows, we know and we are on the journey to do so."
Burnley, Fulham, West Bromwich Albion and Sheffield United are the only teams to have scored fewer goals than Wolves this season, and latter three are the sides who currently fill the relegation spots.
The lack of goals is a major concern for Wolves, and it is a big reason why they are under achieving, compared to their last two seasons in the Premier League.
Not only are Wolves lacking goals, but they are desperate for more creativity. Only 17 big chances have been created by gold and black players. West Brom are the only side to have created less.
So it is no surprise that Nuno wants more from his team.
"I would like to see everything more. I would like to see more chances; I would like to see better lines of passes; I would like to see better combinations; I would like to see better finishing, clinical touches; I would like to see so many things. Better crosses, better deliveries. There are so many things i would like to see," said Nuno.
Wolves are one of four sides in the Premier League to stop Leeds from scoring this season.
In their previous meeting, A Raul Jimenez goal separated the two sides.
Although Leeds have been one of the most exciting teams to watch in the Premier League, their expansive style of play may open gaps for Wolves to exploit.
Nuno said: "We have worked on a lot of things, we have worked a lot. Realising we have to improve, we have to be better. Unfortunately, it has been like that. The realisation of improvement is on our heads, totally and permanently. So tomorrow, let's do it."