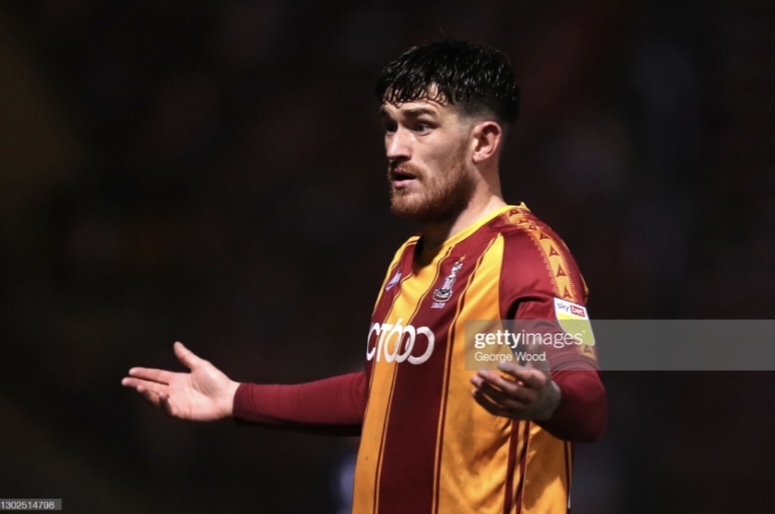 Bradford City are currently taking League Two by storm under Mark Trueman and Conor Sellars, having won 10 of their last 14 and losing just once on the incredible run.
A large force behind the recent reason for the Bantams success is the striking options available to Trueman and Sellars. The duo quickly moved on Kurtis Guthrie and Austin Samuels in January, but bolstered the squad to possess some of the most lethal forwards in the division.
A shout for the single striker role in Trueman and Sellars' desired 4-2-3-1 formation, Rowe has fast become a fan favourite in West Yorkshire.
Whether if it is for his hilarious gif of him eating an apple, or for the fact he injured Cambridge United's goalkeeper with his first shot for the club, Rowe is already loved by the Bradford fans. City were already aware of what he was capable of, as in the three games he had played for former club Oldham Athletic against the Bantams, he had scored a screamer to give the Latics the lead. His powerful right foot is at times unstoppable, and his courage and confidence in front of goal is natural, as the 32-year-old will shoot from anywhere and still nearly score.
Rowe has already scored three goals in his first five and whilst his age is a slightly underwhelming factor, Rowe is a late bloomer and has shown he has what it takes to challenge as Bradford's main striker, it's now a question of remaining consistent and being trustworthy in front of goal.
The second striking option to have been in favour with Trueman and Sellars in recent weeks is Mansfield Town loanee, Cook.
Cook has a prolific scoring record, scoring 47 in 90 at Barrow, 51 in 99 at Tranmere Rovers and 18 in 50 whilst at Walsall. Whilst his stint at Mansfield hasn't quite gone to plan, he's beginning to rediscover his stride with the Bantams.
A stocky, physical frontman who can be trusted to hold up the ball and bully his way past the opposition defence, Cook boasts attributes that Rowe has absent, such as his target man physique and his much more brute strength. In his first 5 matches for the club, 2 of which he has come off of the bench, Cook has mustered 3 goals including a valiant brace over the league leaders Cheltenham Town.
One striker who has admittedly been forgotten in recent weeks is the currently injured Novak.
The 32-year old joined in January of last year to replace the outgoing Eoin Doyle or James Vaughan, but did surprise a few in having a very good start to life in West Yorkshire. His stint has been confusing due to the COVID-19 pandemic breaking up so much of the last and current season, but Novak has smashed in nine goals in 20 games so far and even received a hilarious chant linking him to tequila!
In the early stages of this season, the hope at the club was quickly dying out under Stuart McCall, but Novak was one of the very few players who made the games interesting for his ability to score a goal out of nowhere and be a constant nuisance for the opposition defence. Novak is also an adaptable player, as he turned out in the number 10 role a few times in 2020 and looked comfortable enough playing in that position.
Whilst he is yet to play in the new year due to consistent injuries, he will certainly give Trueman and Sellars a headache in working his way back into the starting eleven, having already bagged six goals this campaign.
Clayton Donaldson
A veteran striker with bags of experience in his locker, Donaldson is a positive man to have in the changing room.
The 37-year old comes across as a funny and easy to be around person in videos posted by the club's social media, but it's sad to see that his quality is fading at this level and despite his past and clear ability he once had, Donaldson lacks the pace and natural instinct he once flourished with.
With just two goals in 22 matches, having one goal every 11 matches isn't going to cut it in League Two and that's especially with the other forwards currently at the club. He makes the odd appearance off of the bench, but sadly it's beginning to look like Donaldson's days with the club are numbered.
A man yet to grace Bradford with an impact or a goal as of yet, Burrell is definitely someone who is acting as an emergency back up this season.
Trueman and Sellars have always favoured a youthful approach to their side, having worked with the Bantams youth team before their step up, which might be way they were quick to move in on the services of Burrell.
The 20-year-old joined on loan from Middlesborough, but is yet to start a game and yet to score from his two appearances off of the bench. It's a shame he is only on a loan deal, as he has shown signs of pace and strength and hunger in matches, but it may be too soon for Burrell to make the step up to League Two action.