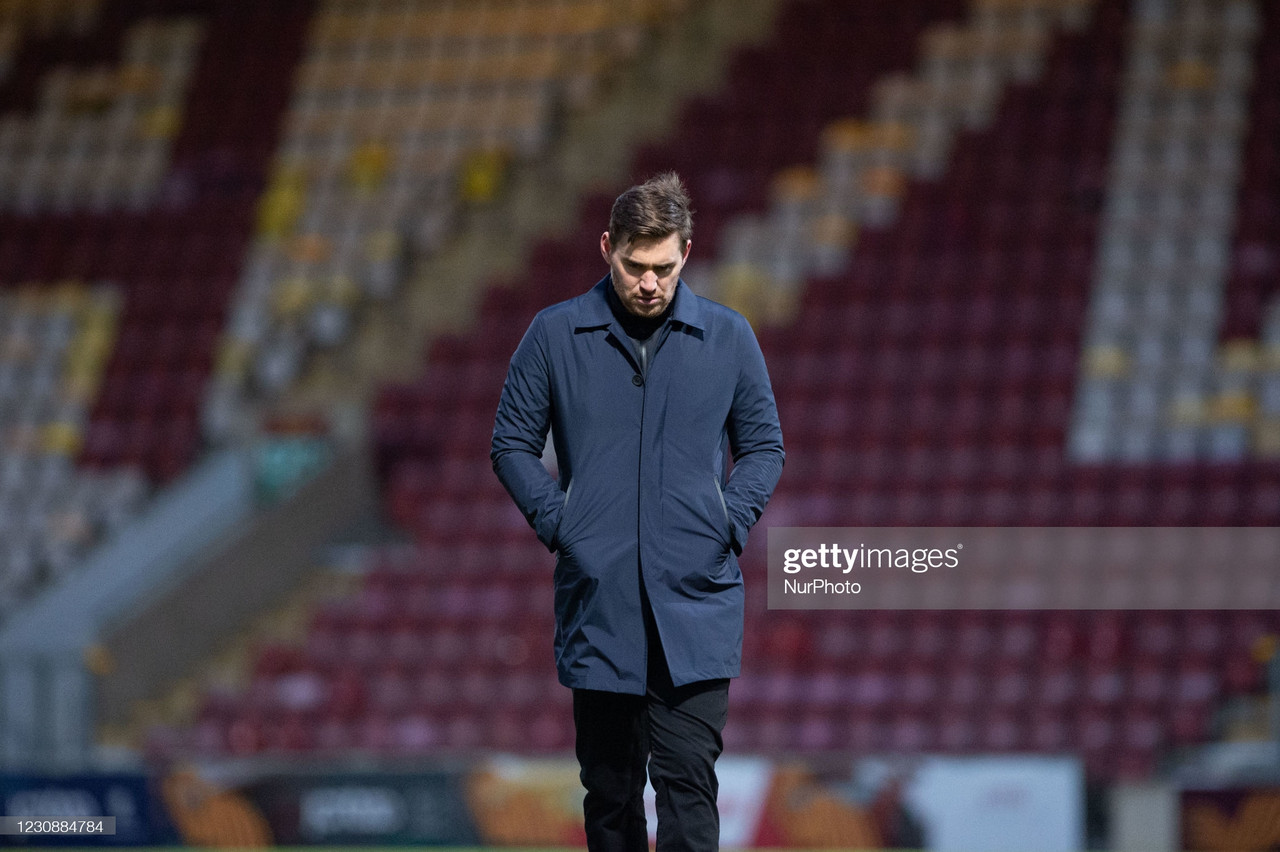 Barrow fans had high hopes on January 10th, newly appointed manager Michael Jolley had just secured his first victory as Bluebirds boss, and for the first time since the seasons early stages the club was at last beginning to look up the table as opposed to down.
Fast forward just four games and that 1-0 victory over Scunthorpe United in the new-year would prove to be the undoubted high point of Jolley's time in charge, with the former Grimsby Town man being sacked last week just seven games into his tenure.
Defeat at Morecambe last week in what proved to be Jolley's final game, Barrows fourth defeat on the bounce, leaves the club in a worrying 23rd position.
Now with the Bluebirds managerless, and on an alarming downward slide, questions have to be asked over how a side who dominated the national league last season have ended up in this position, and why Jolley, a highly rated young coach, was so unable to recreate the form the team enjoyed early in the season.
1. The system and defensive problems
As he had done throughout his time in charge of Grimsby during the the 2018 - 19 season, and even earlier in his career while managing Swedish side AFC Eskilstuna, Jolley attempted to implement a five at the back system.
The Yorkshireman seemingly hoped that the formation would create a free-flowing and attractive side with an emphasis on keeping the ball on the ground, however the system badly exposed frailties among the Cumbrian outfits back line.
During his time in charge, Jolley most commonly picked a back three of Veteran Sam Hird, fullback Patrick Brough and summer signing Mathew Platt.
This formation regularly exposed a lack of pace among the defenders who were unable to stop the consistent flow of goals going in at the wrong end.
In his seven games in charge, the League Two team conceded nine goals, making them the 17th worst defence in the league over that period, and kept just one clean sheet under Jolley's management.
Throughout his reign, Barrow were also extremely vulnerable on both the counter attack and to teams with any pace in wide areas who were regularly able to exploit the gaps between the Bluebirds wing backs and central defenders.
This was demonstrated perfectly in their defeat to Southend United at Roots Hall in January, when Jolley's side dominated possession yet were undone by an early goal on the break by winger Reeco Hackett-Fairchild.
While Jolley cannot be blamed entirely for individual poor performances among his defenders, of which there were many during his time in charge, his unwillingness to adapt more quickly to a system which better suited the players at his disposal is something that certainly contributed to both Barrows poor results as whole and there frailties defensively.
2. Putting the ball in the back of the net
As unorganised as Barrow have been in the defensive side of their game, it is arguably their play at the other end which has been real crux of their problems over the last two months.
Since putting two past fellow strugglers Port Vale in their final game before Jolley's appointment, the Bluebirds managed just four goals in seven, with their attack being totally shutout on three of those occasions.
A total which ranks them 23rd in League Two in terms of goals scored over that period, above only an extremely out of form Colchester United.
The biggest factor leading to this has been a lack of ability to create serious chances, with Barrow averaging just 2.4 shots on target per game while being managed be Jolley.
Part of this is likely down to the teams defensive problems, with Jolley seemingly reluctant to make aggressive or attacking changes during games, possibly over fears of weakening an already leaky defence.
Club top scorer over the last two seasons, Scott Quigley, also seemed not to take to the 43 year olds system, netting just once from open play under his management.
3. Inconsistent team selection
While Jolley remained mostly consistent with the way he wanted his team to play, the players he chose to do it were regularly chopped and changed.
In his seven outings in charge, he used 24 different players and was never able to name an unchanged side for two consecutive games.
While this was largely down to injuries and suspensions, the constant tinkering with the line up prevented Jolley from ever developing a consistent core of players which he could build a team around.
The manager never got close to knowing what his best line up was.
Whether it has been through misfortune or mismanagement, the lack of a coherent and consistent selection policy has certainly cost the Bluebirds in key moments.
Various factors ranging from misfortune to mismanagement during Jolley's time at Barrow have left the club in an extremely difficult position.
The Cumbrian side are now searching for their third permanent manger this season.
Whoever takes charge next will need to be ready for a tough and scrappy relegation battle.