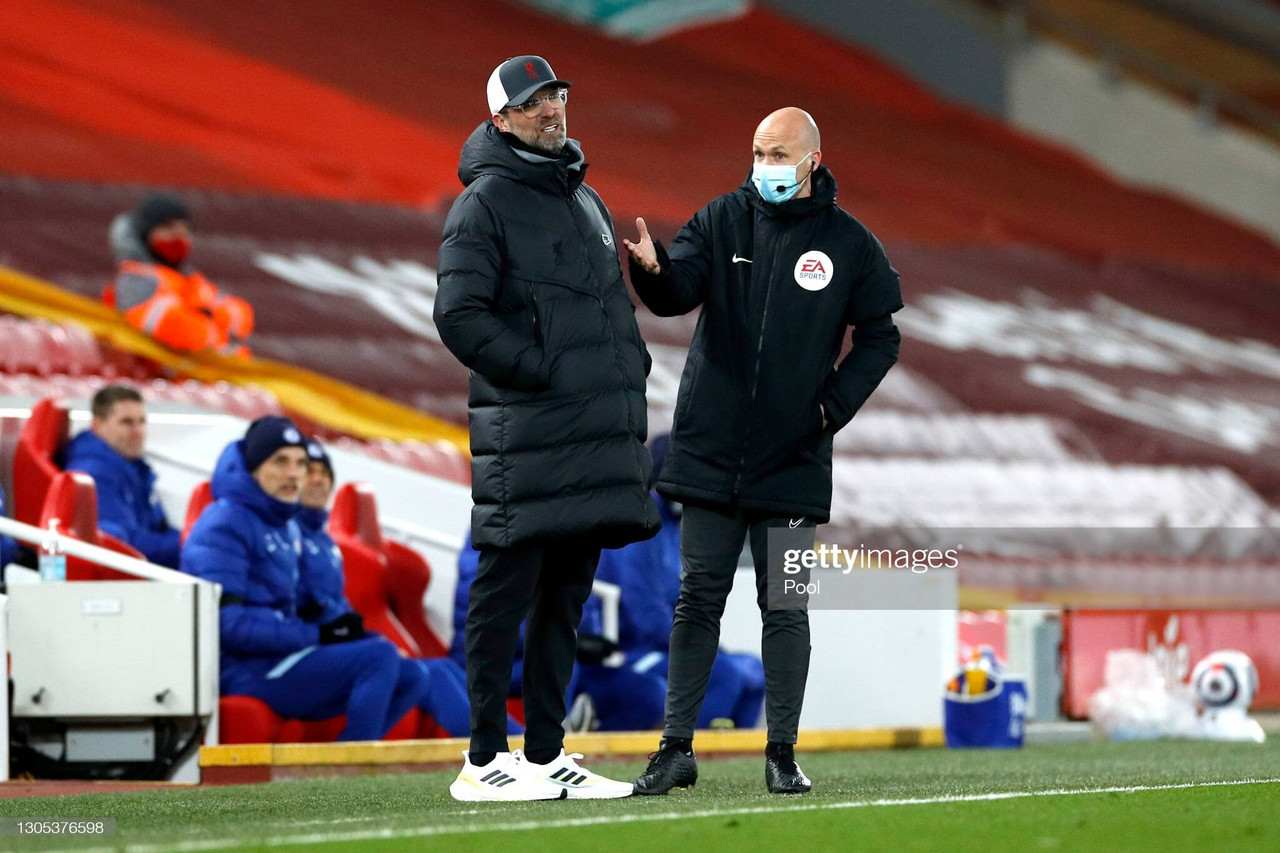 Jurgen Klopp's men were bossed around for 90 minutes as they fell short of a win against fellow top four challengers Chelsea.
Liverpool lacked any attack and deservedly lost to a Mason Mount strike in the 42nd minute of the match.
Klopp spoke to the press after the match and here is what he had to say as per Liverpoolfc.com.
Liverpool's 1-0 loss to Chelsea was their fifth straight loss at home, the first time this has happened in their history. This follows their unbelievable 68 game unbeaten run at home which helped them towards finally being crowned Premier League champions last season. The Reds have also failed to score a goal in open play at Anfield in the new year.
Klopp spoke on his assessment of the game.
"Intense game, tight game, one very decisive moment decided the game - the individual quality of Mason, if you want, in that situation decided the game," Klopp praised. "It was a ball in behind our last line, cut inside and in the end we don't defend in the right space because these quality players, they go inside and they want to shoot from there so we don't have to be on the six-yard box, we have to be there where he wants to finish it off. I think we were not there and that's the goal we conceded, and our situations we didn't use. That's pretty much the explanation for the result."
In Klopp's five year reign so far at Liverpool none of his teams have experienced such a dip in form as the current squad.
These players are not familiar with losing especially at home and with all the major injuries to the squad as well, its understandable why their heads drop so quickly in matches. However, this is not the attitude of current Premier League champions.
Klopp spoke about what he says to motivate his squad, he said: "It's not that we go for any kind of excuses in these moments. So, I think that these games are decided in moments and were always like this and to get these moments back you have to fight, and in some moments you have to fight in a different level as well. That's what I told the boys.
"In these moments it's not about tactics or something like that, it's then really about being resilient, it's about heart, all these kind of things. I don't say the boys didn't show heart, I know what they invest and all these kind of things but we talk about the last [and] decisive two, three, four per cent and it will never happen that we will start blaming or whatever the circumstances. That's just not the case, we had a good team, a really good team, tonight on the pitch and played in a lot of moments good football but not in decisive moments good enough. There is only one person or group to criticise for that [and] that's me and us. That's what I told the boys."
In the 62nd minute Mohamed Salah was substituted off for Diogo Jota. In what was an unusual substitute by Klopp, Salah stormed off the pitch shaking his head in frustration.
The Egyptian had looked the sharpest in attack going forward for the Reds however, it was the 28-year-old who gave way.
This was not the only strange substitution the Liverpool coach made during the match with him replacing Thiago for James Milner in the dying moments of the match when the Reds desperately needed a goal. The attacking likes of Naby Keita and Xherdan Shaqiri were left on the bench.
When questioned about this strange substitution, Klopp replied: "I am happy when the boys are disappointed [to come off], that's not a problem. I could have changed other players as well, that's true, but the reason for the substitution was he looked in that moment like he felt the intensity really and I didn't want to risk him, that's all. That's the situation. It's really rare, I have known him now long and usually Mo looks really surprisingly fresh until the end. He didn't look fresh anymore and I thought that's a sign in our situation, I didn't want to risk him. That's it."