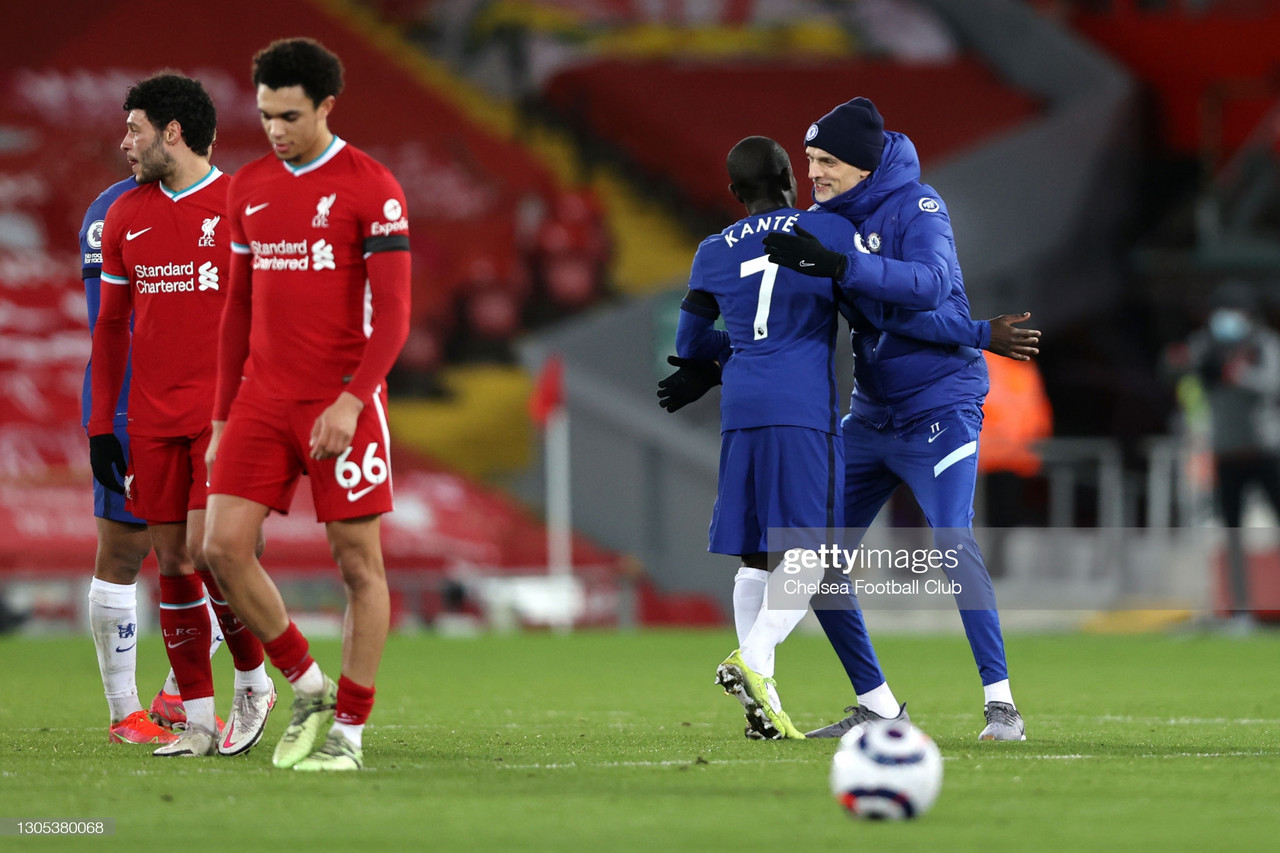 Mason Mount's first half strike proved the decisive factor in dooming Liverpool to their fifth consecutive home defeat for the first time in the club's history.
The youngster brought his side ahead with a combination of clever movement and lethal finishing, leapfrogging Chelsea back into the top four in light of Everton's win earlier on Thursday.
Alarm bells will begin to ring for the red half of Merseyside yet again, with an uninspiring 90 minutes stunting any chance of building momentum from a win against Sheffield United last time out.
Here is the Warm Down of another crushing night for Jurgen Klopp and Liverpool.
High price for a high line
Timo Werner remained the focal point of attack for Chelsea throughout the game, and but for a stray shoulder, would have given the west London side the lead much earlier but for the intervention of VAR.
Liverpool seemed to be briefed on the wrong team coming into the game, whose positional awareness and high lines did anything but cater to the attacking trident of Werner, Mount and Hakim Ziyech.
Both sides were tasked with playing out of a high and active press in the first half, but Liverpool's commitment going forward exposed a frail back line when defending a counter attack in comparison to Chelsea's solid back three.
If Werner's chance failed to provide ample warning about Liverpool's setup, where the German had almost half a field of space to run into, then Chelsea's goal drilled the message home.
A long ball from N'golo Kante into the left flank found it's receiver in Mason Mount, who punished a retreating Trent Alexander-Arnold and Fabinho to cut across the face of the 18-yard-area and supply a mercenary finish into the bottom right hand corner.
Liverpool sat a point and a place in the Premier League behind the visitors and ended a four-match losing streak in the Premier League on Sunday against Sheffield United.
They were also buoyed by return of Alisson, Fabinho and Diogo Jota to the squad- but the performance suggested anything but that.
With their best chance falling out of the sky to Sadio Mane from a lofted Mo Salah ball, the Senegalese international performed a comical miscue to evoke a synchronised sigh from Reds around the world.
Liverpool couldn't create chances either, leaving the pitch with a measly expected assists (xA) of 0.3 to Chelsea's 1 according to FBref.
Two attempts were recorded at the first half's conclusion, none of them coming from the famed front three or on target for that matter- it was their worst attacking output of the season at the halfway stage.
A short-lived sense of renewed intent and vitality after the interval soon morphed into scrambles to keep the ball, with Liverpool recording double the intercepted passes to that of their opponents (12 to Chelsea's 6, according to FBref).
With it requiring 85 minutes to register a shot on target, it is becoming more evident that going a goal up against Liverpool does not make teams air on the side of caution as it would a season ago- now, no longer do sides feel like they have poked the proverbial bear nor do Jurgen Klopp's team show that they are capable of punishing any slight mishaps.
Tuchel's game plan executed
Despite Liverpool playing a big hand in the defeat, this isn't a case of the Reds making their opposition look good as perhaps as it was in some of the previous four losses at Anfield.
Thomas Tuchel organised his team into a composed and regimented unit, not only more capable than their counterparts to beat the press but to remain compact and resolute in defence (Chelsea have only conceded twice in Tuchel's 10 games in charge)
Much in the vein of previous victors on Merseyside, Chelsea were able to drop deep and throw men behind the ball and yet still remain potent going forward, with Werner missing a chance to wrap up the win after a quickfire breakout from their own half in the final quarter of the game.
The likes of Andreas Christensen and Jorginho played an instrumental role in the Blues being able to grasp their first league win at Anfield since 2014, with the latter shielding his back line and winning back possession of the ball through tackles more than any other player on the pitch (5/6 tackles won back possession of the ball according to FBref).
Tuchel is gave a shining account of himself and his team, who are yet to taste defeat since taking over as manager; winning seven and drawing three of his 10 games at the helm, five of those wins coming away from home in all competitions.
Questionable decision making
The sight of Fabinho on the team sheet was very much a welcome one for the Liverpool faithful- perhaps they were less enthused to learn that Fabinho was alongside Ozan Kabak to form the 20th centre-back partnership of the season for the Reds.
The issue is seldom defensively for Liverpool; as the Brazilian, and when fit, Jordan Henderson, have performed more than admirably filling in for Virgil van Dijk and Joe Gomez.
Even so, the equilibrium of the team subsides without the influence of the likes of Fabinho 10-15 yards up the park, and the management must recognise this as a vital component of a top-four push and put faith in the two January transfers in Kabak (now a doubt for Sunday) and Ben Davies going forward.
In-game calls from Klopp, in particular reference to substitutions and their timing, made for disappointing viewing.
Withdrawing Liverpool's most composed midfielder playing beyond his years in Curtis Jones for Alex Oxlade-Chamberlain and their biggest goal threat in Salah for Diogo Jota on the hour seldom felt vindicated during the games remainder, particularly given the evident poor performances from Sadio Mane and Roberto Firmino who continued on.
While Salah completed more progressive passes (8 in total) and progressive carries (6 in total) than Mane or Firmino according to FBref, Matt Critchley of beIN Sports cited the Egyptian's lack of effort on the defensive end for the premature departure.
Salah not happy at being taken off. Shaking his head as walked to bench. But 5 mins ago Klopp was screaming at him to track back & help out defensively, he was a long way off. Bit of a half hearted jog. Klopp turned to Ljinders almost straight away & they discussed replacing him

— Matt Critchley (@MattCritchley1) March 4, 2021
James Milner did at least show some determination in the press that was lacking from Thiago Alcanatara when replacing the Spaniard late on, although that substitution was perhaps a damning indictment on the bench quality rather than Klopp's decision making.
Chelsea play Everton next, and, despite not reaching the heights billed at the start of the season, are comparatively in decent shape approaching the final stretch.
Tuchel's aforementioned unbeaten record combined with only Manchester City picking up more points over the last six league games means top four and even potentially challenging Manchester United to second place may not be out of the question.
The last two months have seen Liverpool resting on their laurels, and there will be no bigger wake up call than the potential to be ninth upon completion of Aston Villa and Tottenham's games in hand.
For the large part Liverpool have been devoid of any intent and urgency, particularly at the former fortress of Anfield, and it is something that Klopp and his men will have to address as a matter of urgency as excuses begin to wear thin by the week.