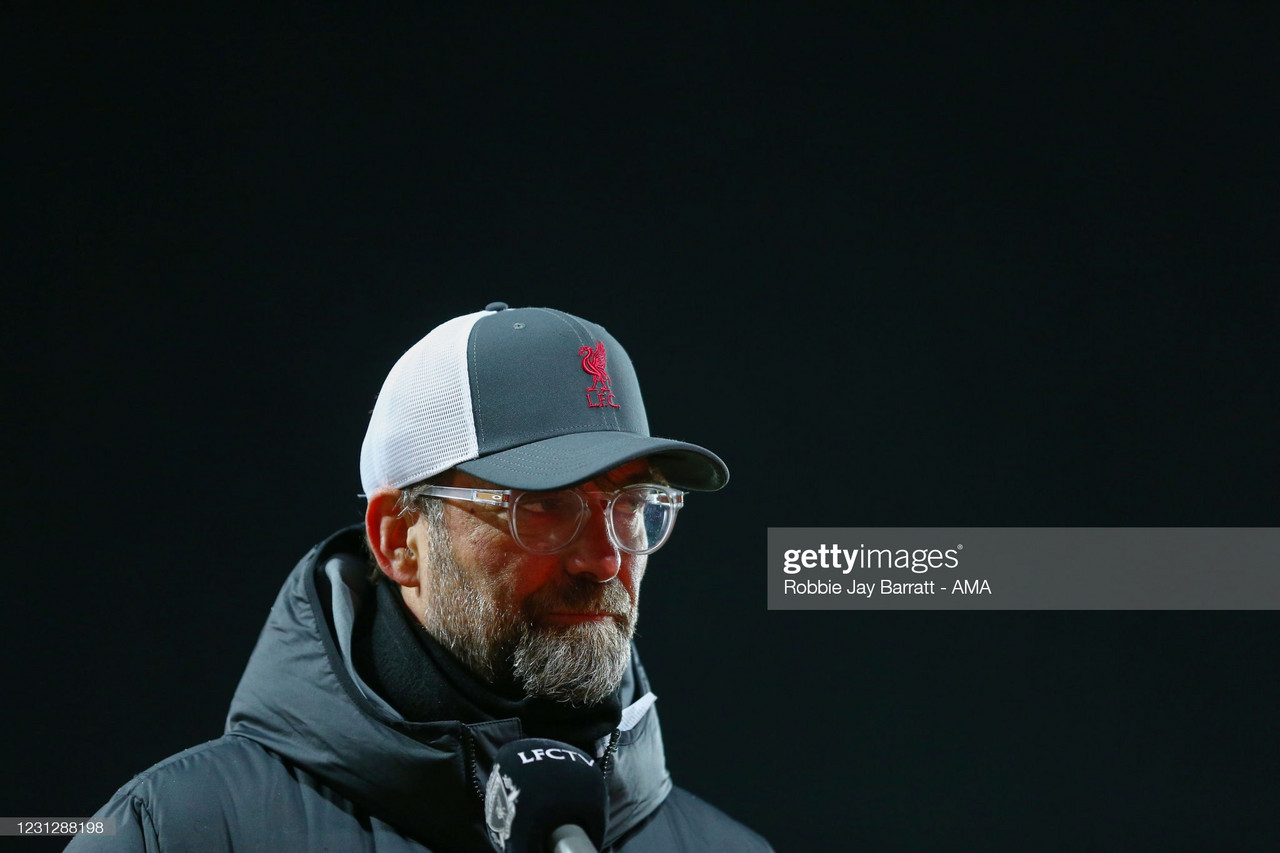 Liverpool face Chelsea in what is teed up to be a crucial game in the race for a top four spot in the Premier League on Thursday evening.
In the battle of the Germans Jurgen Klopp will face up against fellow German and former Borussia Dortmund coach Thomas Tuchel.
The last time the pairing met Tuchel's Paris Saint Germain came away 2-1 victors at the Parc de Princes in a Champions League group stage match back in 2018.
Klopp addressed the media and here are the most important points he discussed as per The Anfield Watch.
Players returning from injury
Liverpool fielded an incredibly inexperienced back four in their 2-0 win against Sheffield United at the weekend. Ozan Kabak paired with Nat Philips with Adrian in goal filling in for Alisson who was on compassionate leave following his fathers tragic death.
When questioned on Alisson, Klopp replied: "He trained the full week and we expect him to return."
The boss also spoke on the return of both Fabinho and Diogo Jota.
"Fabinho has 5/6 sessions in his legs. He is ready for the squad, for sure. We will make a decision.
"Diogo had a stomach problem. He trained yesterday but it was only a little bit. He feels better, so we will see what we can do. Today I was told he feels better, so we'll see what steps he can make."
Philips and Kabak were convincing in defence against Sheffield United and got fans thinking, with Fabinho returning, would it be beneficial for the Brazilian to return to midfield. Klopp answered: "Fab in 6 would be helpful. We will see. Both positions are intense. We haven't had to rush him back. We don't know if he will play or is only ready for the bench. We will see. If I'd made my decision already, I wouldn't tell you. Let's see."
Liverpool currently sit in sixth position in the Premier League table with 43 points. The Reds are one point off of Chelsea in fifth and two off of West Ham in fourth.
With Champions League football a must for Liverpool next season Klopp was asked on his thoughts of their position.
"The job is clear. We have to win as many football games as possible to make it. We know that. We cannot make a difference who we face but we know about the quality of Chelsea. They have the same targets.
"A week ago we were out [of the race] now we're around it again. Other teams want top four - our neighbours, Spurs, West Ham, Leicester. This is exciting for our fans but maybe not how they would like it. We will fight for it with all we have."
Tuchel's Chelsea are yet to lose a match since his appointment. In the seven matches they have played, Chelsea have only conceded two goals showing they have established their defence well since the Germans arrival.
Klopp acknowledged the battle his team will face. He said: "It is difficult to get more possession than Chelsea. The full package is required when you face them, let me say it like this. We have to defend, we have to work a lot, we won't face a deep block.
"We have to be patient in moments and lively, creative and we have to show desire to defend. They're a top team. They will ask a lot and we have to make sure we have all the answers."
Klopp and Tuchel have lead similar managerial paths with having managed at Mainz then moving to Dortmund to now both managing teams in the Premier League. The Liverpool boss spoke highly of his counterpart.
"He has changed a lot already. He has used different formations, he's used the time to get to know the squad and get all the information you need. Only Mount, Kovacic, Jorginho are fixed. They are now a step further. It will be interesting.
"I think he is an outstanding coach. Tomorrow will be tricky like it always is. He is a good one [manager]."