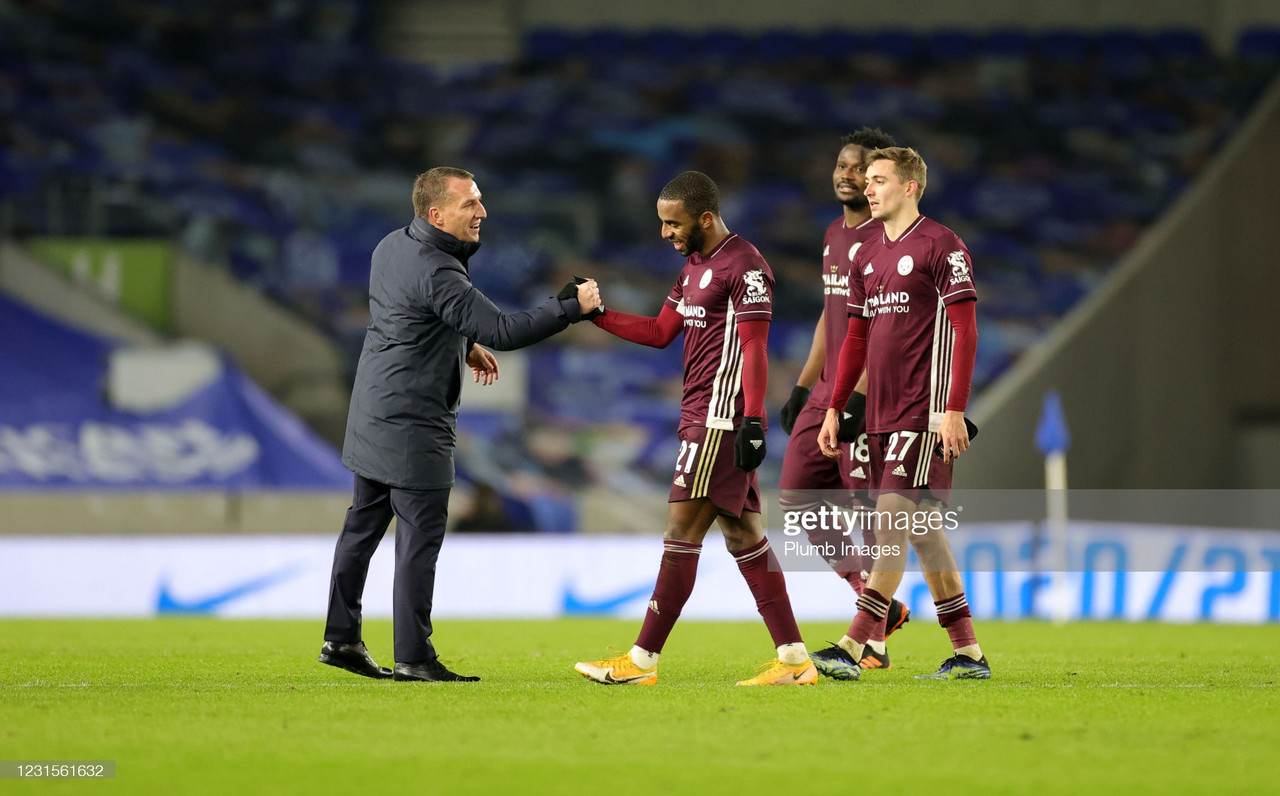 In what was a crucial tie for Leicester City to stay in contention for the top three, considering the fact Thomas Tuchel's Chelsea are trailing hot on the heels, Brighton & Hove Albion were defeated by two goals to one thanks to goals from Kelechi Iheanacho and Daniel Amartey.
Adam Lallana's 10th minute strike from close range was eventually cancelled out with a deft chip by Iheanacho in the 62nd minute. Defender Amartey scored a low-header and completed a comeback win for Leicester from a corner kick after he was left unmarked in the near post.
The Foxes' boss Brendan Rodgers gave his verdict to LCFC TV on what was a well-fought victory for the visitors at the Falmer Stadium.
On his side's first-half performance
Brendan Rodgers was critical of his side's showing in the first half as they conceded early in the game and failed to create any real threat from open-play.
He said: "I wasn't happy with the first half. We weren't aggressive enough, our pressing was too slow and we weren't arriving in the right moments to press – our timing was out. The second half was much better, and then once we do that, the tempo of our game was much better," he said.
On his side's comeback performance
Leicester trailed going into the second half, thanks to Adam Lallana's tenth minute strike.
A comeback victory was much needed for the Foxes for the fight for the second place – with Manchester City foreseeably running away with the title at the end of the season.
Rodgers praised his side's comeback in the second half: "It says everything. You come away against a very good side. Brighton had a full week to prepare and we're off the back of a tough week on Wednesday, so to show that mentality, I was pleased.
"You don't want to go behind, but when you do, it shows your mentality when you don't crumble. They're a very good side. You see the games they've won against the top teams, Brighton, so you know they're a very good footballing side.
"Especially going 1-0 up, they've got nice confidence. We just needed to focus on our game. When we did that in the second half, I thought we looked a really good side."
On Youri Tielemans' assist
Belgian playmaker Youri Tielemans was decisive once again as he provided Iheanacho with an accurate through ball that split Brighton's defence in half. The No.8's key pass was his fifth assist of the season.
Rodgers said: "It was a great pass. Youri's got that quality to make that precise pass, and it's a great finish by Kels."
On Kelechi Iheanacho's performance
It took Rodgers' men well over an hour of match time to finally break through and level terms with Brighton.
Nigerian ace Iheanacho picked up a striking through-ball from Tielemans before controlling it an exquisite manner and slotting the ball in the top right corner.
On the Nigerian's performance, Rodgers said: "He's been absolutely outstanding in this last period for us. He was very cool and very calm. It was a wonderful finish," said the gaffer on Iheanacho.
On debutant Sidnei Tavares
Leicester U-23 midfielder Sidnei Tavares was handed his first senior start by Brendan Rodgers. The Portuguese showed signs of promise with his performance in midfield. The 19-year-old's stand-out moment came in the first half as he forced Brighton goalkeeper Robert Sanchez into saving a goal, in what would have been a half-volleyed worldie.
Rodgers said: "I thought he was excellent, 19 years of age, he can take the ball, he can pass it, he can run.
"He needs to obviously develop physically, which he will do over the next few years, but he went close with a great strike.
"He's got technique, and I was conscious that a lot of our attacking players and the players that can play forward are out of the team, so we gave him his opportunity and I thought he did very well for 70 minutes."