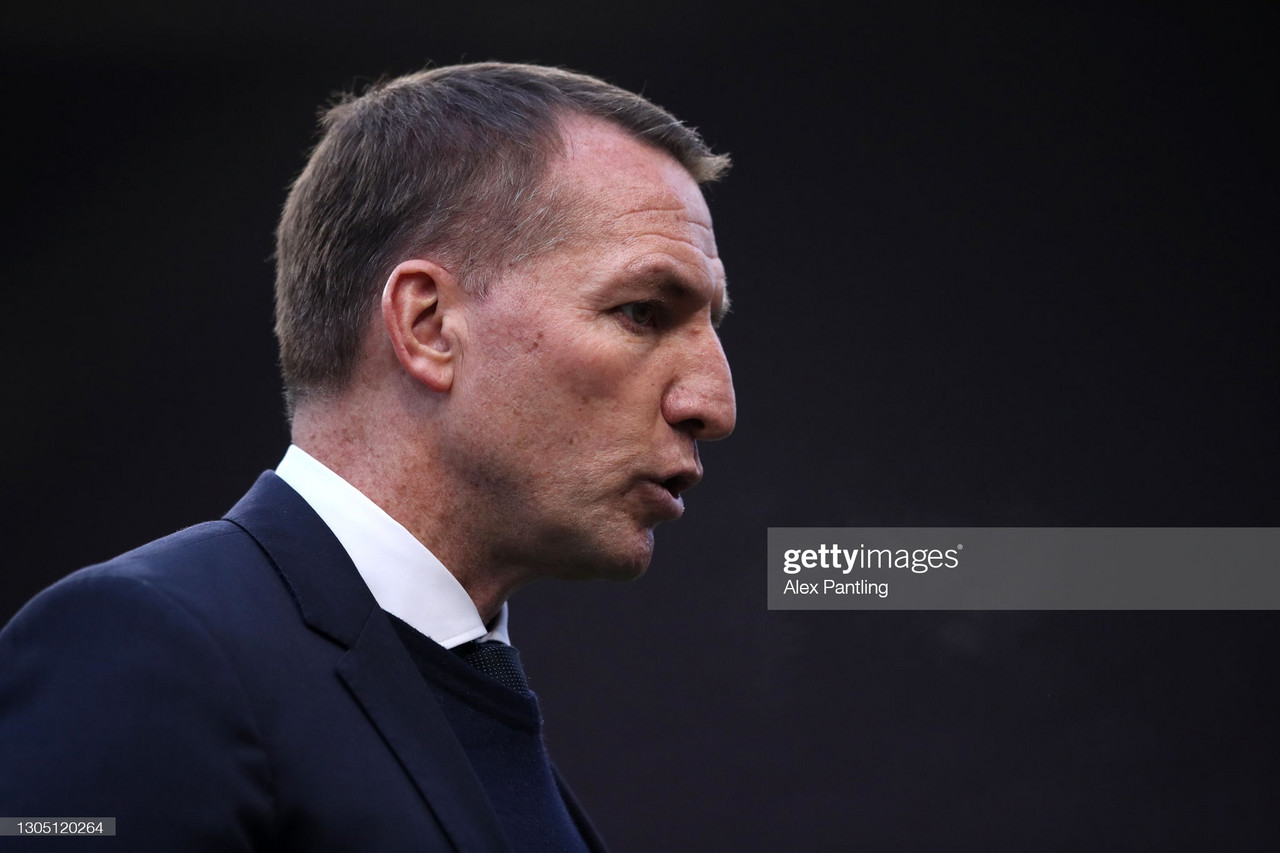 Leicester City travel to the south coast to face Brighton & Hove Albion at the Amex Stadium on Saturday evening.
The Foxes, whose large number of injuries have begun to catch up with them in recent weeks, drew 1-1 with Burnley last time out. Kelechi Iheanacho's equaliser claimed a point at Turf Moor which helped prevent a third successive loss in all competitions.
Brighton are winless in five despite putting in some impressive performances. Their last win came at Anfield in February and since that result, Graham Potter's side have only scored two goals, with their problems in front of goal beginning to drag them into a relegation battle.
Leicester boss Brendan Rodgers spoke to the media ahead of the clash.
On a possible repeat of last season
Last campaign, the Foxes fell at the final hurdle after defeat to Manchester United on the final day of the Premier League season. The loss meant that they slipped out of the top four and had to settle for Europa League football.
Leicester are the only team who have been a part of the top four for the whole season, but after their barrage of injuries, some doubts have begun to creep in that a repeat of last year could be on its way.
However, Rodgers played down the comparison and stood up for his squad. He said: "This is totally different. They've had much more to deal with due to the amount of football they've had to play, and because of European football.
"I'm really proud of the players. We have to deal with what comes our way, look to finish the next game, and finish the season well. We want to be as competitive as we can be. Up to this point, we have been. We want it to continue."
On James Maddison's injury
James Maddison aggravated a previous injury in Leicester's game against Aston Villa and has been absent since. Maddison has been a stand-out player in the Premier League this season and has played a key part in the Foxes' season so far.
Rodgers has yet to give a timescale on Maddison's injury and explained further about his situation.
"He is still continuing with the medical team," Rodgers said. "As I've always said with James, there's no timeline on it, we're just hoping that gradually he'll feel better. He's had the reassurance of a few scans to know that he doesn't need any operation.
"It's just a little bit irritable where he's had a previous operation, but we're hopeful that, over these next weeks, he will get better and it'll be great to have him in the squad again."
On the impact of the injuries on results
Leicester now have eight first-team players on the injury list after Harvey Barnes and Jonny Evans joined an ever-growing number of Foxes players picking up a knock.
These injuries have started to take their toll on Rodgers' squad, with results faltering and players looking fatigued after playing extra minutes in recent weeks. The Northern Irishman spoke about how it could impact his team.
He said: "The squad with the deepest number of players, and the ones that are injury-free, will have a huge advantage when you have so many games. It's such a unique season, so it is something that aids results."
On trying to cope with limited players
Having so many key players out has meant that Rodgers has had to adapt his team's style. Last time out against Burnley, the Foxes lined up in a 3-5-2 formation and looked slightly uncomfortable in the system.
A Premier League debut was also handed to youngster Sidnei Tavares at the weekend, showing that Rodgers may consider using Leicester's talented academy to fill gaps in the squad.
He admitted that different styles have to be implemented now that his team is missing many important players, but remains confident that they can pick up some positive results.
"With the players we have, with the introduction of some young players, we're looking at different systems and different ways," Rodgers revealed. "Obviously, when you're missing the talent and the quality they bring, of course, the game looks different, in terms of how you play.
"But we've got a really, really good group of players that have a great spirit. We'll look to bring everything into the next game against Brighton."
On the international break controversy
Many managers have expressed their opinions on letting their players leave for international duty during the upcoming international break. Some countries have been put on a 'red-list' meaning a week of quarantine is mandatory on return to England.
This would obviously mean that many important players for all clubs will miss out on league fixtures. Rodgers gave his thoughts on the situation and what he will be doing with his squad.
He said: "As we sit here today, we won't want any of our players to be going to a red-list country that would mean them not being able to return and play immediately. "The clubs have been told it's an individual decision, but they won't send players if they're taking a risk."