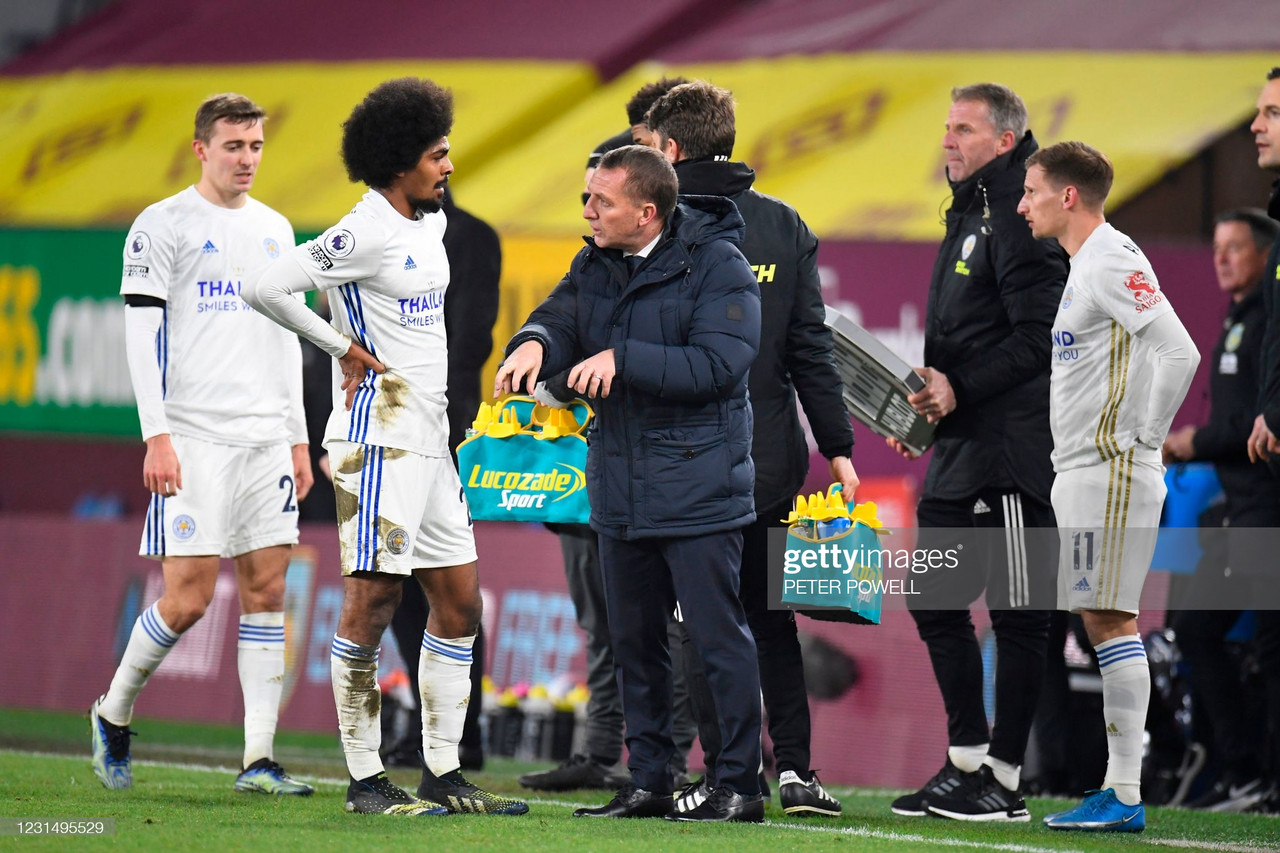 It was the 28th of March of 2021 and Leicester City came up against North Londoners Arsenal at the King Power Stadium. The East Midlands club had come from a devastating elimination in the UEFA Europa League from the hands of Czech side Slavia Prague and were looking to remedy such loss with a win in the Premier League.
Unfortunately, this game once again followed a narrative that has damaged the club for months.
Although Belgian Fox Youri Tielemans scored in the sixth minute of this affair and Leicester would eventually be defeated 3-1, the day was gloomed and obscured by one single word. Injuries.
Just as the second half of this game commenced, Leicester wonderkid Harvey Barnes went down after trying to attempt to head the ball. He signalled to his knee, when asked about where he felt pain and was immediately put on a stretcher and taken off the pitch.
If this was not bad enough, twenty minutes later, Northern Irishman Jonny Evans limped off the field after an apparent calf injury.
Brendan Rodgers would go on to explain in the post-match commentary that Barnes suffered a serious knee injury, which would require the prolific youngster to be out for a minimum of six weeks due to him necessitating a knee operation.
On the other side of the spectrum, Evans' calf injury does not seem as serious as predicted, as he will most likely come back to play against relegation-tipped Sheffield United on the 14th of March.
Injuries have become the kryptonite of Rodgers' side, as the Foxes now register a key 16 injuries this season in all competitions, with only current Premier League champions Liverpool having more injuries in the longevity of this season.
The Foxes currently suffer from eight absences due to injury, one of them being a long-term injury for breakout star James Justin, who will be out due to an ACL injury until at least November of 2021.
Although this injury crisis has blown out of proportion, Leicester have had the luck of not suffering as many long-term injuries. Most of the injuries the squad has faced are either recurrent or short-term injures, which is why Leicester is currently sixth in the Premier League for days lost from players with injuries and illnesses with 680 days.
This might be a positive for many, but it is truly buffoonery, as it has caused Rodgers to not have all his best players for crucial fixtures and forced him to adjust to different lineups every other week or so.
At this moment, Leicester is averaging more than two injuries per month, which has proven how gifted Rodgers is in his managerial position. The Northern Irish manager has led an injury-depleted East Midlands club to a current third place in the Premier League, only one point behind Manchester United. Although Rodgers has done a miraculous job this season, Leicester's UEFA Champions League qualification spot is still in jeopardy with the numerous injuries sustained since the beginning of September.
To comprehend what Brendan's blue army must do to finish in top four by the end of May, there must be an assessment of what Leicester can improve on and demand until the end of the season.
Formidable Striker Production
The first area in which Leicester must ameliorate is their contributions from both Foxes talisman Jamie Vardy and Nigerian Fox Kelechi Iheanacho.
Vardy began this season in world-class form, which included a memorable hat-trick against current Premier League leaders Manchester City.
From September until the end of 2020, Vardy scored an impressive 13 goals in all competitions. This was remarkable production from the current Premier League golden boot holder, as he scored three fewer goals than football phenomenon Cristiano Ronaldo and five more than Barcelona talisman Lionel Messi during that time period.
Unfortunately, injuries also caught up with the 34-year-old, as he ended up having to go to the operation room for a recurrent groin injury that he had been suffering since late December. Since his return from injury in early February, Vardy has unfortunately been in underwhelming form, only netting once in eight games in all competitions.
Leicester has been entailing goals to be competent enough to win games, but unfortunately, their most dangerous target looks nothing like himself. If Vardy sadly does not find his form soon enough, it will make the task of winning matches even more difficult for Rodgers. Vardy must find his stride soon and start to score crucial goals in order to attain crucial points for the Foxes come to the end of May.
Although Vardy has not been scoring a sufficient number of goals in 2021, a man by the name of Kelechi Iheanacho has stepped up to provide the Foxes with great offensive production up top. From September to the end of 2020, the Nigerian striker scored four goals in 11 matches primarily as a substitute, which was decent considering that Vardy was in blazing-hot form during that time.
In 2021, Iheanacho decided to make the best out of Vardy's absence and become a focal point in the team, which he has done amazingly. Iheanacho has scored three crucial goals in seven games up to this moment, including a last-minute header against Brighton & Hove Albion in the FA Cup and an exquisite volley that guided the Foxes to a draw against Burnley on the third of March of 2021.
As a result of Leicester offensive midfielder James Maddison's recurrent hip injury, Iheanacho will mostly start in the next couple of games until the Coventry-native is fully fit to return. Iheancaho's goal contributions will be key if Vardy continues his poor form, so the Nigerian must thrive and take on the challenge of proving to his critics that he is as important to this team as anyone else is until the end of the Premier League season.
Allow the Youngsters to Play
Another thing that Leicester can do to maintain their top-four status until the end of the season is giving game time to certain youngsters from the Foxes academy.
Due to the Foxes' plaguing injury dilemma, Leicester are missing players in key offensive areas, and Rodgers is fully aware of this situation. In an interview with Sky Sports before the game against Burnley, Rodgers expressed that the rest of the season will be an opportunity for certain youngsters in the academy to make a name for themselves in the Premier League.
This must have been amazing to hear for the entire under-23 side, which has cultivated a great number of wonderkids in the last couple of months.
Rodgers was a man of his word, as the Northern Irishman subbed on the cousin of Orlando City's Nani and Portugal wonderkid Sidnei Tavares. The Portuguese has been in the Foxes' system since the summer of 2018, and many Foxes fans have been waiting to see him get minimal game time under the first team this season.
Tavares was subbed on in the 77th minute for Leicester midfielder Hamza Choudhury, who was at fault for Matěj Vydra's goal after a dreadful mistake in the fourth minute of the game. For his 13 minutes of game time, the 19-year-old Portuguese did great, providing a 100 per cent pass completion, completing one of one dribble attempts, and winning two of his three contested areal duels.
Tavares could provide much-needed offensive contributions as a centre attacking midfielder or come in to give rest to Tielemans in the centre midfield, which means that Leicester possesses a Portuguese wonderkid that can become a regular in the first team.
The Leicester academy also possesses other exciting talents in their development squad that can possibly play a couple of minutes come May.
South African midfielder Thakgalo Leshabela has been in the Foxes' system since 2013 and has risen over all the youth ranks to become a regular bench player for Rodgers during this second half of the season. Leshabela is yet to receive his debut for the first team in the four games he has been called up from the development squad in 2021, but he will surely be given a chance if another Fox gets injured or needs a rest in the next two months.
Leshabela can also play as a right midfielder, which means he can provide an option to Leicester regular Marc Albrighton. The South African can also provide another option to Turkish winger Cengiz Ünder, who has his days numbered at the King Power after very underwhelming and selfish displays these last couple of weeks.
Another player that can conceivably receive more minutes come the end of the season is English right-back Vontae Daley-Campbell. The 19-year-old right-back has already made his first-team debut in Leicester's last-minute win against Brighton in the FA Cup, and many Leicester fans are excited to see what future the 19-year-old has in Rodgers' scheme.
In his debut, Daley- Campbell completed 77 per cent of his passes, completed two of two long balls, and was only dribbled past on two occasions during 90 minutes.
The young Englishman is very versatile, as he can play as a right-back, right midfielder, right-winger, and even played as a centre-back this season in the under-23 side. If Belgian full-back Timothy Castagne or Portuguese right-back Ricardo Pereira go down due to injury, Daley-Campbell could be the answer as to replacing the right-back position.
At the striker department, Leicester must not look further more than English striker Jacob Wakeling. The 19-year-old joined Leicester's academy this past November from non-league side Alvechurch FC after being discarded from Championship side West Bromwich Albion's academy.
Wakeling has been nothing but impressive, scoring seven goals in 13 games in all competitions. Rodgers had him training with the first team before the game against Burnley, which means he can potentially be called up to the first-team bench in the weeks to come.
Finally, Leicester has another bright young option in Thailand-born Thanawat Suengchitthawon. The 21-year-old signed this past September from French side AS Nancy's B side and has already trained with the first-team these last couple of weeks. Suengchitthawon can play as either a right or left midfielder, but also as an attacking midfielder.
Leicester's academy is the home of many talents, and these young gifted players can perfectly supply for Rodgers during the rest of the season.
Gaining Vital Points
The final area which Brendan Rodgers must demand and improve on with his team is gaining more points, specifically wins, until the end of the season.
Although Leicester is sustaining eight first-team injuries at the moment, Leicester has a favourable schedule ahead of themselves in the next couple of weeks. The next two games against Brighton and Sheffield are must-win games for Rodgers' side, especially with West Ham United and Chelsea creeping up the table.
The Foxes will then have to come up against United in the FA Cup quarter-finals, followed by City in the Premier League. Leicester is one of two teams who has beaten City this season, which means Rodgers will try his best to repeat such performance yet again.
The Foxes will also have time on their side, which will help players come back from injury. Leicester will now have seven-day rests in between games after getting knocked out of the Europa League, which will reduce the chances of injuries and fatigue for key players.
Evans and Spanish Fox Ayoze Pérez are close to returning to the squad, with Rodgers explaining in his latest press conference that they should be able to take on Sheffield United on March 14th. Belgium midfielder Dennis Praet is expected to come back during mid-March, as he has been out since early January due to a hamstring injury.
On the other hand, Maddison's return date is unknown. Rodgers does not want to run the risk of aggravating an injury in which doctors deemed that Maddison does not need surgery, so Leicester's attacking midfielder will be out until at least early April due to his health prognosis.
Lastly, Barnes' knee operation and recovery will last until early May, which is when he is expected to come back to help the Foxes end this current campaign.
All of these latest injury updates are amazing news to hear, as it means Leicester will have almost all of their key players for the end of the Premier League. The Foxes probably have one of the hardest schedules to end this 2020-2021 Premier League Campaign, as they have to face United, Chelsea, and Tottenham Hotspur in the last three matchdays of the season.
In order to gain vital points from these fixtures, Rodgers will need his best players at his disposal, and everything is aligning to the fact that he will have those players available to him.
After the City game on April the third, Leicester will have a favourable schedule, including the likes of West Ham, West Brom, Crystal Palace, Southampton, and Steve Bruce's Newcastle United. This means that Leicester are in a perfect position to accomplish their goal of finishing in top four, especially if they get as many points as they can from those specific five fixtures.
Regardless of all of the setbacks and negative situations that Leicester is currently facing, the Foxes must still be favoured in achieving top four, especially under the genius that is Rodgers. Their schedule is favouring them in every way possible, and injuries will not be as much as a conundrum with enough time for players to rest and recover.
If Rodgers finishes in a UEFA Champions League qualification spot come to the end of May with an injury crisis narrative that has depleted the squad since the beginning of the season, he will certainly be the mastermind behind one of the biggest club achievements since Leicester's title-winning season.