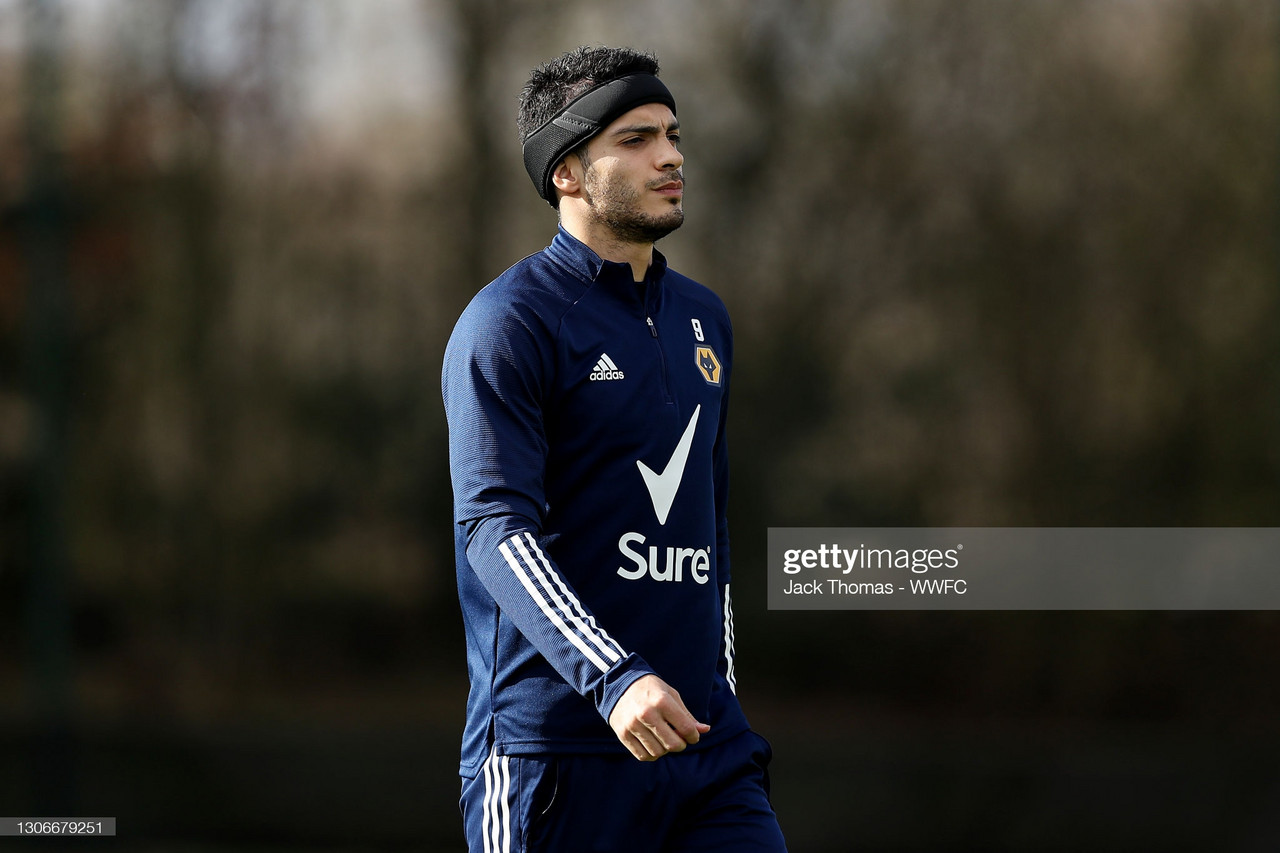 Wolverhampton Wanderers boss Nuno Espirito Santo has provided more positive news regarding the recovery of Mexican striker Raul Jimenez, stating that the striker could join up with his national team-mates for their fixture in Wales.
Jimenez has been out of action since November due to a fractured skull, but has slowly been recovering in recent weeks. Prior to Monday's Premier League fixture with Liverpool, Espirito Santo discussed the plan with Jimenez.
"Yes, that's the idea (wearing protective band in matches). But first we still have to have the full understanding of the next step that we need to take regarding his involvement in the training session.
"Here, now with the international break, we've been talking with Mexico, I think it'll be good for him to join the Mexico squad to see his friends because it's a big part of his life.
"Many friends that he has are there, so it'll be good for him. We are just trying to figure out the best way to do that, he will be involved for sure during the week and then he will return.
"So we are taking these steps on Raul very carefully, but always with the intention to bring him back in the best way possible.
"We've been talking with them. Doctors, everybody already spoken to Raul about that and feels comfortable and I truly believe that will be good. We have to make it work, not with mistakes, but the idea is for him to join the squad of Mexico, I think in Wales. It'll be good."
What is the protective band?
Jimenez was pictured in training on Thursday wearing a protective headband, another positive step forward for the striker.
When asked if it was the same that former-Chelsea goalkeeper Petr Cech worn following his head injury in 2006, Nuno said: "It's different (. It's much more advanced. It's amazing what technology does.
"I think its an exclusive gear. He feels comfortable in that, he's able to do almost every action. We are on to the next step.
"When we have the clearance and everything, let's see if it is able to be applied in competition. That's the only goal the gear has.
"To be useful on the preparation and the competition. With Raul there are still a lot of question marks, a lot of boxes that we have to tick.
"We still have to avoid that (heading the ball). It's more a protective measure than getting him involved."
Facing the champions
Liverpool travel to Molineux on Monday evening looking to win their fifth straight game against the Wanderers and end their horrid run.
Speaking about the contest, Nuno said: "The quality, the talent and the achievements that the club and Jurgen have done is amazing and we're going to face a very talented squad, a very good football team who have a fantastic approach and idea on the game.
"Not just every team, but everyone has ups and downs. It's how you react from it and how you get through that which is important, and Liverpool, huge admiration."
Monday provides Wolves with the chance to seek revenge from December's 4-0 defeat at Anfield, a game where Wolves weren't at the races.
"[4-0 loss at] at Anfield was a long time ago, so many things have changed since then for both teams, it's going to be a new game, a new challenge.
"It didn't teach me anything. We faced a very tough opponent that was better than us in that game. The lessons that we take is from all the opponents and all the matches we have."