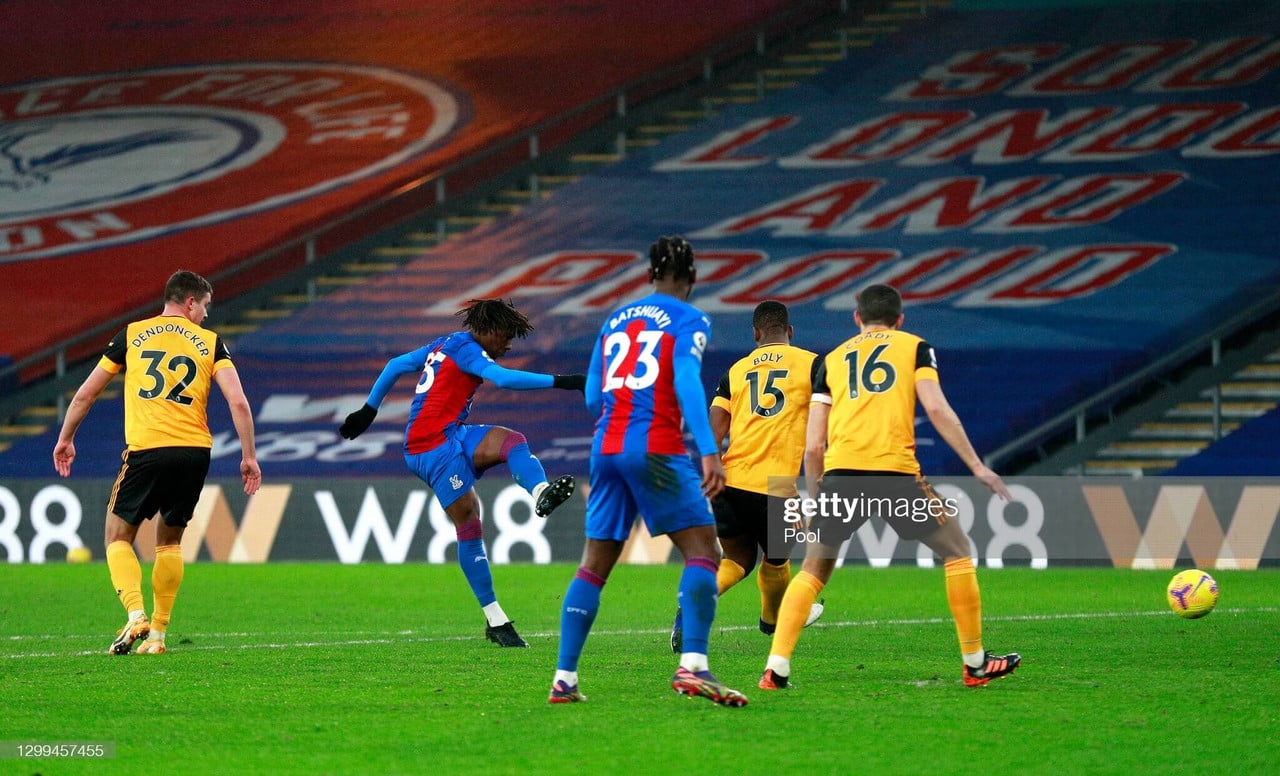 Wolverhampton Wanderers went to Selhurst Park looking for a fourth successive victory over Crystal Palace, but a largely dull and unimpressive afternoon saw the hosts come away with the points after a moment of brilliance from Eberechi Eze.
The result saw Palace and Wolves switch places in the Premier League table, with Nuno Espirito Santo's men sliding ever closer to the perils of a relegation scrap. With some tough fixtures ahead, a top-half finish currently looks unattainable, and qualification for European competition through the league seems to be out of the question. Here are some of the main talking points from Saturday's defeat.
Underwhelming performance in midfield
Leander Dendoncker and Joao Moutinho were paired in the centre of midfield - a partnership usually well-suited to guarding the defence, as was evident in the away victory over Leeds in October.
However, both players had off days - creative forward movement of the ball from midfield was minimal, which then forced the attacking line to drop deeper to pick up the ball and attack. This allowed Palace to put men behind the ball, reducing Wolves' attacking options and lowering their expected goals total to 0.00 by half time.
Both central midfielders tended to stay far too deep to be of much use in attacking build-up play, and as a result Willian Jose was often isolated in the centre of the attack unless the wingers and wingbacks moved centrally to back him up.
Wolves managed four shots on target by the end of the game - not a terrible number - but without the midfielders regularly engaging with him high up the pitch, the Brazilian was feeding off scraps. His passing and movement oozed class and cried out for a midfield willing to move higher.
In deeper regions, Moutinho and Dendoncker did not do much better. Unforced errors from Moutinho were a concern, with even some short and simple passes creating moments of unease for Wolves.
Neither seemed to close down space very well. Wolves' strategy for dealing with the dribbling ability of the Palace forwards was to isolate individual players and guide them into cul-de-sacs where the ball could easily be won. When the midfielders looked to be switched on, this strategy worked perfectly, and Palace couldn't find a way through.
This wasn't always the case - the pair switched off far too frequently, leaving a big gap in between the Wolves defence and midfield - this allowed the Palace attackers to dribble and pass the ball around on the edge of the Wolves box, allowing the centre-backs to become isolated in dangerous one-on-one situations.
Two instances of sloppy defending by Dendoncker handed Palace free kicks in front of the Wolves box, in good shooting range and from angles favourable to a free kick taker - Palace were unlucky not to score more.
Wingers and wingbacks played well
What Wolves lacked in midfield was made up for out wide - the wingbacks routinely pushed high, creating problems for the Palace defence as small areas were numerically overloaded with gold shirts, and the rest of the Wolves team shifted from one side of the pitch to the other to back up the wide attackers.
Ki-Jana Hoever impressed on overlapping runs, and put some good balls into the box, but there were far too few players ready to get on the end of them. Later on, Adama Traore followed the same running routes and embarrassed Patrick van Aanholt when the Dutchman was isolated - Traore was by far Wolves' most threatening attacker despite playing at wingback.
After he won a corner trying to cut in on his left foot, Traore's pace prevented Wolves from conceding a second goal. Michy Batshuayi dribbled forward at speed after the corner was cleared, with only Conor Coady to beat and Wilfried Zaha free on his right. Traore tracked back, outran everyone, forced Batshuayi to slip the ball to Zaha, freed Coady to cover Zaha then after cutting off the option of squaring it to Batshuayi, pressured Zaha as he lined himself up, and the shot came back off the crossbar. Without that last-second pressure, Zaha would have been less rushed taking the shot, or he would have squared it, and Palace almost certainly would have scored.
Nelson Semedo took a while to become comfortable at left wingback, and through the first half he often looked afraid to push forward - when he plays on the right, he stays wide near the touchline, only looking to move infield occasionally and almost exclusively in the final third.
He stayed wide early on, turning to look for a central pass, but this did not look like an ideal strategy, with one loose pass intercepted in acres of space by Palace captain Luka Milivojevic. A last-ditch recovery tackle from Semedo prevented a quick attack, and although it was deemed fair, it was desperate enough to merit a VAR check.
After that, Semedo looked to pick up the ball wide then make an underlapping run into the left half-space, with Pedro Neto moving wider as Semedo pushed into the attacking regions. This seemed to be a much better idea, as it gave Semedo more of an opportunity to look for a shot.
Neto played well, and as always, he gave everything. His effort is never at fault. He was rather unlucky not to create a goal from his dangerous solo dribbling, and the threat he posed to individual players spooked Palace enough to have four or five men tracking his movement from a distance at times, in case they needed to quickly close him down.
Daniel Podence didn't really get into the game in the way he normally would, though this cannot be blamed on him - he has only recently recovered from a calf injury and is still getting back up to full match fitness. His passing in the final third was creative, throwing the Palace defence off balance - he and Jose were Wolves' most dangerous passers in the final third.
Tactically, he offered Wolves multiple in-game options. When paired with Pedro Neto on the wings, switching sides is easy as both players are comfortable on both flanks, both are comfortable playing as attacking midfielders, and both can play as second strikers - Wolves' attack was fluid as a result, with neither of them sticking to one defined role. This caused a series of problems for those tasked with marking them, as they could pop up between the lines, alongside Jose in a two, or out wide combining with the wingbacks.
Questionable game plan
After going for over two months without a clean sheet in the league, it was essential for Wolves to go back to basics and revert to a back three against Chelsea. This game plan worked, Wolves parked the bus and Chelsea were unable to find a way through despite enjoying almost all the possession.
Focused on keeping another clean sheet, Nuno used the same strategy against Palace, though this was a mistake. Parking the bus tends to stop the bigger clubs who tend to rely on breaking teams down by passing, but a team like Palace which relies heavily on dribbling is much more likely to either force a way through as Eze did, or to force defensive errors and win free kicks in good areas.
Wolves beat Palace in their previous encounters by playing attacking football and looking to control the game by passing instead of just trying to not concede. This season, sustained attacking play from Wolves comes in the shape of a 4-2-3-1, with the extra numbers high up the pitch reducing the number of attacks the defence faces, and removing the need for the extra defender.
With the Palace attack lacking much physical and aerial threat, the extra defender was unnecessary, and if Wolves had played with the extra man in attacking midfield, the central midfield deficiencies on the day would have been far less obvious.
In terms of substitutions, Nuno cannot be faulted. Hoever off for Traore, Moutinho off for Fabio Silva and Podence off for Vitinha were all the right reactive decisions, but the three were unable to turn the game around late on. One positive that can be taken from this is that Nuno's in-game management seems to be improving.
With home fixtures against Arsenal and Leicester coming up this week, Nuno has some tough choices to make. If a back three is maintained, the chances of Wolves scoring is minimal and the only way they're likely to pick up points is by parking the bus and grinding out goalless draws. Against such strong attacking sides, clean sheets cannot be counted upon.
Given the current lack of attacking threat with a back three, Nuno should consider benching his captain and playing a back four. A 4-2-3-1 would give Wolves more of a presence in the centre of the pitch, and provide far more attacking opportunities with Traore, Podence and Neto all able to build their movements around the new focal point that Jose offers. As Wolves are likely to concede in these fixtures regardless of formation, sacrificing some defensive solidity for a chance at levelling the score can't be a bad thing.
Many Wolves fans were puzzled by the absence of Ruben Neves. While the Portuguese regista would have been a huge asset for the team, some things are bigger than football - yesterday his wife gave birth to baby Mateo. Parabéns Rúben e Débora!