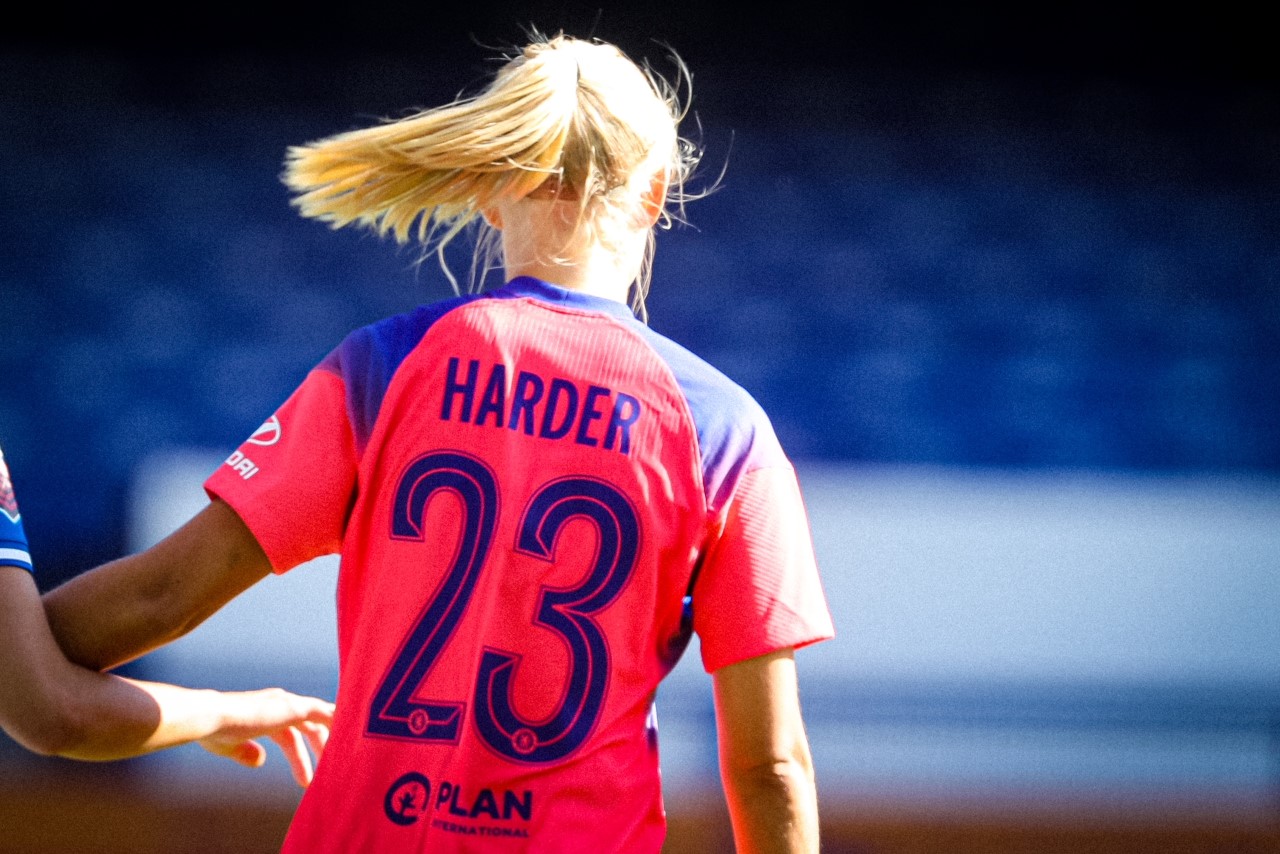 Denmark has a lot of talented footballers and they also have a national football treasure named Pernille Harder. It should be obvious to not only every single Danish football fan but to all women's football supporters that have the opportunity to vote who earns this award.

Frauen Bundesliga title and cup winner who lead Vfl Wolfsburg as a captain to another Uefa Women's Champions League final. UEFA's Player of the year. World Football Summit/AS Player of the Year. Goal 50 best player award. Player of the Year in FourFourTwo's Awards. Lower Saxony Footballer of the Year as the first women. Germany's Women's Footballer of the Year. Frauen Bundesliga Top Scorer. The Guardian's No.1 women's footballer of the year.
Pernille Harder finished the 2019/20 season by becoming the world's most expensive women's footballer when she signed with Chelsea FC and moved to England and the Barclay's Women's Super League.
Harder, with the rainbow armband, led Vfl Wolfsburg out on the pitch for her second final in the Champions League at the end of August 2020, her season with the German titleholders was coming to an end. The Dane had won practically everything with the green Wolves and it was obvious that she was a key player for Stephan Lerch, head coach, in Wolfsburg:
"Even when she is at less than 100%, you feel her presence. If you're in a game and need one moment to make the difference, she's the player for it, no matter what condition she is in," said Lerch when his star striker was awarded UEFA's Player of the Year Award.
In all competitions for Wolfsburg Harder scored 38 goals in the season 2019/20; 27 in the league, 9 in the Champions League and 2 in the domestic league cup. In total, during her years in Germany, she netted 105 times in 114 games.
The Danish superstar joined reigning the WSL champions in September last year. When talking about what was attracting about the English league and Chelsea, the Dane made no secret about her desire to win the Champions League. In an interview with The Guardian after being named the best female footballer 2020 she said:
"I thought that the English league was really interesting. I want to be where I feel like there's the biggest competition. Then Chelsea because they have the same ambitions as me. Winning as many titles as possible and also the Champions League, they want to go for that."
So far, the Dane has not disappointed, already scoring 11 goals and 4 assists for her new club in all competitions. If one would like to count what official statistics doesn't count, the goals are 13; with two goals that have been counted as own goals from the opponents. One against Arsenal back in November and one vs Tottenham.
Harder is known for her hard work, on and off the pitch, and if she hadn't been the one taken that run down to the right-hand side of Arsenal's penalty area, if she had not gone for the cross that day, Chelsea would've lost. Instead, she did, and a deflected cross from the Dane, went into the goal, giving Chelsea a very important point. Ahead of the FIFA Awards back in December Chelsea head coach Emma Hayes took the opportunity to speak about Pernille Harder. Hayes said:
"I haven't wanted to talk about her publicly because I wanted her to settle in but with this award, I think it's fitting for me to say that I'm so grateful she's here and I'm so looking forward to our future and she's deserves everything that she's been recommended for."
Harder made her debut in Denmark's national team as a 16-year-old coming on as a substitute when Denmark beat Georgien with a 15-0 victory back in 2009. How many goals did she score on her debut? Three. Hat-trick. Then in November 2019 when Denmark went up against Georgia in a Women's Euro 2022 qualification game, she did it again. Hat-trick.
At the age of 28, she has appeared 123 times for her country and has scored 64 goals. If she scores two more, she will become Denmark's most prolific goal scorer ever.
"Pernille has been a big influence in rebuilding the Danish national team this year both on and off the field. She still creates and scores goals, but her leadership and work rate also deserve credit!" said Lars Søndegaard, Denmark head coach when his team captain got the UEFA Player of the year award 2020.
In competition with other great Danish players
In the competition for this award, Harder is up against her fellows Rikke Sevecke, (Everton) Sofie Junge Pedersen (Juventus) and Sanne Troelsgaard (FC Rosengård). Obviously three very strong opponents with one of them being an Italian league Serie A Femminile champion and league cup Super Coppa titleholder.
Still, nothing or no one should be able to push Pernille Harder off the throne this year.