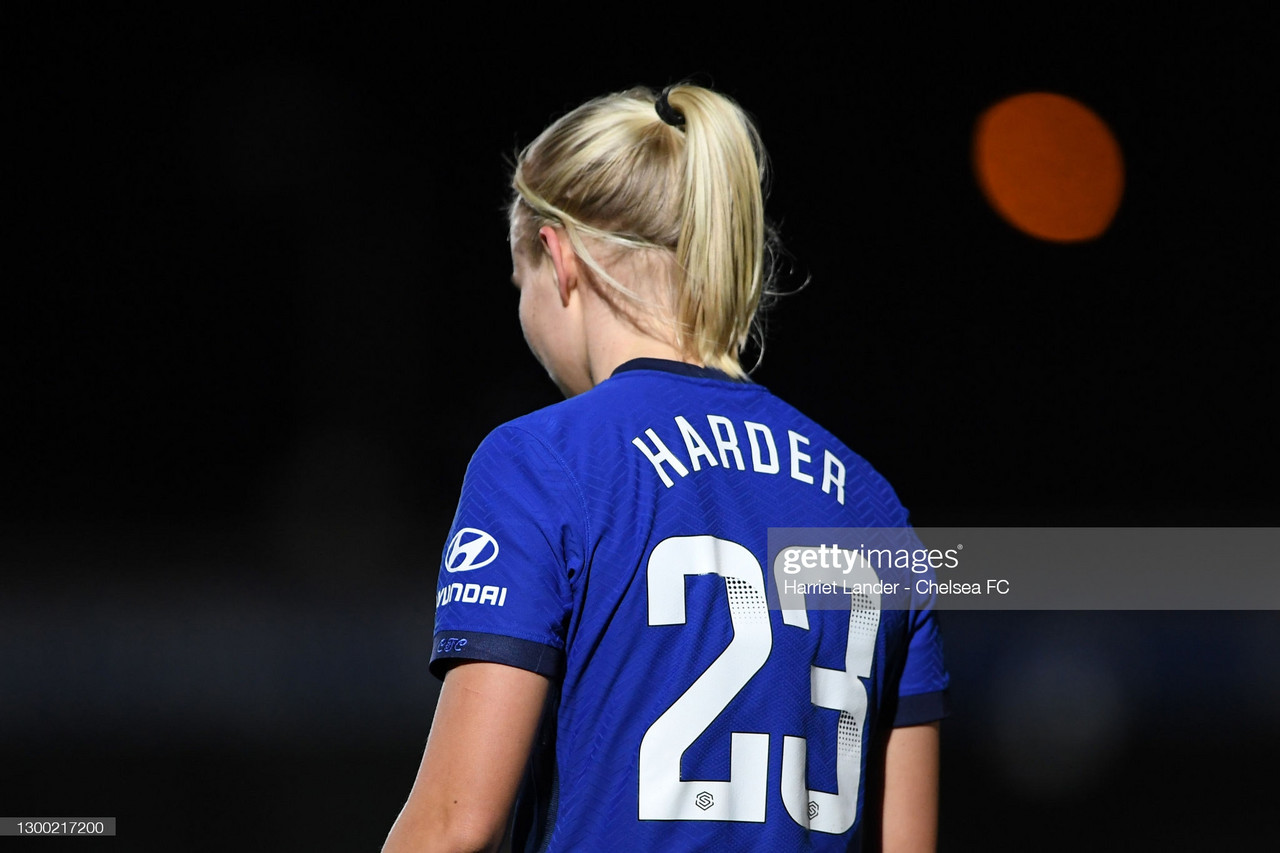 Chelsea head coach Emma Hayes and her players have been outspoken about their hunger to conquer Europe. The reigning WSL champions will have their chance to prove themselves in UEFA Women's Champion's League already in the round of 16 when Primera Iberdrola's last season's runner up Atletico Madrid visit London. The stage is set in a match that will be the first time the two clubs play each other in women's football.
Predicted to be the most exciting match of this round in the tournament, it kicks off at 19:00 UK time on Wednesday evening.
Returning from the international break this will be the first competitive match for both teams.
Chelsea have had most players in training during the international break because of travels restrictions in and out of the UK. The only players having been away have been Erin Cuthbert for Scotland, Jessie Fleming for Canada and Bethany England for England. Fran Kirby and Millie Bright had to withdraw early from the England camp due to injuries. The two internationals have been in training and will most probably be able to appear on Wednesday night. Chelsea entered this stage of the UWCL by beating the Portuguese top club Benfica with 8-0 over two fixtures.
In Atletico's squad there have been seven players away on international duty. Both goalkeepers; Hedvig Lindahl for Sweden and Pauline Peyraud-Magnin for France such as four of the defenders; Grace Kazadi with the U23 team for France, Laia Aleixandri for Spain, Aissatou Tounkara for France and Merel van Dongen for the Netherlands. Brazilian striker Ludmila has also served her country by participating in the SheBelievesCup. Atletico come into this round of the UWCL from an aggregated 9-2 win v the Swiss club Servette.
Berger (GK)
Mjelde, Bright, Eriksson, Andersson
Leupolz, Ji, Ingle
Harder
Kirby, Kerr
Lindahl (GK)
Van Dongen, Aleixandri, Tounkara, Guagni
Meseguer, Leicy
Sampedro, Deyna, Duggan
Ludmila
Chelsea's big goal of the season apart from winning every domestic competition they are in is also of course to win the UWCL. The Blues squad presents a number of quality players but two of them have more experience from this fashionable tournament than their teammates; Denmark international Pernille Harder and Norwegian international Maren Mjelde.
Chelsea is the third club both Harder and Mjelde represent in the Champions League. With the Dane's position on the field, having played on central midfield and as a striker for her clubs she naturally stands out from her Norwegian teammate with her 31 appearances in the tournament along with her 26 goals scored with 7 of them being scored in games v Atletico Madrid. Together with her former club Vfl Wolfsburg Harder has been a part of two massive wins v the Spaniards; one back in 2017/18 with an aggregated 15-2 win and one the season after with 10-0.

Mjelde has 27 UWCL appearances and 5 goals. These two internationals come into this stage of the competition with a lot of valuable experience.
For the Spanish side, there is someone who's track record beats both Harder and Mjelde; Toni Duggan. The English midfielder has played for four different clubs in the UWCL during her career and has 36 appearances and 16 goals.
Another important player for Atletico is Venezuelan international and playmaker Deyna Castellanos. The young central midfielder has scored 13 goals and made 10 assists in total the current season in all competitions. Similar to Pernille Harder one of Deyna's strengths is that she can take shots from long range and the Venezuelan attacker usually shows good close control along with her creativity. The stats according to InstatFootball says that she attempts 3.97 shots on average per 90 minutes so Chelsea have to look out.
On set-pieces, her delivery is impressive having helped her rake assists the current season.
This fixture is selected to be broadcasted on BT Sport 2 in the UK and on Goltelevision.com in Spain.
International fans can also watch the clash on ChelseaFC.com and the 5th Stand app (geographical restrictions may apply).