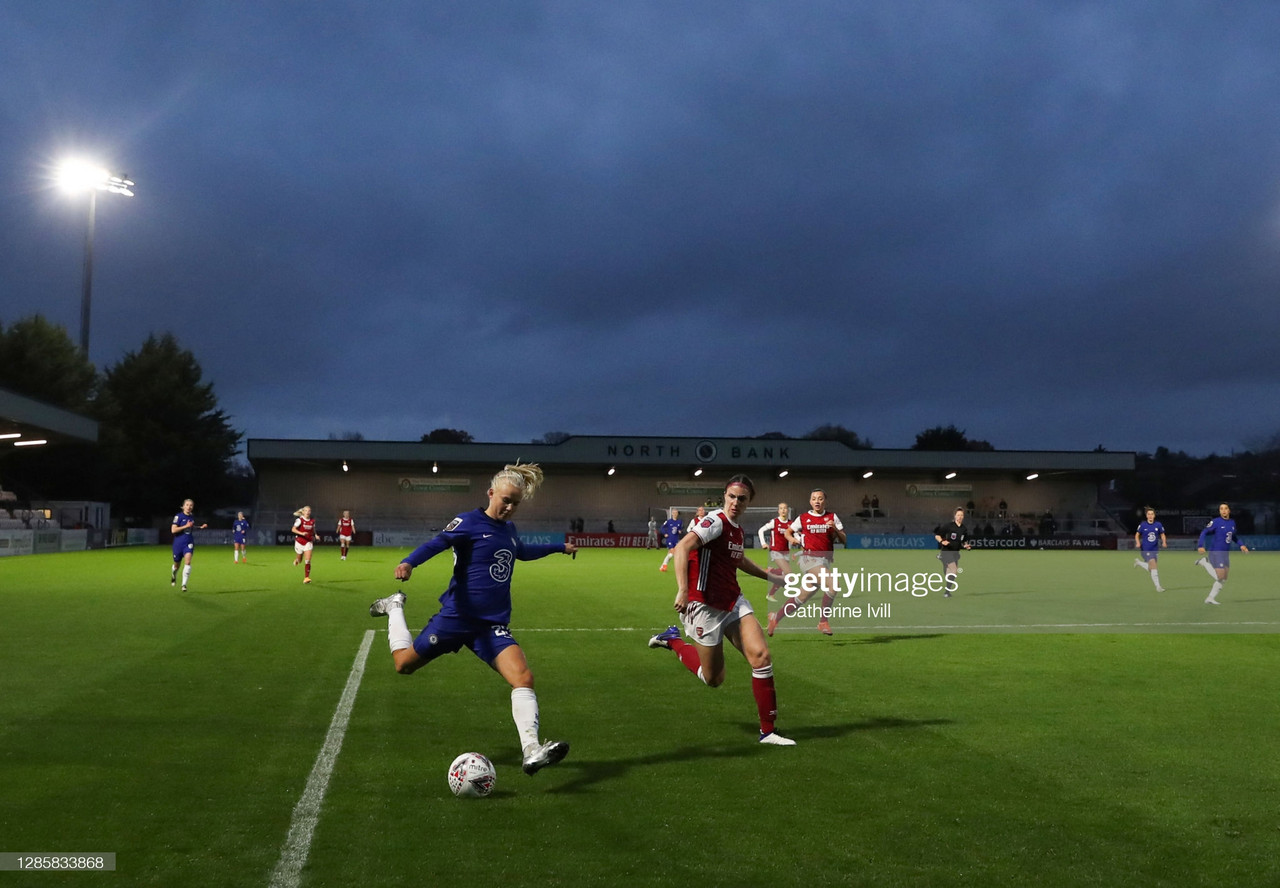 Chelsea seek a quick opportunity to find their way back to winning streak when the Blues welcome Arsenal to Kingsmeadow.
The home team suffered their first loss in two years last Sunday when Brighton & Hove Albion with a solid performance defensively, ended Chelsea's historical unbeaten run in the WSL.
Hope Powell's side scored two goals from setpieces coming out of corner kicks. The Blues' unorganized and newly composed backline for the day didn't cope enough to clear the ball away.
Emma Hayes had given several players a chance to prove themselves and although her side owned most of the possession (78 %) and had 30 shots, none of them stepped up to be creative enough to manage to turn things around.
Arsenal, with key players out due to injuries they had picked up in training, couldn't find the strength to take 3 points at home vs Manchester City.
Crucial for both top teams to bounce back.
Chelsea players like Ji So-Yun, Pernille Harder and Fran Kirby were all on the bench last Sunday. One can only guess that one reason was that Hayes rotated her squad with the clash vs Arsenal in mind.
Niamh Charles, Millie Bright and goalkeeper Ann-Katrine Berger weren't in the squad at all. If that was only due to the fact that they were rested or if the reason is injuries, will most probably show on Wednesday night.
Arsenal still have bad luck with injured players and were without Jen Beattie, Jordan Nobbs, Kim Little, Steph Catley and Viki Schnaderbeck against City. It is yet to see if either of these players will enter the grass at Kingsmeadow on Wednesday.
Chelsea:
Berger (GK)
Mjelde, Bright, Eriksson, Andersson
Leupolz, Ingle
Kirby, Harder, Ji
Kerr
Arsenal:
Zinsberger (GK)
Maritz, Williamson, Wubben-Moy, McCabe
van de Donk, Wälti, Roord
Mead, Miedema, Foord
The two teams do not lack attacking players and skills, but the outcome of this game will depend on quality defending and the team with the most creative play going forward. And both teams have two players at the back that can provide massively on both parts.
In the possibility of Kim Little's absence due to injury, Leah Williamson could be the one to captain Arsenal like she had the honour to do last Sunday. Playing as a right centre-back she is, like Chelsea skipper Magdalena Eriksson, who plays left centre-back an essential part in their respective team's buildup play.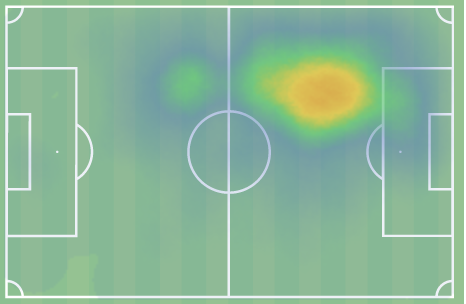 These two players have a lot of similarities in strength and playing style but they do differ in a couple of ways. Let's take a closer look. This season Williamson has played 1019 minutes in total for Arsenal compared to Eriksson, who has played 1100 minutes.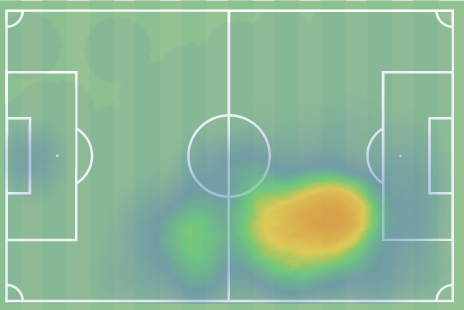 Eriksson's aerial ability comes in handy during corner situations as one can see in her heatmap she has a mildly bright spot in the penalty area. This makes her aerial ability a threat in the opposition box as well as an ability to defend well in Chelsea's own box.
The yellow dot in this graphic is Eriksson, the blue one is Williamson. We can see that they both make a lot of long passes during a game, where Eriksson attempts on average 24 per 90 minutes and Williamson 30. One of Williamson's qualities as a centre-back is that she can kickstart Arsenal's attacks from almost nothing.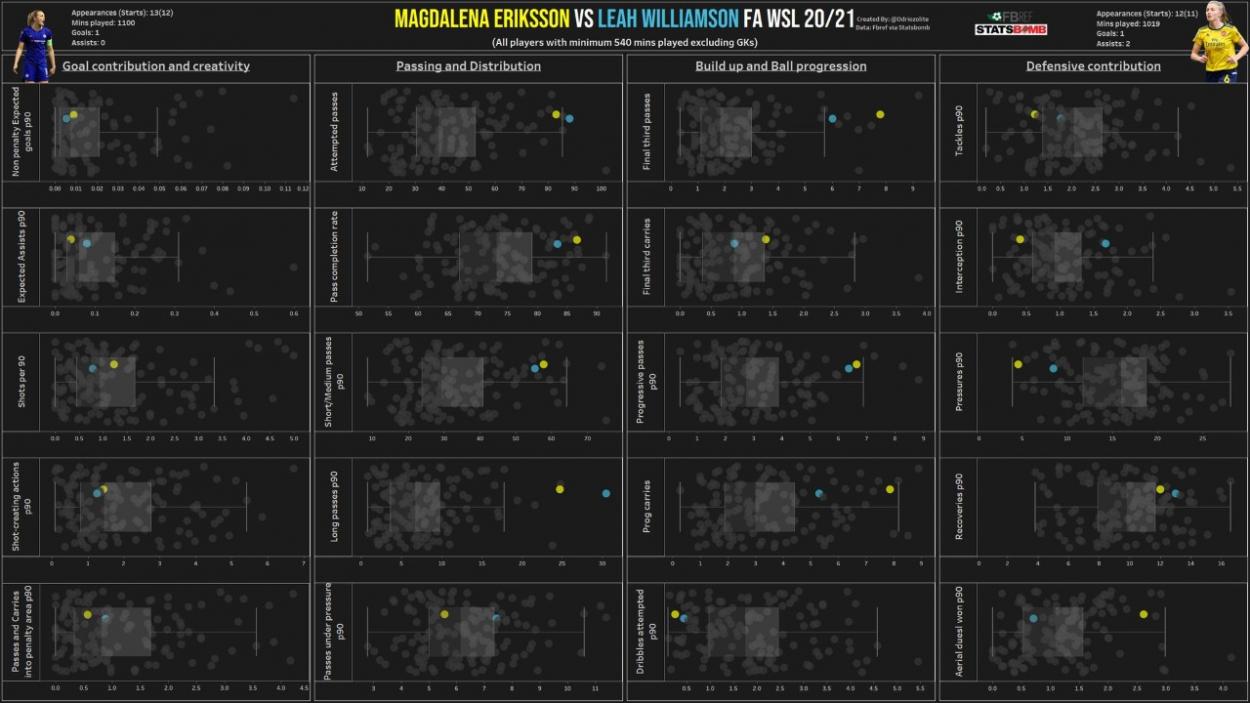 Graphic credit: @Odriozolite on Twitter

Although Eriksson is not too far behind with the long passes the graphic tell us that Eriksson likes to carry the ball more than Williamson does, while both attempt a similar number of progressive passes.
Williamson on average intercepts more balls than Eriksson which is highlighting her ability to read plays and quickly react to it. One of Eriksson's strengths lies within aerial duels.
One thing is certain, both of the centrebacks will be important for their respective teams tomorrow as the strong leaders and role models they are.
The two sides have been up against each other two times earlier this season; one time in the group stage of the Continental Cup and one time in the league.
The cup game was played at Kingsmeadow, ending with a win for the home team; 4-1 where Arsenal never being really close. The Gunners had problems with dealing with Chelsea's high pressure.
When the Blues, later on, visited Meadow Park in November it was a whole other story to it. Both teams struggled to create chances and when Vivianne Miedema served Beth Mead with a cross along the ground into the box 86 minutes in and the ball went into the goal not many thought the outcome was going to be nothing else than a win for the Gunners. Sadly for the hosts, the last attempt from Pernille Harder, who made a long and aggressive run down towards the home team's goal, before she attempted a cross. That unfortunately deflected on to Lotte Wubben-Moy into Arsenal's own goal and the teams shared the points.
This game will be shown live on the FA Player 19:00 on Wednesday, February 10.
In Scandinavia and Finland, it will be broadcasted on ViaPlay/NENT Group's platform 20:00 CET.
In the US, Germany and Italy it will be on Atafootball.com
In the US - NBC Sports App 2 pm ET
In Australia - Optus Sport
In Canada - Sportsnet.ca
In New Zealand - SparkNZSport