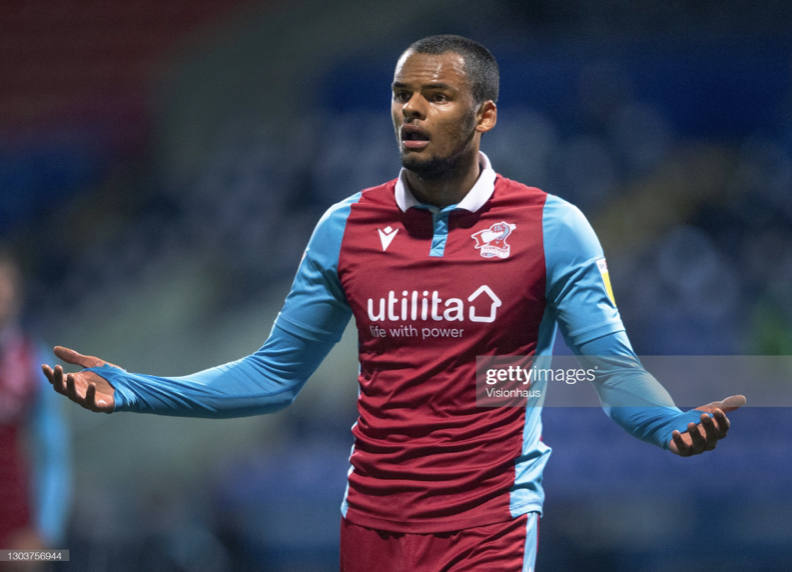 A fascinating last minute volley from Scunthorpe United attacker Jordan Hallam secured the Iron a deserved point, denying Keith Curle his first victory as Oldham Athletic manager.
Oldham had taken an earlier lead thanks to Alfie McCalmont, who had rifled the ball in following sloppy Scunthorpe defending, but his goal wasn't enough to avoid heartbreak at the Sands Venue Stadium.
The Latics had just one win in their last eight prior to this game, but were unlucky to fall to a 4-2 defeat at the hands of Cambridge United on Saturday, despite having a two goal lead.
Scunthorpe were in a similar sort of position, with just one win in their previous six and deserving a victory last time out against Leyton Orient.
Scunthorpe United: Howard; Rowe, Clarke, Bedeau, Brown, Gilliead, Karacan, Spence, Green, Van Veen, Loft.
Oldham Athletic: Walker; Jameson, Piergianni, Badan, Adams, McCalmont, Whelan, Fage, Keillor-Dunn, Hilssner, McAleny.
​​​​​​​The Iron looked to immediately break the deadlock, as Lewis Spence played the ball into Devarn Green, who drove at his man before forcing a save out of emergency loanee Laurie Walker.
Green continued to be heavily involved, as Jem Karacan and Alex Gilliead linked up before feeding Green, but a last ditch challenge halted his strike.
Scunthorpe's dominant start nearly had a result as Ryan Loft and Kevin Van Veen worked together to find Gilliead, but his shot was well stopped by Walker again.
Van Veen teed up Gilliead once again, as his header from the corner was met by Green from close range, but the former Southport winger could only head over.
28 minutes in and Oldham had their first real attempt at goal, as Dylan Fage won back possession but vended his strike wide.
Heading into the second half, and Oldham took an immediate lead courtesy of McCalmont. The Leeds United loanee capitalised on Scunthorpe's failure to fully clear the ball, rifling in from just outside the box, past Mark Howard to send the Latics media team into jubilance. For context, the Oldham socials were reporting from their car, as they'd got stuck in traffic and only reached Scunthorpe in the 68th minute!
Skipper Jordan Clarke tried his luck from a long way out, but Walker smothered his attempted equaliser after two attempts.
Van Veen was next to draw a save from Walker, as his low driven strike was thwarted by the goalkeeper.
John McAtee, who had been on the pitch for two minutes replacing Van Veen, nearly got off to a blinder as he found Green in the box, whose deflected effort rattled the Oldham bar.
Walker once again clutched for Oldham, as Gilliead unleashed another strike that forced a vital save from the MK Dons loanee.
As the game approached its closing stages, Loft pounced onto Junior Brown's wayward shot, but Loft couldn't beat the resilient Walker from range.
But in the dying minutes, Scunthorpe clinched their equaliser in outstanding fashion. Brown drove down the wing before lifting a cross into the danger area, but Oldham failed to track the substitute Hallam, who excellently volleyed past an unlucky Walker and into the back of the net.
As the referee blew the final whistle, both side would accept a point as a fair result following two even performances.
​​​​​​​Curle will understandably be frustrated to have not departed Scunthorpe will all three points, but the signs are there that things are improving.
The clear problem right now is not being able to defend a lead, after messing up a two goal deficit on Saturday against Cambridge and losing out in the last minute against Scunthorpe, Curle needs to work on his players fitness levels and ensuring that they put their bodies on the line to protect the points.
Meanwhile with Scunthorpe, fans will be ruing towards Walker, as 17 shots and nine on target wasn't enough to earn three points. The key compartment now is to utilise the opportunities, take their chances and most importantly pick out a goalkeepers weakness, as Walker was difficult to break down.
​​​​​​​Laurie Walker ensured that the scoreline was minimal, and put in a valiant performance to deny Scunthorpe a dominant win. Carl Piergianni also played very well in the back line, and especially in the air.