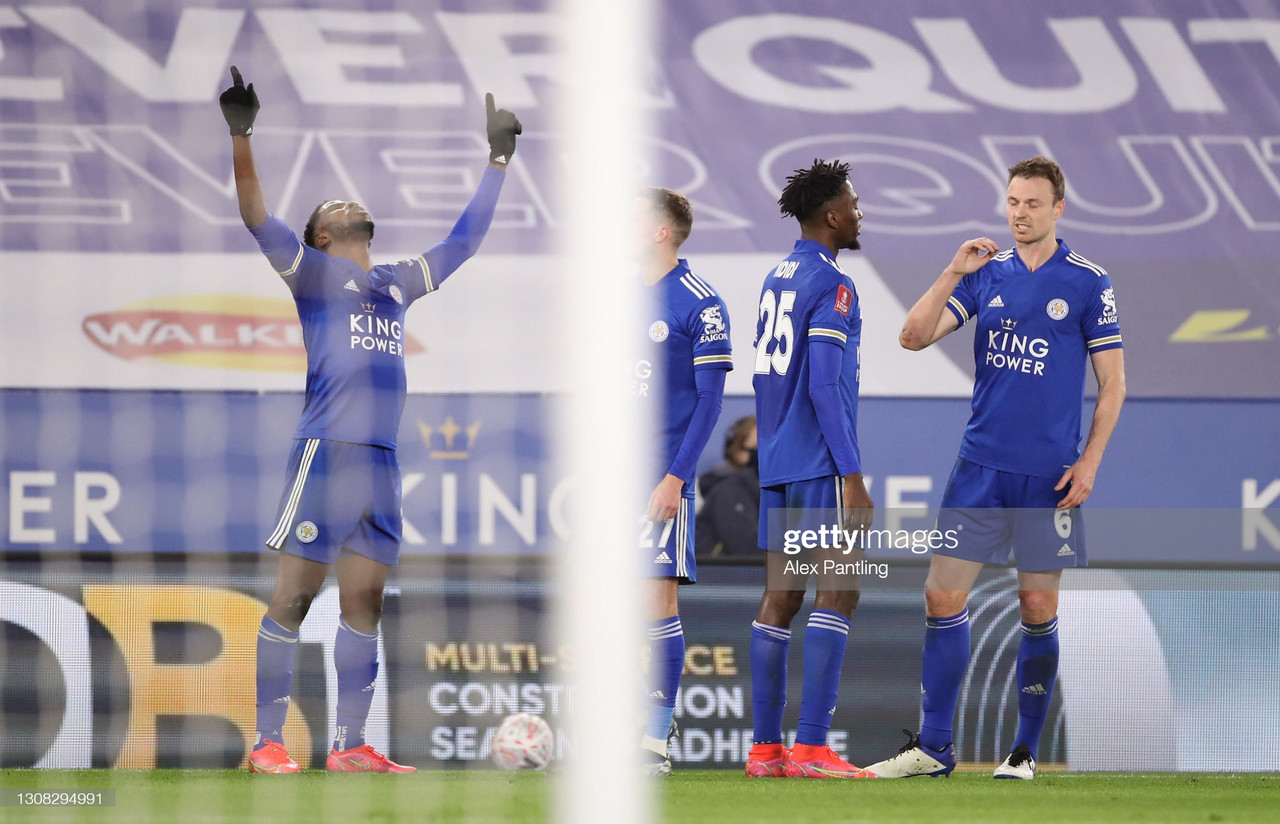 Leicester City reached Wembley after a dominant display against Manchester United by winning 3-1 at the King Power stadium in the FA Cup which puts them into the semi-finals for the first time in 39 years.
Kelechi Iheanacho once again was the star of the show with a brace against the Red Devils with Youri Tielemans also adding to his excellent goal scoring season.
Leicester City were handed the lead after a mistake by Fred gifted Iheanacho his first goal the evening, with a poor back-pass allowing the Nigerian to round Dean Henderson and tap home.
Man United struck back with a Mason Greenwood strike from a Paul Pogba cross but Leicester rightfully regained their lead right, after half-time with a Tielemans low-drive and then a back-post header from Iheanacho late on sealed their Wembley fate and inflicted their first win over United since 2014.
Brendan Rodgers spoke to BBC Radio Leicester after the game.
Lessons learnt from last season
Last season's Champions League race was lost at the King Power Stadium at the hands of United, but this time around the Foxes came out on top with a mature performance to beat United for the first time in six years and to secure a place in the Semi-Final against Southampton.
Of the lessons learned from that defeat, Rodgers said: "You've seen the evolution of team, it's worked and it developing and it developed very very well.
"I think the confidence comes from when they started to win games against big oppenents and they can get confidence from that."
Iheanacho's recent fun of form
Kelechi Iheanacho has now scored seven goals in his last four games including a double against United either side of half-time, continuing his good run of form going into the international break.
Rodgers has been suitably impressed with the Nigerian's run of form.
He said: "His finishing has been great, even his first one is not an easy one cause the you close in on goal you've got to really have a real nice touch and a nice second touch to go round the keeper.
"He's playing at a high level, he's just needed a set of games which has been unfortunate for him cause of the structure we play with Jamie (Vardy) and two wingers."
Southampton await the Foxes at Wembley
Thanks to their 3-0 away win at Bournemouth, Southampton booked their place at Wembley and stand in Leicester's way for a spot against either Manchester City or Chelsea in the final.
Talking up the Wembley clash, Rodgers said: "We look forward to it, I think any semi-final will always be a tough to team you play and Southampton are a very good side that's why they are there aswell.
"You get three games away from creating history and when you have a chance to do that, you have to give everything you can, to create it. We're now down to two games and we'll look forward to that when it comes, hopefully by then we'll have some more players back."