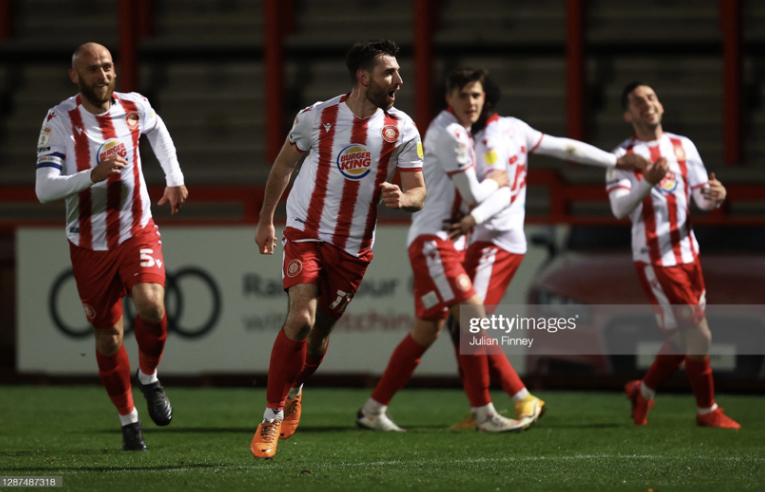 Clayton Donaldson's 27th minute header denied Stevenage a valuable three points, as the spoils were shared in Hertfordshire.
The Boro took an early lead courtesy of Colchester United loanee Luke Norris, but Bradford City fought back via veteran striker Donaldson.
This result benefits neither side, with both hoping to take a huge stride towards the play-offs this Easter Monday.
Bantams goalkeeper Richard O'Donnell made his 100th appearance for the club today.
Stevenage: Cumming; Wildin, Cuthbert, Prosser, Martin, Read, Pett, Lines, Coker, Norris, List.
Bradford City: O'Donnell; Cousin-Dawson, P O'Connor, Canavan, Wood, A O'Connor, Watt, Scales, Donaldson, Evans, Cook.
O'Donnell, on his 100th appearance, was called into action immediately to deal with Elliot List's effort from inside the box, which he parried onto the crossbar.
Stevenage continued their dominant start, as a free-kick was nodded towards goal by Norris, but O'Donnell was there to deny.
But with a quarter of an hour being played, the hosts took a deserved lead courtesy of Norris. Talented journeyman Chris Lines floated in a corner, which was bravely met by Norris and his original effort crashed off of the crossbar before being bundled over the line. A huge advantage to the Boro.
Stevenage looked to immediately double their lead, as Norris spread the ball out to Tom Pett but the former Lincoln City winger had his effort lashed wide.
However, despite tempo being against them, the Bantams sniffed out an equaliser thanks to 37-year old veteran Donaldson. The 'Don', got onto the end of a brilliantly worked move involving Elliot Watt and Connor Wood, before he headed the ball over the stranded Jamie Cumming to fire Bradford back into the contest.
The Bantams looked to immediately flip the game on its head, as Gareth Evans's corner was flicked on by Paudie O'Connor, but his effort was graciously cleared off of the line.
Heading into the second half, Bradford looked to utilise Donaldson's long throw trait, but Andy Cook's effort was adrift of the target.
Billy Clarke, who had just replaced Kian Scales, had a half-volleyed attempt from the edge of the box skid wide.
Niall Canavan was called into action in the Bradford back-line, as he blocked Arthur Read's goal bound strike.
Another Bantams substitute in the form of Charles Vernam came close, as he found a pocket of space but scuffed his strike wide.
The Bantams' second half pressure almost had a desirable outcome, as Anthony O'Connor came close with a header, and Watt had a strike heroically blocked to deny Bradford a certain winner.
As the game entered its closing stages, Bradford looked to snatch the three points, as Danny Rowe dinked a cross to the back post, but Finn Cousin-Dawson couldn't keep his header on target.
​​​​​​​A very even game which seemed to be heavily dominated by either sides throughout the halves, both will be disappointed not to have taken advantage of a potential late play-off run.
The travelling Bantams will be saddened to have not converted more of their chances, having mustered just two shots on target out of the 13 they took. They will also be disappointed to not have picked up their third consecutive victory, as this could have inspired a flurry of good form.
Stevenage will be the more content of the two teams, with their play-off ambitions looking less likely. With that being said, the Boro now haven't lost in their last 12 outings, and manager Alex Revell will be delighted with their season so far.
​​​​​​​Bradford's star man from their previous game too, Donaldson was once again in inspired form. Playing in a deeper role, the 37-year-old scored every shot he took, had an 89% pass success ratio and ran his socks off.