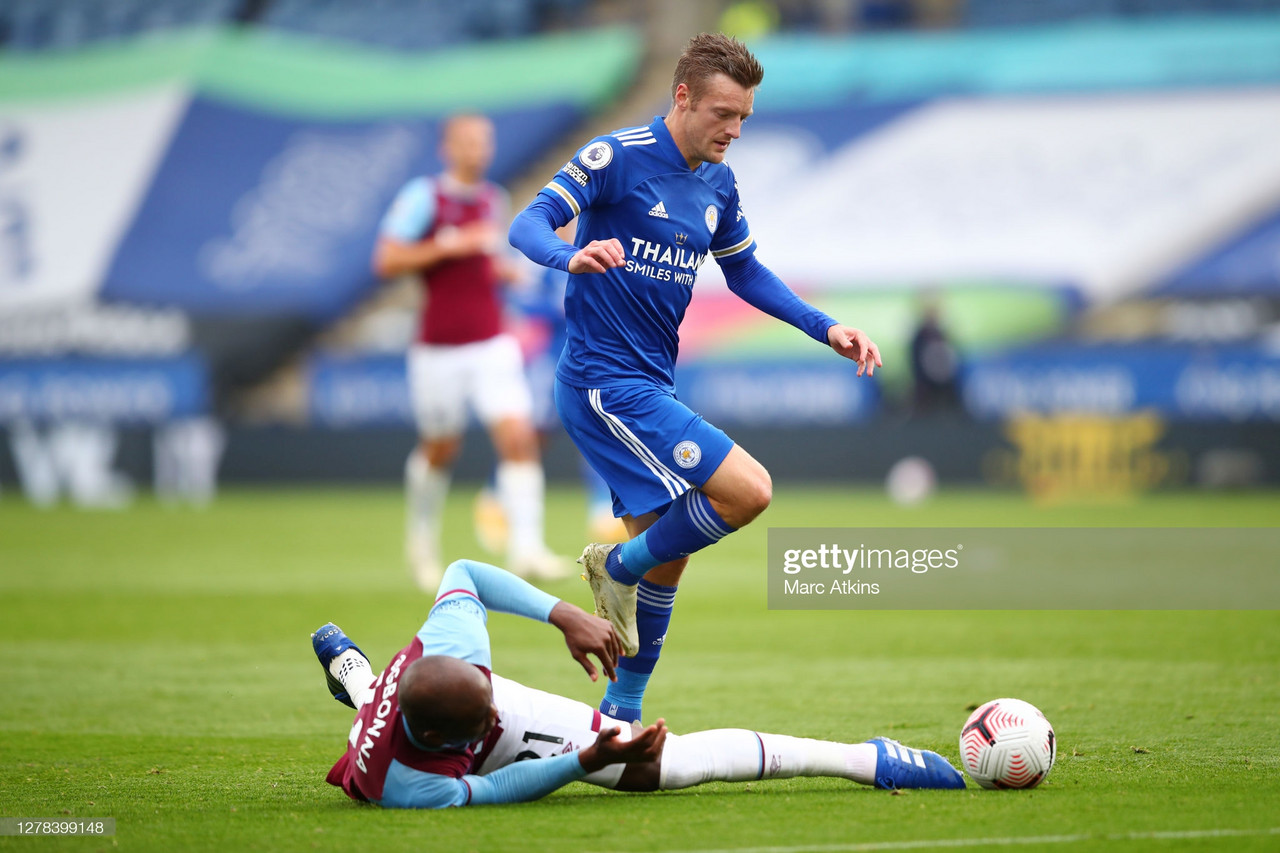 In a top-flight match of truly paramount importance, Leicester City will travel to West Ham United as both sides look to take a massive stride in the elusive pursuit of Champions League football.
Defeat for either side in this Premier League encounter could prove detrimental with a host of clubs eager to stake their claim for a spot in the top-four of the division.
The fact that Champions League qualification is a genuine prospect for both Leicester and West Ham is a testament to the exemplary work that both Brendan Rodgers and David Moyes have done for their respective clubs – with both managers commencing their roles in 2019.
A top-flight match between the two sides has never had greater significance, and the eventual winner will solidify their claim in the veritable climb up the table.
In the previous meeting between the sides in the Premier League, Leicester were decimated at home in a surprising result that saw West Ham kick-start their commendable season and end a flawless start to the season for the Foxes.
A match of such captivation is unlikely to ensue on Sunday, with both sides expected to approach the match with caution and maintain a tight and resolute defensive line.
A moment of individual brilliance or a defensive mishap might be the key to taking the advantage in the match, and the crucial factor in gaining a positive foothold in the match will centre around the middle of the park, where Wilfred Ndidi and and Youri Tielemans will hope to overcome Tomas Soucek – a laudable figure in West Ham's admirable season.
A hesitant attitude towards the game will by no means diminish the understanding of the importance for both sides, and should Leicester secure the win, the anticipation surrounding a first appearance in Europe's most esteemed competition will relax as a seven point cushion from the Hammers will come into fruition.
Both sides nursing injuries
Leicester have begrudgingly suffered a number of injuries to prominent first-team members throughout the campaign, notably losing Harvey Barnes and James Justin for the latter stages of the campaign, but have scarcely let such setbacks affect what has been a consecutive season with Champions League aspirations.
However, a plethora of injuries consistently inflicted upon Rodger's squad has had its effect and disrupted Leicester's fluent and largely consistent flow, and the midlands side will be desperate to secure victory at the London Stadium after two wins in their past five league games.
For West Ham, losing both the exemplary Declan Rice and the talismanic Michael Antonio to injury in the past week could play a devastating factor in the latter stage of the campaign with European football hanging in the balance. However, a vital 3-2 victory over Wolverhampton Wanderers proved they can operate effectively in the absence of key players.
Lingard and Maddison to take centre-stage
Jesse Lingard has been nothing short of sensational for West Ham since his arrival on loan from Manchester United in January, and his return of six goals and three assists for the London club in merely eight appearances emphasises the instrumental effect he has had.
Leicester have struggled for clean sheets in recent weeks, with only one blank in their past seven league appearances, and this is something that will delight Lingard, who will attempt to influence the game with a fluent combination of direct assertiveness and creative aptitude.
A player of equal importance, James Maddison, made his return for the Foxes from a hampering injury in last week's 2-0 home defeat to runaway leaders Manchester City, with the player enjoying a rich vein of form before being side-lined in February.
The absence of Rice in the holding position of West Ham's midfield will likely play in Maddison's favour, who will fancy the prospect of capitalising on the situation and orchestrating offensive manoeuvres with greater freedom.