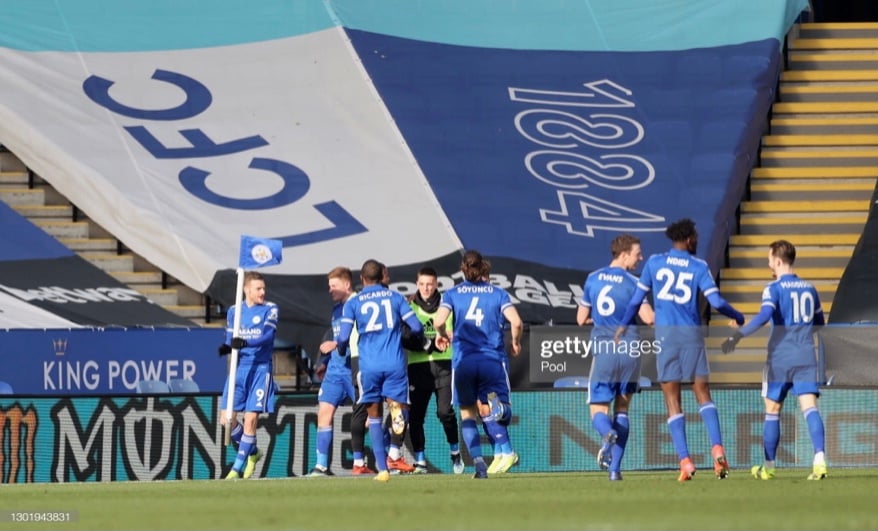 Leicester City snatched three points off reigning Champions Liverpool, after an astonishing turnaround with three goals coming in seven minutes for the Foxes.
Goals from James Maddison, Jamie Vardy, and Harvey Barnes helped the Foxes get their first league win over Liverpool since 2017.
After a dominant 70 minutes from the Reds, leading 1-0, it all went wrong for Jurgen Klopp's side when Maddison curled a free kick from a tight angle into the far corner. From then on Leicester were in control and went on to get another two.
Liverpool now find themselves six points behind the Foxes and sit in fourth place. They don't have breathing space though in the UEFA Champions League spot, being just a point ahead of Chelsea.
Leicester's record against big teams
Despite going a goal down after a well worked Mohammed Salah move, the Foxes didn't give up hope and managed to get an equaliser just 11 minutes after Salah's strike rippled the back of the net.
Leicester's main slip ups this season have all been against sides lower than us - including the likes of Aston Villa, Fulham, West Ham, Leeds United and other results.
Leicester have one of the best records against the so called 'big six' this season and their incredible form continued on Saturday afternoon.
Leicester have beaten every 'top 6' club but one this season with wins coming against Tottenham Hotspur, Manchester City, Chelsea, Arsenal, and now Liverpool. It's safe to say that Leicester are always up for giving the big boys a game and will not back down. In total, the Foxes have played seven, won five, drew one, and lost one. The only loss came in the reverse fixture against Liverpool.
As Brendan Rodgers' side look to secure a top four finish this season for the first time since the Foxes' title winning miracle, triumphs like yesterday will boost the teams confidence and morale.
Wilfred Ndidi bosses the midfield
Wilfred Ndidi had to be in contention for the man of the match award on Saturday afternoon after controlling the center of the park. Ndidi seemed to be everywhere at the crucial moment to put a challenge in against Liverpool and was also instrumental in getting Leicester's attack going.
The Nigerian midfielder finished the game with more recoveries (11) and won more aerial duels (five) than any other player in the first half against Liverpool. The defensive midfielder also made 19 recoveries in the game, more than any other outfield player in the Premier League season in a single match.
To add to his wonderful defensive performance, he added an assist to his wonderful performance. Ndidi played a clever ball through to Harvey Barnes to make the score line 3-1.
Against Liverpool, it was Ndidi's first Premier League start since returning from injury and it looked like he'd never been away, appearing his best.
Jamie Vardy is back and scoring
Jamie Vardy was able to get back on the scoresheet, ending his goal drought against the champions as he helped Brendan Rodgers' get a win over his former club.
Vardy has been unable to score in seven games for the Foxes and hasn't had a goal to his name since last year. Despite Vardy's absence to goal scoring, others players have stepped up to the task but he was once again the main man against Liverpool, giving the Foxes' the lead in the Premier League clash.
There was a mix-up at the back between new January signing Ozan Kabak and Alisson Becker after a lofted ball by Leicester's midfielder Youri Tielemans, and it then kindly fell to Vardy who was there to run free and tap it into the empty net. He celebrated in style too, mimicking playing the guitar with the corner flag.
With Vardy back scoring the goals for the Foxes, alongside Maddison and Barnes, Leicester will be confident in securing a Champions League finish or possibly even more.