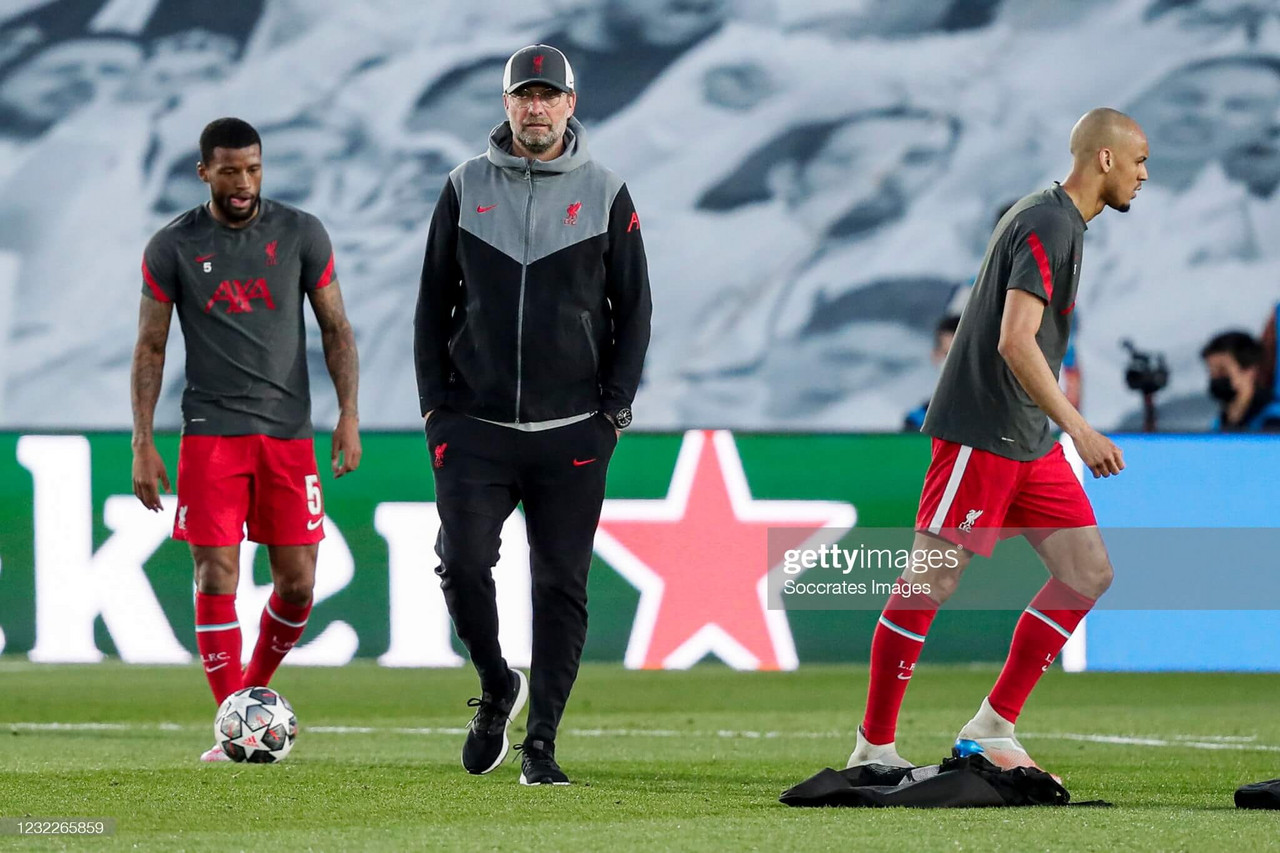 After a 3-1 defeat in the first leg of their Champions League quarter final, Liverpool need another historic Anfield night if they are to make the last four of the prestigious competition.
Talking to the media on Monday, Jürgen Klopp said Liverpool will create "an atmosphere of belief" as they prepare for the challenge of overturning the deficit against Real Madrid. Here's the best of his pre-match press conference.
The first leg defeat means the Reds go into tonight's game as underdogs, but Klopp believes that his side can use that to their advantage.
"When you're 3-1 down it looks like you are already out, that means you have not a lot to lose," said the German. "We will give it a try, I think that's the job we have to do and that's exactly how we will go for it, if you want.
"It [the first leg loss] is a result of the performances on the night – they were better than us, we were not as good as we could have been or should have been. But it's only the first half [of the tie]."
Can Liverpool create an atmosphere without fans?
Yet again, fans won't be inside Anfield to help their beloved heroes overturn the aggregate scoreline against the odds, but Liverpool's boss said that a fierce atmosphere can be created nonetheless.
"We have to, we have to. Everybody is [talking] about our comebacks in the past and it was with supporters and stuff like this. That's true. But [there are] a lot of problems we will face before we have even a chance to win that game.
"It's just one extra problem, no supporters in the stadium. The result [in the first leg] is a problem, the quality of the opponent is a problem and then obviously that the stadium is empty is a problem as well.
Trent's performance against Aston Villa
After his mistake in Madrid, Trent Alexander-Arnold smashed in the winning goal in Liverpool's 2-1 victory against Aston Villa on Saturday and his manager was full of praise yet again.
"That's what you expect from each player. It's a little bit of a problem for me to answer your question because it always looks like he didn't play well before. We didn't play a brilliant season, we know that, so far.
"Trent had a difficult start and then from a specific moment played a really good season. Did he play exactly as good as he could have played or played in the past? I don't even know 100 per cent. But then it started this discussion [that] he 'raises his game'. He had assists for us before that.
"Yes, it's a special situation, he reacted really well and that's important. But it's not that he was in a dark place and had to lift himself out of that, he just didn't get selected for England, that was all."
Can the team use the Barcelona result as inspiration?
In 2018/19, Liverpool pulled off arguably the greatest Champions League comeback in history. 3-0 down from the first leg, Klopp's Reds battered the Spanish giants with Divock Origi and Georginio Wijnaldum each scoring twice in the 4-0 demolition job. Klopp knows that Wednesday night's game will be equally as daunting, but he has history against Los Blancos.
"The Barcelona game, whether it's useful we will see. I played years ago, I don't even know when it was, with Dortmund against Madrid. We lost in Madrid 3-0, we didn't play well and Madrid were clearly better that night. After 37 minutes in the second game we were 2-0 up. It stayed as 2-0, by the way, so we didn't go through. But football is football, we all know that and there are a lot of things possible.
"I understand that we speak now about the result, but for me the performance is much more important. We have to play like ourselves, we have to play as good as we can, we have to try to win that game – and just that. Then we will see where the result leads us to.
"Winning 1-0 would mean whenever we score that goal we have a minute, five minutes or 10 minutes of time to try to get the second goal. All these kind of things. For that, and it's really important with the quality Madrid has, you have to defend on your absolute highest level, which we didn't do the other night.
"That's why this is as important as the other things. It's about winning football games always and that's the target for tomorrow night. If that will end up in a comeback, I have no idea but I never had before. It's just we have to bring ourselves in the mood that we start believing in that again. If that happens, if we can see that it's possible until tomorrow night then we have a chance. But it's still incredibly difficult."
The importance of keeping a clean sheet
Not conceding would mean that Liverpool only need a 2-0 win to go through to the semi finals, but Klopp knows that it's going to be a tall order to keep Real Madrid at bay.
"[The clean sheet is] very important, but that's actually not too different to other games. You never want to concede goals and if you are really focused, that's what we have to do. We cannot ignore defending in this game, we'd get punished for sure.
"I have no idea if anybody in the world can deny Real Madrid from having any chances. They beat us a week ago. Yes, we were not good, but a few days later they beat Barcelona in a very important game as well so they are obviously in a good moment. We have to deny that, we have to defend on our highest level and then we have to create as well. That's it.
"It's nothing different really but of course it feels always different. The game starts with 0-0 anyway, but if they would go 1-0 up or whatever in a normal game we would have to score two to win it or score one to get a point. The point wouldn't help, 2-1 wouldn't help. So that's the situation. We have to be 100 per cent on our absolutely top level to have a chance to make it. But that's possible that we are at our 100 per cent, so we should try it."
How Liverpool will try to beat Real
"To beat Real Madrid you have to defend Real Madrid on your absolute highest level because their offensive qualities are incredible and even then it's really difficult," said Klopp.
"The first goal they scored [in the first leg] is a good example of it; for most of the teams in the world, it was not even half a chance, but the pass from Toni Kroos and the first touch and the finish was absolutely incredible. Even when you defend them well and deny them a lot of things, these things are still possible. We have to defend Real Madrid on a really high level and we have to create ourselves – and that's what we will try. I cannot invent any new things just because we are 3-1 down, we will use the usual tools of football – or try at least.
"That's the plan. I am already completely in the mood for the game and that means whatever we want in this tie, we have to show tomorrow night on the pitch and not me here or Robbo [Andrew Robertson] later in the press conferences. It's all about what happens on the pitch, that's it."