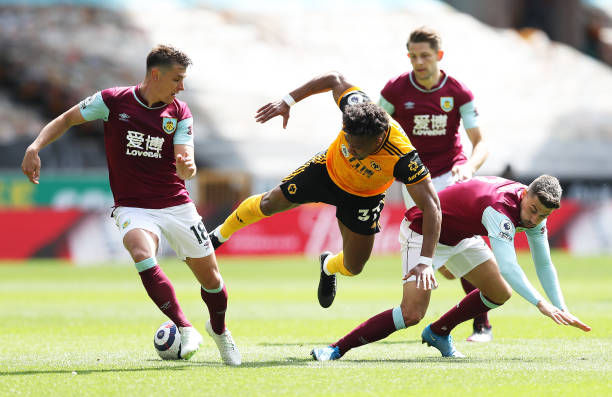 Wolverhampton Wanderers' woes worsened as Premier League strugglers Burnley laid waste to the midlands side in a devastating display at the Molineux.
The match finished 4-0 to the away side, and highlighted the troubling issues surrounding Nuno Espirito Santo's side as the prospect of a third successive top-half finish looks increasingly unlikely.
The score line was indeed an accurate reflection of the games discourse, with Wolves putting in a limp, miserable display and offering little in terms of positivity going into the culminating stage of the season.
After two exemplary campaigns since returning to the division after winning the championship in 2019, Wolves have undoubtedly endured a torrid term and will need major improvements if they are to improve their fortunes heading into the new season.
Woeful Wolves
Espirito Santo has received plaudits and acclaim for his work at Wolves over the past few years, but this season the side have struggled for a number of reasons and the hapless display against Burnley was a reflection of the issues the Portuguese manager has faced.
Burnley simply outclassed them in every area of the pitch, winning the key battles both aerially and on the pitch and displaying a hungrier and more ferocious attitude. Wolves were a shell of their best selves and deserved every goal that went in.
It was the heaviest top-flight home defeat for the club since succumbing to a 5-0 loss against Manchester United in 2012.
It is true that Wolves have suffered detrimental injuries to a number of instrumental players that have seen their progress heavily disrupted. It is true that Burnley were in dire need of a win to alleviate the pressure of relegation, whilst the prospect of relegation is a distant thought for Wolves.
No excuses can make up for the diabolical showing at the Molineux. It is only fortunate that coronavirus restrictions prevented supporters of the club from witnessing such a shambolic performance.
There was no passion from the players, no guile, whilst their opponents were eager to hunt down Wolves and capitalise on defensive lapses that proved conclusive.
Wood sensational as Burnley run riot
Chris Wood is one of the most underrated Premier League strikers in recent times. The marksman scored a brilliant first-half hat-trick as he played a pivotal role in demolishing Wolves in their own back yard; to cap it off, he laid off the ball for Ashley Westwood to clinch an assist in the late stage of the game.
The New Zealand international has now scored ten goals and made three assists in 28 league appearances this season, and in fact has entered double figures in all four of his Premier League campaigns with the Clarets.
Wood's importance as Burnley's talismanic frontman has been apparent for some time now, he has provided a goalscoring guarantee, as well as a physical and dominating presence that has allowed the forward to thrive in boss Sean Dyche's commendable setup.
Murmurings of Nuno Out
Cast your attention back 12 months. It would have been unthinkable that such calls for Espirito Santo's head could be a realistic proposition, but fortunes have altered dramatically for Wolves and their manager.
Despite a growing number of calls for change, it is important that things are put in perspective. Wolves have been extremely unfortunate with injuries and have been heavily affected by their covid-stricken stadium, devoid of a fanbase that serves as the veritable beating heart of their club.
One would imagine that with the return of supporters next season, as well as the comeback of the talismanic Raul Jimenez, might bode well for Wolves and Espirito Santo in looking to forge a commendable pursuit of a top-half finish, and maybe another European term under the tutelage of their manager.