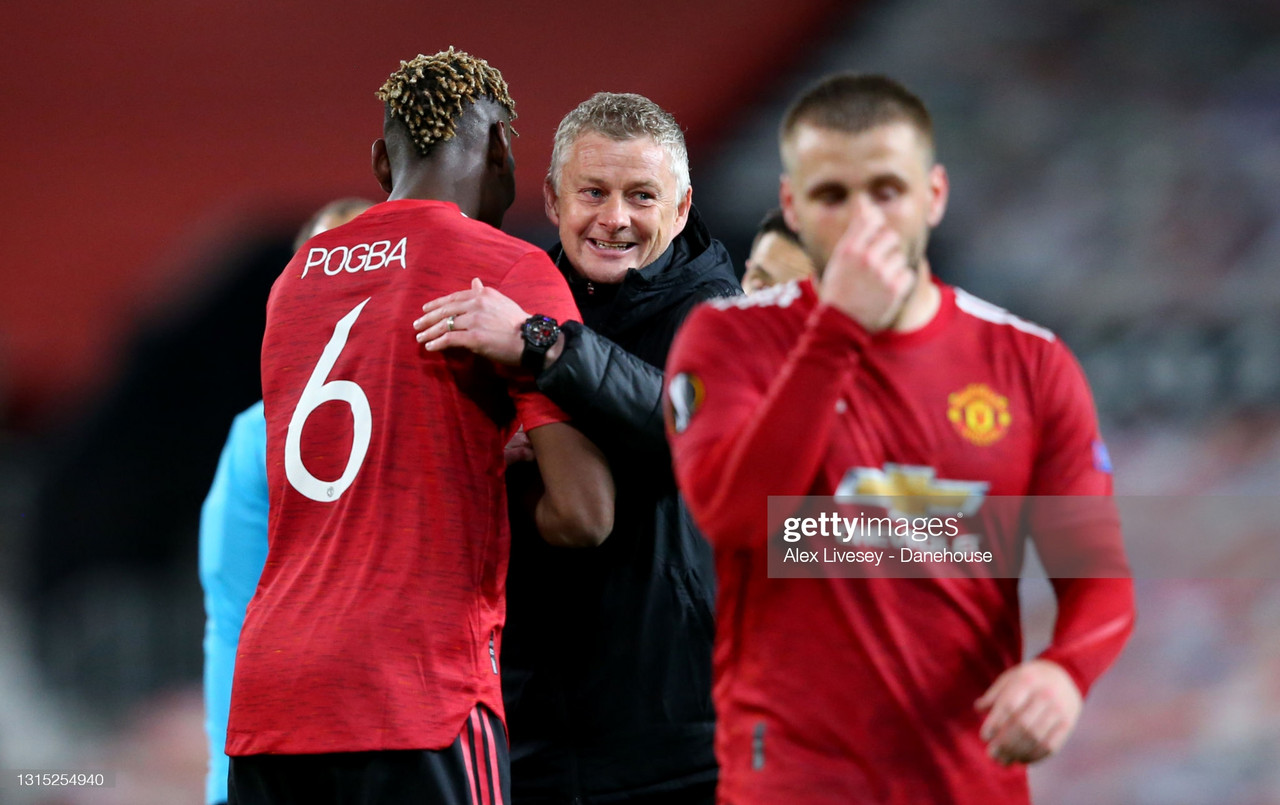 The red half of Manchester will be smiling today after their side put on an emphatic display against Roma – it was by far Manchester United's strongest semi-final performance under Ole Gunnar Solskjaer, and the Reds are now in a great position to progress to a final for the first time during the Norwegian's reign.
Thanks to goals from Bruno Fernandes (2), Edinson Cavani (2), Paul Pogba and Mason Greenwood, Roma need to score four goals without reply in next week's second-leg to stand a chance of overcoming the heavy deficit.
Here's what Solskajer had to say after his side's first-leg victory against Giallorossi.
On his side showing their determination to win the Europa League in the second half:
"Well, we want to go through of course. We showed a good reaction at half time and in the second half. I thought we played some good stuff in the first half as well but we forgot that you have to run back too."
"In the second half we did that part better and of course that creates more opportunities to attack. We're a year older and more experienced now and we actually picked quite an experienced team today to handle any setbacks and they did."
On Edinson Cavani's performance:
"He was excellent and played as a centre-forward should be playing. He was running the channels, being a focal point, creating chances for others, scoring goals and he even missed a couple too. But that's what he's there to do really because if he gets a few chances in a game then he'll score one, two or three goals."
"We're absolutely delighted with him. The last few weeks he has been top and you can now see the difference in him as he's worked up his fitness after having a long lay-off and he's out to make up for lost time."
On the way his side defended:
"If we concede one or two goals then we get criticised but we've kept loads of clean sheets recently, we've been really good. Roma had two chances in the first half, one of them shouldn't have been a chance as it was a soft penalty to give away. The second goal was absolute schoolboy mistakes with the throw-in and recovery runs and everything that we did in that instance wasn't good enough."
"But we corrected it and we know that we have to run just as quick, if not quicker, back the way we came because from there you can attack. It just had to be corrected."
On his half-time team talk:
"First of all, I wasn't happy with the first half. I wasn't happy with how we defended because football works two ways. I thought we played some great stuff attacking-wise, a couple of too many touches but still, we created chances and looked a threat. But to concede two chances in the manner that we did wasn't good enough."
"But at half time there was still three 45 minute periods left so I just told them to keep on playing and show our quality but run back a bit quicker. We needed to be compact but you know the boys played some great stuff in the second half and it was all credit to them."
On the absence of Mason Greenwood in the starting XI
"We know that Mason is in great form but we picked a team with a different balance tonight and he was always going to come on."
"I felt that in the second half we had so much momentum and Marcus [Rashford] made some fantastic runs which created space for others and it opened up for us so I decided to wait a little bit instead and it worked out well."
Ole's men face Liverpool at Old Trafford on Sunday as they look to confirm their place in next season's Champions League. They then travel to Rome this coming Thursday to try and book their place in the Europa League final.