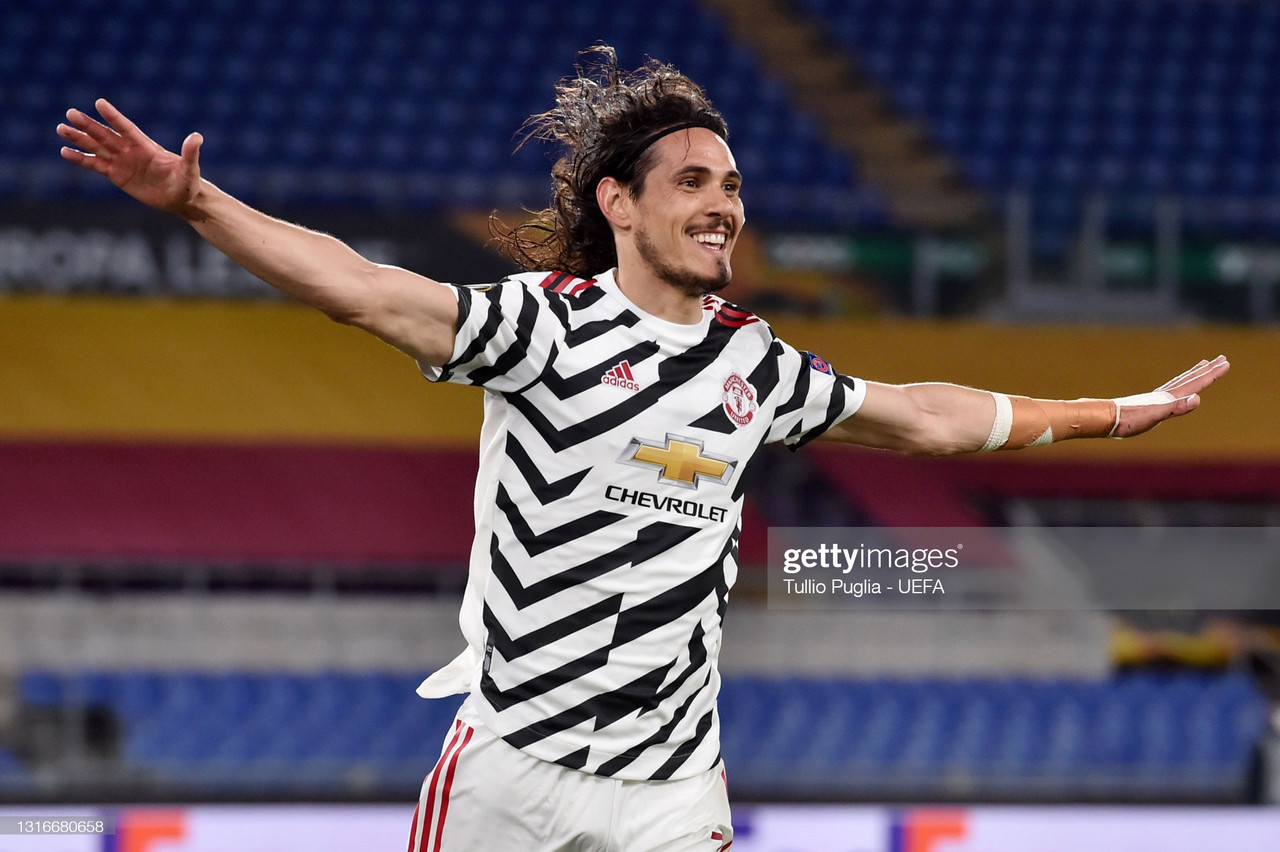 Despite losing by three goals to two on the night, Ole Gunnar Solskjaer's Manchester United defeated Roma 8-5 on aggregate to progress to their first final in three years.
Although the tie looked all but over before the second-leg began, it took an Edinson Cavani brace to ease the tensions after Roma scored three goals across the match.
But what United fans take from the game?
A final at last for Solskjaer:
Every United fan will have been sick to death of repeatedly reading and listening to stories of how their side had failed to progress through their previous four semi-final ties.
However, a weight has now been lifted off the red half of Manchester's shoulders – and none more so than for the Reds boss himself.
Solskjaer has faced his fair share of criticism in the past, and not just for semi-final performances.
But it was the notorious failures in these semi-finals that had really sparked debate between United and football fans alike. Did Solskjaer have what it takes to guide United to a cup final? Was Solskjaer's managerial inexperience costing his side in the big games?
Although Ole's men have only qualified from one semi-final out of five, overcoming the tie against Roma felt like a huge step in the right direction for the manager and his side.
On previous occasions it has seemed that being so close to the final has actually made United play within themselves, displaying fear and a lack of confidence against big opposition.
Semi-finals against Sevilla, Chelsea and Manchester City have seen Ole's side struggle to create chances and dominate the ball – all while defending to an embarrassing level at times.
And despite conceding five goals across the tie with Roma, this time it felt completely different.
United always looked like scoring goals across the entire 180 minutes and they reacted professionally and calmly to Roma's rapid double in the second half.
There was evident fear in the team after those two goals but it dissipated within a few minutes – previous semi-finals would have seen that fear grow for the remainder of the game.
So there are many positives that United fans can take from both the result and the performance, but perhaps none more so than the fact that Solskjaer has finally overcome his semi-final hoodoo.
David de Gea could still have a United future:
It has been an extremely long time since we have seen David de Gea performing at his best – but his stunning performance on Thursday rolled back the years and highlighted just how lucky United are to have two great goalkeepers.
The Spanish shot stopper did everything he could to win back the hearts of United fans after it seemed that the majority had began to devalue him during Dean Henderson's solid run in the league.
Despite conceding three goals, de Gea made ten saves across the game – most of which were absolutely outstanding.
Roma could have achieved the unthinkable on Thursday night if it wasn't for the Spaniard's heroics, and this has given Solskjaer a healthy dilemma to have in regards to who starts between the sticks for United in the foreseeable.
After the game, the United boss was asked about which goalkeeper would start in the final, to which he responded:
"We kept losing the ball in difficult positions but luckily we have got one of the best goalkeepers in the world."
"David was vital and was man of the match for me. He was the stand-out performer. The final is still three weeks away and we've got many games still to play."
"David has put a very good application in, of course, with his performance. The proof is always on the pitch. You've got to perform and you keep your place in the team when you play well."
It has become the norm in recent times for a second choice goalkeeper to maintain his place in the side for the entirety of a cup run, so there would be no surprise if de Gea started in Gdansk now that Henderson seems to have solidified his place for league games.
However, de Gea is far too talented to be brushed off as a second choice goalkeeper, and perhaps his world-class performance against Roma will not only make Solskajer play him in the final, but also give him the number one spot for league games also.