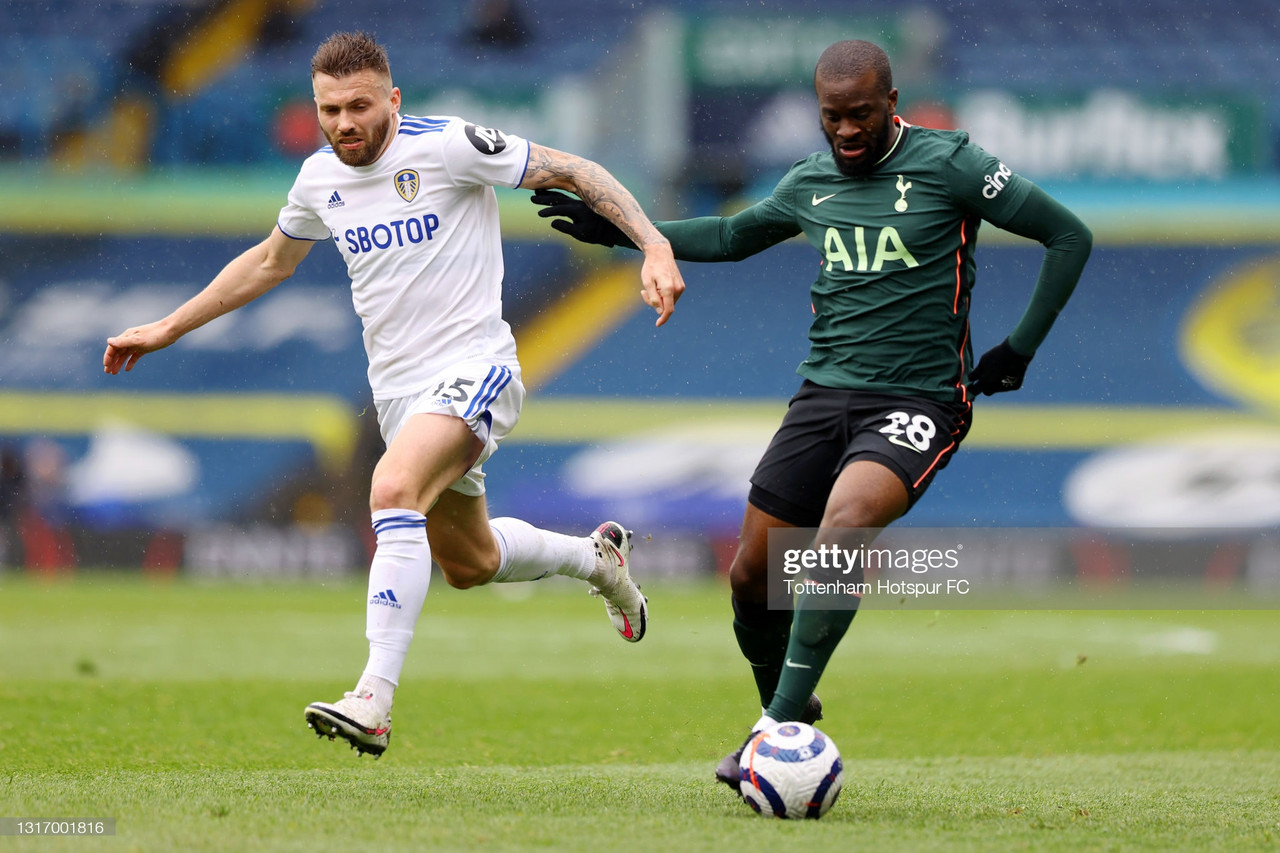 Tanguy Ndombele will be pondering his future at Tottenham Hotspur once again having opened up on his desire to leave earlier in the year.
The Frenchman had finally found himself integrated into a regular starting XI under former boss Jose Mourinho. However, under interim boss Ryan Mason, Ndombele has only featured once, during the 3-1 defeat to Leeds United in the Premier League on Saturday.
Ndombele came on as a substitute with 10 minutes of the game left to go and was unable to make an impact. This is largely unsurprising since his omissions have likely knocked his confidence, and hindered his fitness levels.
Earlier in the season, the 24-year-old opened up during an interview about his desire to leave north London, stating:
"What I know is that I did want to leave. I spoke about this with people at the club and particularly with the chairman.
"The chairman said he didn't want me to leave and definitely that's something that really helped."
A resurgence in form has alongside a largely French-speaking dressing room has helped Ndombele settle in England. However, this season will not be one to remember for the former Lyon man, for many different reasons.
One area in which Ndombele has faced criticism this season is his obvious fitness issues.
Rumours have circulated that Ryan Mason is not impressed with the fitness levels of some of the Spurs players, Ndombele included. Mourinho is often criticised for his lack of a fitness regime due to the defence-minded football he instils.
But even during Mourinho's reign as Spurs manager, Ndombele often looked off the pace. His play style gives many the impression that he is lazy. The truth is, that the role he plays requires a major amount of legwork.
Ndombele often struggles to track back and perform his defensive duties. This often leaves the defence vulnerable with just Pierre Emile Hojbjerg left to recover the ball.
The versatile midfielder often makes darting runs from the middle of the park, which culminates in a chance being created through individual brilliance from the player.
Whilst this is excellent from an attacking perspective, defensive duties are just as essential as attacking prowess. With the world-class players within the Spurs squad, scoring goals is never an issue.
Ndombele's lack of support in the Spurs defensive half has been largely fitness-based, despite a prolonged run in the team for the middle part of the season. Even with successive appearances for the club during Spurs' downfall this season, he looks extremely fatigued.
This is an issue that will hopefully be worked on during the summer (if he is not selected for the France Euro squad). If he can solve his fatigue issues, Ndombele has proven he has the ability to be a world-beater.
Another area that needs clarity for the next campaign is the best position for Ndombele.
For the majority of the season, Ndombele has played in a midfield two, often alongside Hojbjerg.
This has often been part of a 4-2-3-1 formation, with our two wide players, an attacking midfielder and striker all playing ahead of the Frenchman.
There is reason to suggest that his current role, as more of a deep-lying playmaker, does not fully showcase his natural talent.
At Lyon, Ndombele was often granted the license to get forward, and not having to worry so much about his defensive recoveries. Those who have watched Tanguy this season will know that his ability to beat his opponent with the drop of a shoulder is a major feature to his game.
On several occasions, Ndombele has found himself in a position on the pitch in which he looks to go past a player, but then stops himself, due to the reliance on the player to provide that extra protection, along with Hojberg, to the back four.
Daniel Levy has the job of recruiting a permanent manager in the summer. For the players' sake, he will hope that it is one who can fully unlock the potential of Tanguy Ndombele.
Considering Spurs paid £65 million for Ndombele, who was at the time, regarded as one of the hottest talents in Europe, his time in London has been somewhat overwhelming.
This has been reflected in his regular omissions from the squad over the last year.
Most fans will be aware of the fiasco under Mourinho in which the Portuguese manager clearly was not happy with the Frenchman's commitment, which led to a period on the bench for the player.
Despite turning his career at Spurs around, and finally impressing Mourinho, interim boss Ryan Mason has seemingly found an issue with Ndombele also.
His lack of game-time over the last few weeks has been questioned by some fans. Although, some believe that his absence is justified, due to his lack of urgency and fitness, whenever he is on the pitch.
Either way, it has been a season to forget for Tanguy Ndombele. Spurs fans will be hoping that the next campaign will be more positive for the yet to impress midfielder.