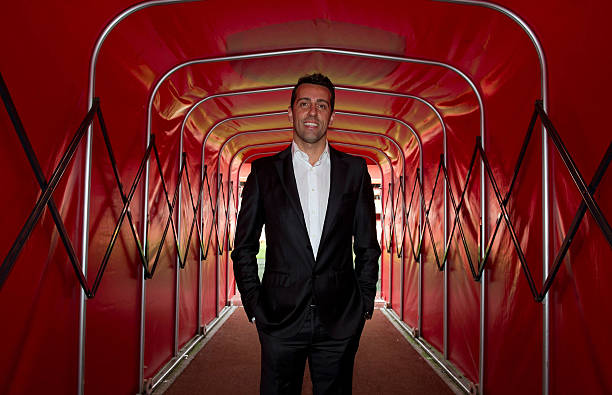 In the summer of 2020, Edu Gaspar ran a streamlining process within the recruitment section of Arsenal, aiming to create a more efficient way of recruiting.
The Former invincible has now called upon a new company to acquire scouts.
55 redundancies issued:
Just nine months ago, Arsenal handed out 55 redundancies to members of staff within their club in an attempt to undertake a more streamlined and fast-tracked approach. The mass change that took place was headed up by technical director Edu Gaspar, Raul Sanllehi and Vinai Venkatesham.
Arsenal released a statement talking about the financial impacts that the COVID 19 pandemic had had upon the club and how it had affected their main source of income.
"The pandemic represents one of the most challenging periods in our 134 year history and we have responded promptly by implementing wide-ranging measures to reduce our costs."
(Arsenal.com)
Alongside player and senior staff members taking a pay cut, the north London club announced that due to the extended impacts of the pandemic, they would be proposing 55 redundancies.
"Our aim has been to protect the jobs and base salaries of our people for as long as we possibly can. Unfortunately we now have to come to the point where we are proposing 55 redundancies."
Senior scouts let go:
Alongside the 55 redundancies were some higher profile departures at the club overseen by technical director Edu. These changes weren't in light of the COVID 19 pandemic however these changes were part of a process for the former player to implement his blueprint of how the club recruit and to make them recruit more effectively.
A few of the main departures left a lot of Gunners fans confused and concerned including senior scouts Francis Cagigao, Brian McDermott and Peter Clark. These scouts have been responsible for spotting some of Arsenal's most exciting and talented players over the years including Cesc Fabregas, Lauren and more recently the likes of Hector Bellerin and Thomas Partey.
Edu's Vision for recruitment:
Since Edu has taken on the technical director's role at Arsenal, he has had some success as well as critics who have questioned his style of work and lack of experience. The dismissal of some of the highest profile scouts in Europe definitely shocked a lot of Arsenal fans and left them to question why this had happened.
This coming summer remains a crucial moment for the Gunners and their recruitment team as they prepare for one of their most important summers in decades. With the ever-growing likelihood of no European football next season as well as currently being sat in 9th place in the Premier League. Edu and co will be under a lot of pressure to bring in some top-quality additions to the Arsenal first team.
Scouts needed in key areas across Europe:
According to The Guardian, Arsenal have requested that the Nolan Partners can aid them in filling key roles for scouts in Europe, The Hierarchy at London Colney have asked for scouts in Germany, Spain, the UK and France. These are all areas that they have been light in since they dismissed their senior scouts in August of 2020.